The Round A INvestor (RAIN) programme trains aspiring investors on the art of Pre-A to A Round funding of early stage ventures. The programme includes lectures, networking events and live cases analyses from China, Hong Kong, Israel, Singapore, Taiwan and other ASEAN countries. It is taught by award-winning business professors and top Asian venture investors.

Graduates of the programme will be invited to join the RAIN club, a community of like-minded investors who will share, evaluate and invest in deals together. As RAIN is a life-long programme tailored for busy people, participants can defer their modules and overseas trips across multiple cohorts without pressure. Alumnus of the programme will also be invited to attend future trainings and events as instructors or observers.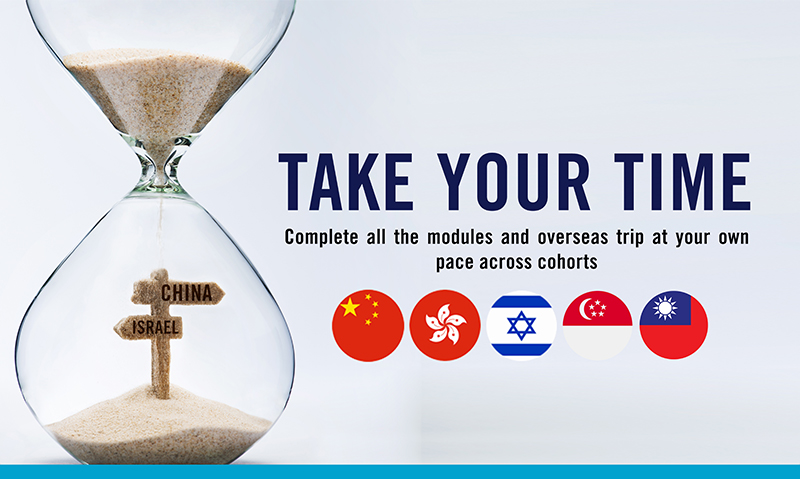 Click here to

Programme Structure
The Programme has two compulsory modules and other optional modules. All modules come with on-spot analyses of actual investment case studies:
Module 1: 5 days Course in Hong Kong and Taiwan
Technology trend & investment opportunities

Get started and portfolio construction

Evaluating early stage ventures

Structuring a comprehensive due diligence program

Negotiating term sheet with executable minority protections

Impact investing and social ventures

Investing in Greater China: Mainland China, Hong Kong and Taiwan
Module 2: 3 days Course in Singapore
Angel investing – experience sharing

Wealth management for family offices

Entrepreneurship ecosystem in Singapore

ASEAN investment cases sharing from Philippines, Indonesia and more
Optional Study Trips
5-day study trip to Israel to network and mindshare with key ecosystem stakeholders such as Hebrew University, Israel Polytechnic and Tel Aviv University, major venture capitalists, angels and more

Other ad hoc study trips
In addition, during the course in HK/Taiwan/Singapore, students will also participate in
Fireside chats with successful startup founders on what are they looking for in their investors.

Fireside chats with successful venture capitalists on what they are looking for in their investee companies, their insights and frameworks.
Target Participants
High net-worth individuals

Executives from corporate venture funds or early stage venture capital firms

Family offices interested in early stage venture investments or as limited partners in early stage venture capital funds

Existing investors seeking to learn about the latest technology trends, investment thesis, and expand investment network


** We will review your application and get back to you.
The RAIN Club
All students who have successfully completed the Programme will automatically become members of the RAIN Club, a community of like-minded investors who will share, evaluate and invest in deals together. The Club and its investment activities will be supported by world class research and faculty members from the Singapore Management University. We envision the RAIN investment club to be the most sophisticated, diverse and well-supported angel community in Asia.
Members of the Club are also entitled to the following privileges:
Participate in all future classes and study trips of the Programme as instructors or observers to learn the latest technology and investment trends.

Attend project pitching and invite-only investments gatherings arranged by SMU, including the demo day organized by the SMU Business Innovations Generator ("SMU BIG").

Access to world class deals flows from the

Lee Kuan Yew Global Business Plan Competition
Key Takeaways
This course is designed and led by one of the most experienced early stage venture investors in Asia:
You will establish your mandate and formulate your approach for early stage venture investments.

You will develop a systematic approach to evaluating and investing in ventures.

You will be exposed to venture investment opportunities in this region.

You will be able to form your own angel network for regional deals.
Programme Details
| | |
| --- | --- |
| 21 Feb - 23 Feb 2019 : | Hong Kong |
| 25 Feb - 27 Feb 2019 : | Taiwan |
| 27 Apr - 29 Apr 2019 : | Singapore |
Media
We had an interview with The Edge Singapore to share about the RAIN Programme. To find out more, please click the following links:
The Edge Singapore, p23
The Edge Singapore Online
Click here for:
About Us
Programme Details
Instructors
FAQs
Profile of RAIN Makers


Contact Us