SMU Real Business Weekend Hackathon
Sunday Jan 28,2018
SMU Real Business Weekend is a 3-Day-2-Night 52-hour business pitching hackathon organized by SMU Real Business (SMURB), SIM Youth Entrepreneur Network (SIMYEN), and co-organised by SMU Institute of Innovation and Entrepreneurship (IIE). SMU Real Business Weekend serves as a platform for budding entrepreneurs with innovative business ideas to improve upon those ideas and validate their proposals.
This year, the competition, held in SMU's School of Law Building, was opened to students from SIM and SMU. We saw a total of 50 participants, split into 12 teams participate in the competition with cash prizes of up to $900 to be won.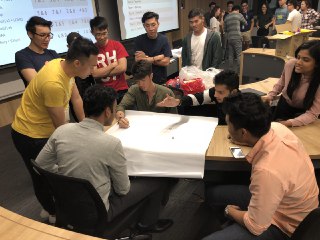 On the first day, participants were exposed to a business model canvas workshop conducted by Steven Ong, a local entrepreneur. Students learnt how to utilize the useful business canvas framework to polish their business ideas and refine inconsistencies before the actual pitching.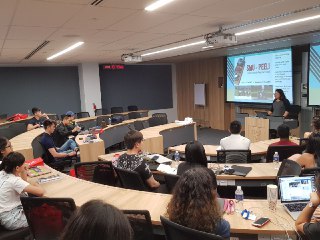 On the second day, Jackson, who is an SMU student and entrepreneur, shared a workshop on "The Art or Science of Pitching?" to equip participants with important tools/strategies to design a memorable and eye-catching pitch targeted towards incubators, venture capitalists or investors. Each team was also given time to meet 3 mentors to give feedback on their business ideas and rectify any discrepancies before the pitching day.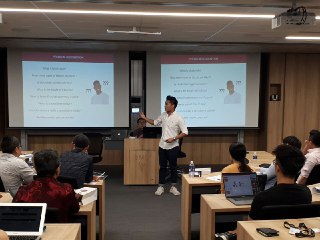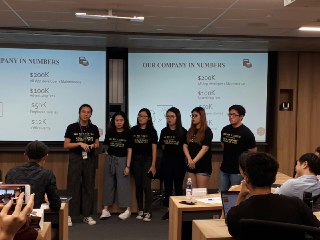 On the last day, we saw 12 teams present their ideas to esteemed judges ranging from venture capitalists to incubators and entrepreneurs. Their business ideas concocted and perfected throughout the entire 3 days impressed the judges. As part of the judging criteria, each group were given 10 minutes to pitch and 5 minutes for a Q&A session.
Teams were evaluated against the following criteria:
Creativity 25%
Feasibility 25%
Presentation 25%
Completion (Sales Data, etc.) 25%
Congratulations the following team for winning the following prizes
| | | | |
| --- | --- | --- | --- |
| | | Pitch Summary | Prize |
| Winner | Team Wok | Abang is a convenient and accessible community task-sharing platform that connects busy people with willing errand runners. | $500 |
| 1st Runner-Up | Team Ken Memorise | Ken Memorise provides memory training workshops and services, specifically at training competitively for students to participate in world memory championships. | $300 |
| 2nd Runner-Up | Team Rocket | Team Rocket connects students with companies around the globe to provide quality internships for students to gain international exposure. | $100 |
To close up the competition, a networking session coupled with buffet dinner was catered to give both judges and teams the opportunity to discuss their ideas and future opportunities.