Sept 2018 - Startup AMA (Ask Me Anything!)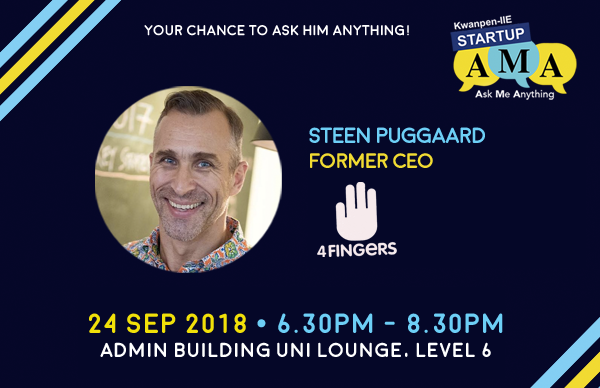 Kwanpen-IIE Startup AMA (Ask Me Anything!)
From its first 4FINGERS outlet at ION Orchard in 2009, the fried chicken fast food chain is now present in five countries with 26 stores. Just in the last 5 years, the company grew from $2 million to a $40 million business under the leadership of its former CEO, Steen Puggaard.
EMBARK ON YOUR STARTUP JOURNEY
Do you want to…
Start a business but don't know where or how to start?

Mingle with like-minded entrepreneurs, or potentially find a co-founder for your business?

Learn how other startups present their business pitches?
Here's your chance to have your burning questions answered at Kwanpen-IIE Startup AMA (Ask Me Anything)!
Agenda

Founders Ask Me Anything: Interactive Q&A with successful founder

Startup Pitches: 5 min flash pitch + judges feedback

Networking & Dinner: Mingle with like-minded entrepreneurs
Pitch your business!
Are you a startup & up for the challenge? Practice & pitch to a panel of serial entrepreneurs, venture capitalists and industry experts, who will provide constructive feedback.


Image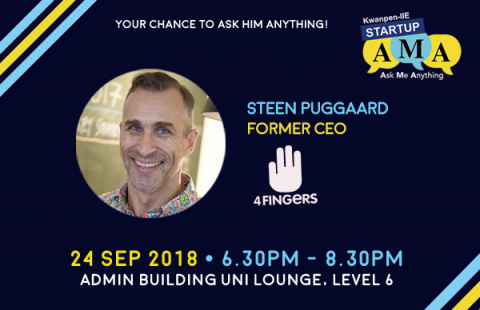 Speaker Summary
<p>Hear from former CEO of 4FINGERS, Steen Puggaard! Come prepared with questions and ask him anything!</p>

field_special_info
<p><strong style="font-size: 13px;">Agenda</strong></p>

<table cellpadding="0" cellspacing="0" class="t1" style="width:100%">
<tbody>
<tr>
<td>
<p><strong>Time</strong></p>
</td>
<td>
<p><strong>Activities</strong></p>
</td>
</tr>
<tr>
<td>
<p>6.30pm</p>
</td>
<td>
<p>Registration&nbsp;</p>
</td>
</tr>
<tr>
<td>
<p>7.00pm</p>
</td>
<td>
<p>Founders AMA (Ask Me Anything!)</p>
</td>
</tr>
<tr>
<td>
<p>7.45pm</p>
</td>
<td>
<p>Startups Flash Pitch (5 min pitch, 3 min Q&amp;A, 3 min feedback)</p>
</td>
</tr>
<tr>
<td>
<p>8.30pm onwards</p>
</td>
<td>
<p>Light refreshment &amp; Networking Sessions</p>
</td>
</tr>
</tbody>
</table>

<p>&nbsp;</p>

<p><span style="color:rgb(255,0,0); font-family:arial,verdana,sans-serif"><strong>IMPORTANT NOTICE:&nbsp;</strong></span><em><span style="color:rgb(255,0,0)">Admission is by registration only and Rights of admission reserved!</span></em></p>

<p><span style="font-size:9px"><em><span style="color:#ff0000">Note: Registration with&nbsp;SMU email account&nbsp;for SMU Staff, Faculty &amp; Students is required.&nbsp;</span></em></span></p>

field_speaker_info
<p style="font-size: 13px;"><img alt="Steen Puggaard" src="https://iie.smu.edu.sg/sites/iie.smu.edu.sg/files/speaker_ama.png" style="margin-right: 15px; margin-left: 15px; font-size: 13px; width: 188px; float: left; height: 196px;" /></p> <p style="font-
Signup
https://www.regonline.com/startupama4
venue Link
http://www.smu.edu.sg/campus-map
Location
Incubation - Entrepreneurs Corner