Congratulations to YIC winners & Finalists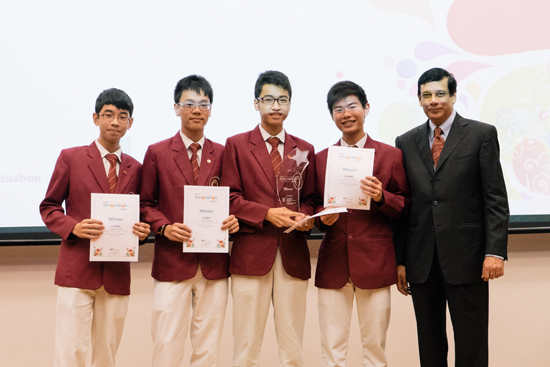 Winner - VJams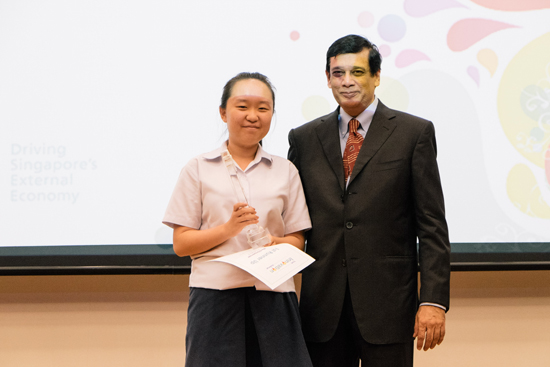 1st Runner Up - MediDispenser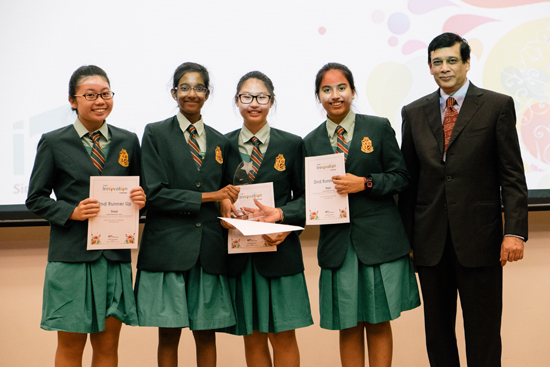 2nd Runner Up - Triad
Congratulations to the YIC Finalists!
7Crate (National Junior College)
7crate is an all-in-one app that provides students with several tools critical for learning. It features the following applications: a scientific calculator, periodic table, timetable, customisable current affairs news feed, in-class polling system, budget planner and the signature feature – the novel stress manager, which allows students to input their tasks. Upon rating the tasks by their importance, time needed and deadline, our unique algorithm assigns a stress index. 7Crate is the handy companion for students with its relevant school-related features and the perfect solution for every parent who wishes to ensure their children develops healthily through a better study-play balance.
MediDispenser (River Valley High)
Ageing population is a pressing issue for Singapore. With decreasing birth rates and higher dependency ratio, there are more elderly today that are childless or their working children have lesser time for them, resulting in more live alone elderly. Hence, it is essential for us to provide our pioneer generation with an independent, dignified retirement life. MediDispenser, an automatic medicine dispensing machine under MEDI Ptd Ltd uses technology to remind elderly people, especially dementia (a sickness often accompanying old age) patients to take their medicine on time and in the correct dosage with little effort on their part.
OOTD (Victoria Junior College)
You've always wanted to look good but you lack the information to do so. You've always wondered how certain outfits look like on your body when you're out shopping but you do not have the time or the courage to try it on. You've always wanted to search for the latest fashion trends or a specific type of clothing you need but there isn't any available. OOTD is a personalised smartphone application that provides information on your best styles, allows you to try on a wide range of clothing (from international brands to local blogshops) with our virtual wardrobe and is a platform to share about the latest fashion trends and your outfit of the day.
Travel eNavi (Jurong Junior College)
When ageing provides a business opportunity, we came up with the 'eNavi', aimed to help the elderly to travel independently using the public transport.
eNavi – where 'e' stands for 'elderly' and 'Navi' means 'Navigation'.
Since majority of the current generation of elderly did not attain high level of education, they might not be able to make sense of the information of the travel directions provided by current travel aids like maps on smartphones or travel guides. We aim to simplify the procedure of searching for the travel routes and the travel directions provided to enable elderly to be able to utilise eNavi to help them travel independently. Navigations are simplified, whereby travel directions will be provided with just up, down, left and right arrow.
TRIAD (Tanjong Katong Girls' School)
We are combining a printer with a projector, which does not exist currently, and shrinking this product's size to a dimension of 24cm◊10cm◊10cm(Width x Length x Height) to make it compact and portable. Hence, our invention would be a portable touch–screen projector cum printer which comes with a USB inlet and wire.
VJAMS (Victoria Junior College)
VJAMS is an enterprise aiming to create an online application for the convenience and pleasure of musicians, budding and seasoned alike. Our aim is to provide an online platform whereby musicians can play music together simultaneously , thus reducing the need to travel to meet up at a physical location. In addition to that, we also have a specially crafted 'Interact' component whereby musicians can share jams and get reviews .
VJAMS' mission is to be the one stop point for musicians of every calibre to conveniently connect with fellow musicians by jamming together, forming a strong musical community in the process.

YIC Semi Finalists!
7Crate (National Junior College)
Carrier (Yuying Secondary School)
Easy_Switch (National Junior College)
EZ Reload Bin (Millennia Institute)
Finestra (Montford Secondary School)
MediDispenser (River Valley High)
OOTD (Victoria Junior College)
Reveria baby stroller (National Junior College)
Travel eNavi! (Jurong Junior College)
Triad (Tanjong Katong Girls' School)
VJAMS (Victoria Junior College)
Zip That Cable Up (National Junior College)