Overview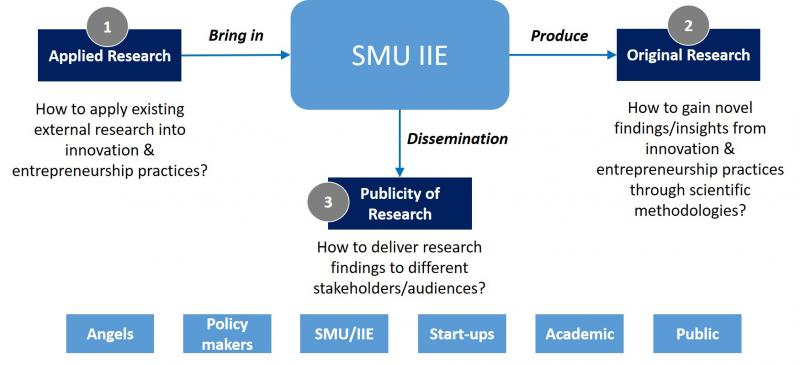 The purpose of IIE's research is to help and benefit stakeholders in the innovation & entrepreneurship ecosystem through scientific methodologies. By closely working with different schools in SMU and collaborating with institutes around the world, we aim to leverage the power of knowledge from varies sources to contribute to SMU's areas of excellence in Innovation & Entrepreneurship.

Our research has two parts:
1. Applied Research
We bring in research findings from both within and outside of SMU, and convert them into best practices/guidelines for the entrepreneurship ecosystem stakeholders, as well as to apply research findings into entrepreneurship activities.
2. Original Research
We carry out and support research projects where we collect entrepreneurship-related data, using them to identify and investigate novel problems in entrepreneurship activities by using scientific methodologies.
Research areas include:
Start-up behaviour and growth pattern in Singapore and the Southeast Asia region

Angel investment behaviour in Singapore and the Southeast Asia region

Knowledge management and dynamics in firms' innovation process

Entrepreneurship and innovation related data analytics
We believe that through both applied research and original research, we can become knowledge generators and knowledge partners for start-ups, entrepreneurs, angel investors/venture capitalists, as well as for government authorities in Singapore and the Southeast Asia region.
Research Projects & Programme
In IIE, we have both applied and original research projects/programmes, and some of the ongoing projects/programmes are:
Scale Programme

Priming Regional Market Focus or General Capabilities - A Randomized Control Trail Approach
The Start-up CApability, Learning and Empowerment (SCALE) project at SMU aims to bring to Singapore start-ups the ability to grow and scale up through targeted training, mentoring, strategy optimization, feedback and networking. In this project we survey new start-ups to provide feedback, and use interventions like providing to them free workshops and mentoring sessions so they could potentially improve their performance. We also investigate how such interventions affect the start-ups' performances and their internalization behavior.






Resources Acquisition in Entrepreneurship Activities
Resources acquisition is a critical process in start-ups & entrepreneurs' activities. Start-ups/entrepreneurs need to identify the different types of resources they require like funding, human capital, marketing channels etc., and the need to acquire the required resources efficiently. In this project we investigate how entrepreneurs utilize their social capital to acquire resources, and what are the factors that impact resource acquisition's quality and efficiency.


Knowledge Management in Firms' Innovation Process
More and more firms are now considered as knowledge driven businesses. How knowledge plays a role in firms' innovation processes and how innovation behaviour contribute to firms' performance are of great interest to their decision makers. In this project, we use patent data as a proxy to measure and analyse firms' innovation behaviour in the knowledge landscape, as well as to investigate the knowledge transfer mechanism between firms' innovation teams.
People
IIE's research team includes professors from different schools of SMU, as well as dedicated researchers and research assistants. IIE's research team also actively work with collaborators from within and outside of SMU, e.g., INSEAD and CUHK.
Our research collaborators include Prof. Jared Nai and Prof. Simon Schillebeeckx from SMU, and Prof. Bala Vissa from INSEAD and Prof. Wilton Chau from CUHK, amongst others.