Overview
The purpose of IIE's research is to help and benefit stakeholders in the innovation & entrepreneurship ecosystem through scientific methodologies. By closely working with different schools in SMU and collaborating with institutes around the world, we aim to leverage the power of knowledge from varies sources to contribute to SMU's areas of excellence in Innovation & Entrepreneurship.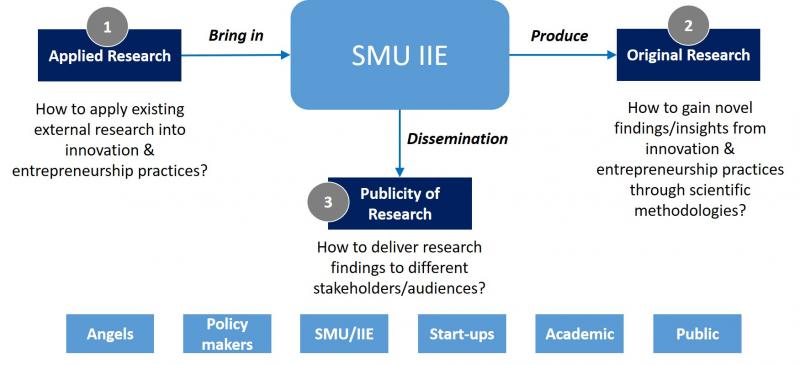 Our research has two parts:
1. Applied Research
We bring in research findings from both within and outside of SMU, and convert them into best practices/guidelines for the entrepreneurship ecosystem stakeholders, as well as to apply research findings into entrepreneurship activities.
2. Original Research
We carry out and support research projects where we collect entrepreneurship-related data, using them to identify and investigate novel problems in entrepreneurship activities by using scientific methodologies.
Research areas include:
Start-up behaviour and growth pattern in Singapore and the Southeast Asia region
Angel investment behaviour in Singapore and the Southeast Asia region
Knowledge management and dynamics in firms' innovation process
Entrepreneurship and innovation related data analytics
We believe that through both applied research and original research, we can become knowledge generators and knowledge partners for start-ups, entrepreneurs, angel investors/venture capitalists, as well as for government authorities in Singapore and the Southeast Asia region.