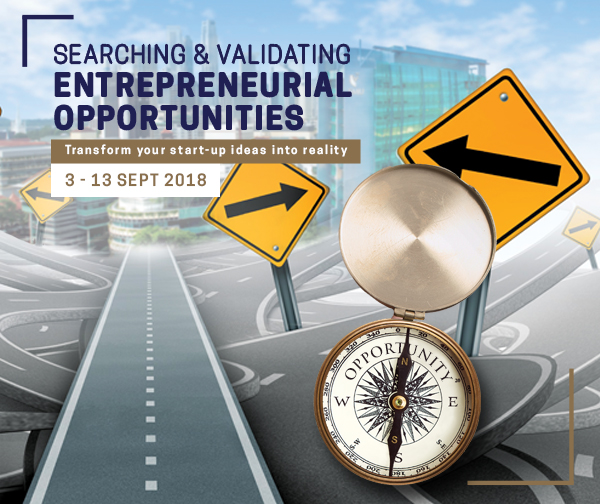 Programme Overview
Searching and Validating Entrepreneurial Opportunities is a two-week course that equips aspiring entrepreneurs with relevant and timely know-how. Aspiring entrepreneurs will learn how to identify opportunities and develop a plan to validate their business ideas.
Notably, this course is taught by Paul Santos, an experienced entrepreneur and one of the most successful venture capitalists in Southeast Asia. It includes case analyses and discussions of real-life startups, business idea presentations and feedback sessions, and sharing by successful entrepreneurs.


for the info session on 1 August



for the Searching and Validating Entrepreneurial Opportunities Programme


Programme Structure
3 - 7 September 2018 (Searching for & Identifying Opportunities)
Peter Drucker's 7 sources of innovative opportunity

Analysis of 6 Case studies such as Luxola (acquired by LVMH and now part of Sephora) to learn about how successful Asian entrepreneurs have searched for and maximized opportunities

Sharing by guest entrepreneur speakers featured in the above case studies
10 - 13 September 2018 (Validating and Market Testing)
Formu

lating a preliminary business model

Developing a testing plan for validation

P

resenting business ideas and testing plans

What Will You Gain
This course is designed and taught by one of the most successful venture capitalists in the region. Participants will learn how to:
Search and discover entrepreneurial opportunities

Challenge and improve their business ideas

D

evelop and validate hypotheses behind key business components

Who Should Attend
Anyone who has business ideas but does not know how to take the next step

Anyone who is interested in starting a business but is still looking for ideas

Large corporates / SME owners who want to develop a new business line

Entrepreneurs who are stuck in growing their start-up
Upon successful completion of the course, participants will receive a certificate of participation issued by Singapore Management University.


Key Dates

Programme Fee
S$3,424 (Inclusive of 7% Goods & Services Tax)
Financial grants are available for Singapore Citizens and Permanent Residents. Terms & Conditions apply.

Commitment to Lifelong Learning
After completing the course, participants will:
1. Be added to the global I&E community mailing list
2. Be given priority consideration for admission into IIE's incubator, the Business Innovations Generator (BIG)
3. Receive special invites to closed-door events