Semi-Finalists & Finalists Results
| | |
| --- | --- |
| Semi-Finalists | Finalists |
| Anchor | BiteSized |
| BiteSized | Flying Chalks |
| EyeU Technology | Homage |
| Flying Chalks | HummingBird |
| HeyVlala | Marine Nexus |
| Homage | |
| HummingBird | |
| MadeReal | |
| Marine Nexus | |
| Suited | |
Top two winning teams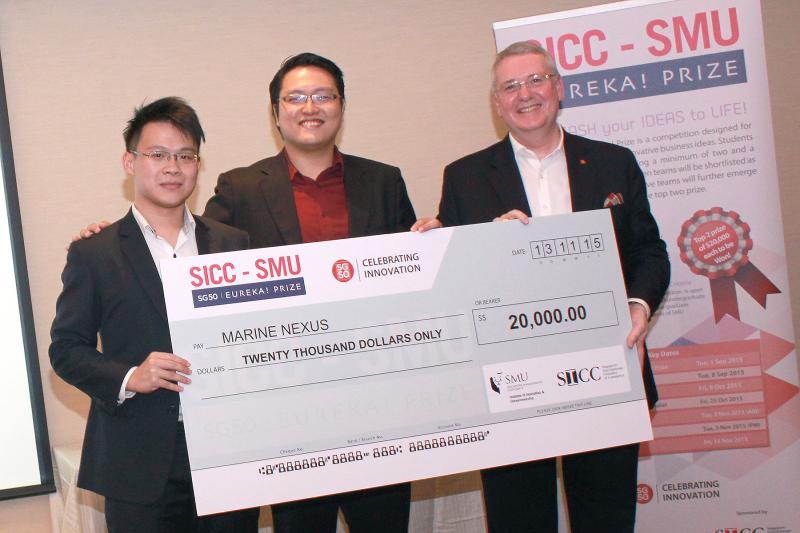 Marine Nexus
[from left to right] Timothy Ong Tze Yhi (School of Economics), Eric Chean Yu Fei (School of Accountancy) & Victor Mills (SICC Chief Executive)
Marinenexus.com is an online platform that connects the marine industry, primarily between buyers, sellers and charterers of vessels, ships and other marine craft from around the world. This is through a search and matching process and monitoring of potential vessels through a watchlist.


We understand that it is difficult for companies to find the right person or vessel for their needs. In contrast to traditional means of publicising information such as on a company website, the vessel listings on Marine Nexus will allow the company to know who has seen their vessels and allow the possibility of follow up with a prospect.

Marine Nexus streamlines the search and lead generation process while opening up the international market to all users of the platform. There are no commissions or hidden fees involved as the site is on a subscription basis, thus aligning common interests and allowing for very clear transparency in enabling our clients to pursue their objectives to the fullest on Marine Nexus.

Marine Nexus is led by two veteran entrepreneurs, Eric Chean Yufei and Timothy Ong. Prior to setting up Marine Nexus, Eric founded the offshore marine ship-broking firm, Oceanus Offshore and Timothy was a partner at the software solutions provider Hyron Infotech.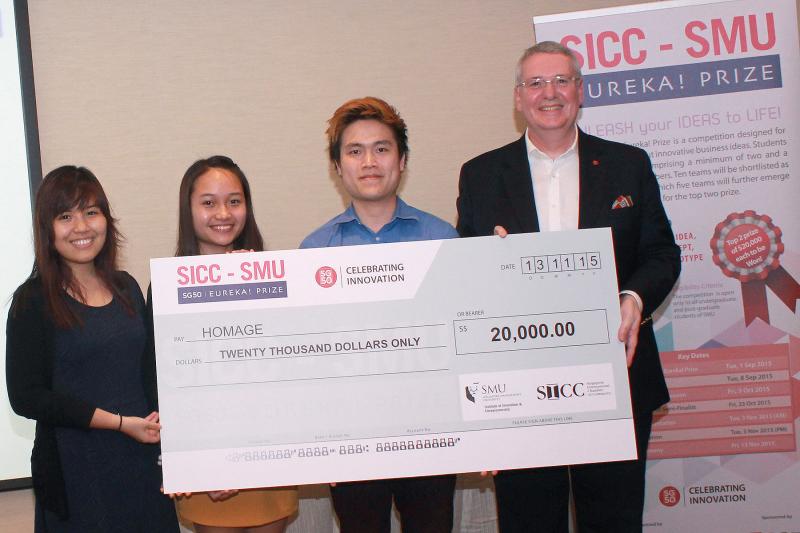 Homage
[from left to right] Vo Ngoc Phuong Nghi, Doan Minh Thi & Tran Binh Minh (Lee Kong Chian School of Business) & Victor Mills (SICC Chief Executive)
[not present]
TONG Nhat Duong (School of Information Systems)
Homage is a trusted marketplace for home caregivers (who are thoroughly screened and background checked). Till date, we have 210 care professionals registered to our platform (among those, there are 48 registered nurses, nursing students and 162 family caregivers who have experiences taking care of their own seniors previously. We also send them to the ILTC Skills Training Course for Care Associates – a subsidized caregiver training program organized by Agency for Integrated Care).

The Homage platform uses a proprietary matching engine that pairs seniors with the best care professionals for their needs in real-time. Family members can schedule, manage, and monitor care visits through Homage family app from anywhere, stay in communication with the care professional and get real-time information on the care their senior is receiving. Homage app will let family members know who visited their loved ones, how long they spent in the home, and what activities they did. Our technology allows us to send a Homage care professional to senior's house within 2 hours. Homage's app for care professionals lets them efficiently run their business, gives them better client information: a care plan individualized to each senior, helpful tips, ability to run on their own schedule, easy communication with the family members through their app.
Read more...Click Here
For more photos...Click Here