Happy International Women's Day: Celebrating BIG female founders!
Tuesday Mar 08,2022 | IIE News

Women are increasingly blazing the entrepreneurial trail and making significant strides in all walks of society. In this spirit and to honor International Women's Day, we've rounded up five inspiring female founders who were incubated at Business Innovation Generator (BIG) and created impact-driven businesses to make a positive impact in their communities.
Learn about the stories behind their startup and some of their advice for aspiring female founders. Their stories of creativity, community, and perseverance in the face of adversity will motivate and perhaps even inspire you to embark on your own entrepreneurial journey. 
---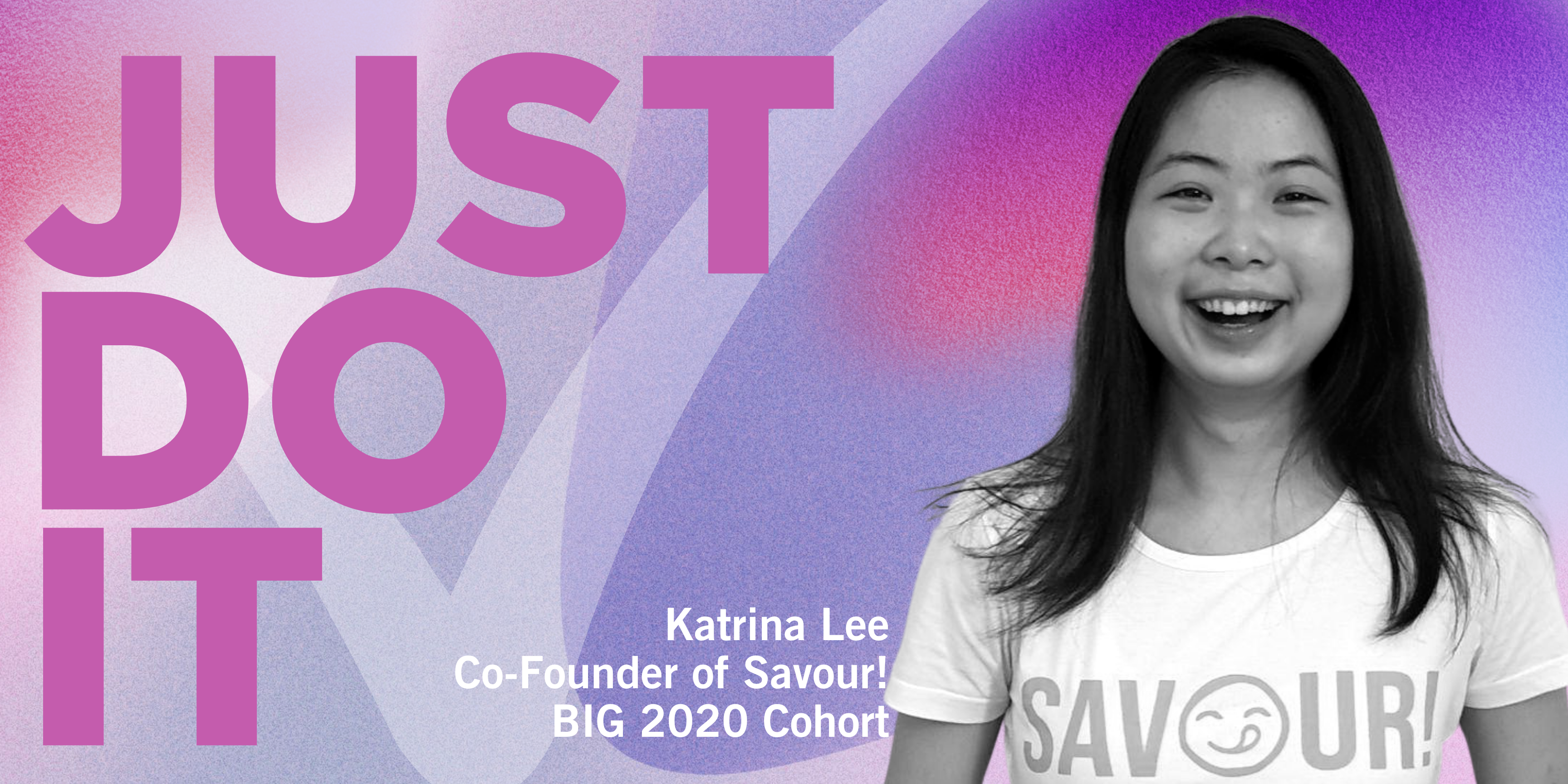 Katrina Lee, Co-Founder of Savour!, BIG 2020 Cohort
Q: Could you share with us how you got started in your entrepreneurial pursuits? 
I did an overseas work stint in Myanmar for a few months where I was working at a consulting firm tackling water shortage and pollution problems. I attended several climate change events and networked with other sustainability companies and environmental activists, which then inspired me to want to start a new venture relating to environmental sustainability. One of the current growing problems in Singapore is not water, but food, specifically food waste and food insecurity. I worked in the F&B industry where I saw a high volume of food being discarded regularly, and all this food could have gone to someone in need as I was volunteering actively in the non-profit sector to distribute food donations.
Q: What does it mean for you to be a female entrepreneur?
Along the way, I realised that there are females out there who look up to me as a young Asian female tech entrepreneur that could be a potential role model and aspire to follow in my footsteps to do what I am doing someday. Outside of my startup work, I mentor aspiring entrepreneurs and startup teams in my own personal capacity and in an accelerator program called Founders' Institute. Many people have mentored me and offered me the support that helped me to get to where I am today. My success is not just from my efforts alone, but the combined efforts of my mentors. Thus, I want to pay it forward and empower the next generation of female entrepreneurs to take the step to build impactful startups that are needed in the world today.
Q: What was the biggest lesson you have learnt to-date in your entrepreneurial journey?
The biggest lesson is that you got to just do it. That's a good quote to live by. Many aspiring entrepreneurs give up too early at the start as they feel they won't succeed due to not having a team, resources, support, etc. I started off with no team, no resources, and no support. But I was really passionate about what I wanted to solve and I had a rough idea of where to start. So armed with just a pitch deck and a very thick skin, I just put myself out there by participating in entrepreneurship programs, pitching in hackathons, attending networking events, and speaking to potential customers. My persistence and adaptiveness paid off where I eventually pulled together a highly capable and passionate team, secured funding, got strategic partnerships, been featured in many media publications and events, and rapidly gained traction that culminated in the successful launch of Savour!'s MVP platform in 2020, within a year of founding.
About Savour!:
Founded in 2019 and based in Singapore, Savour! is a tech startup that aims to reduce food waste and insecurity while empowering organisations with savings via digitalisation through building up a one-stop cloud-based B2B e-procurement marketplace webapp platform. Savour! offers products like expiring, blemished, and surplus but still perfectly edible food as well as expanding to gifts, supplies, and services. Savour! works with merchants across the entire supply chain from manufacturers to wholesalers to retailers. Savour! works with B2B customers such as MNCs, SMEs, non-profit organisations, and school clubs. To date, Savour! has over 3000 listings and over 700 merchants and B2B customers.
---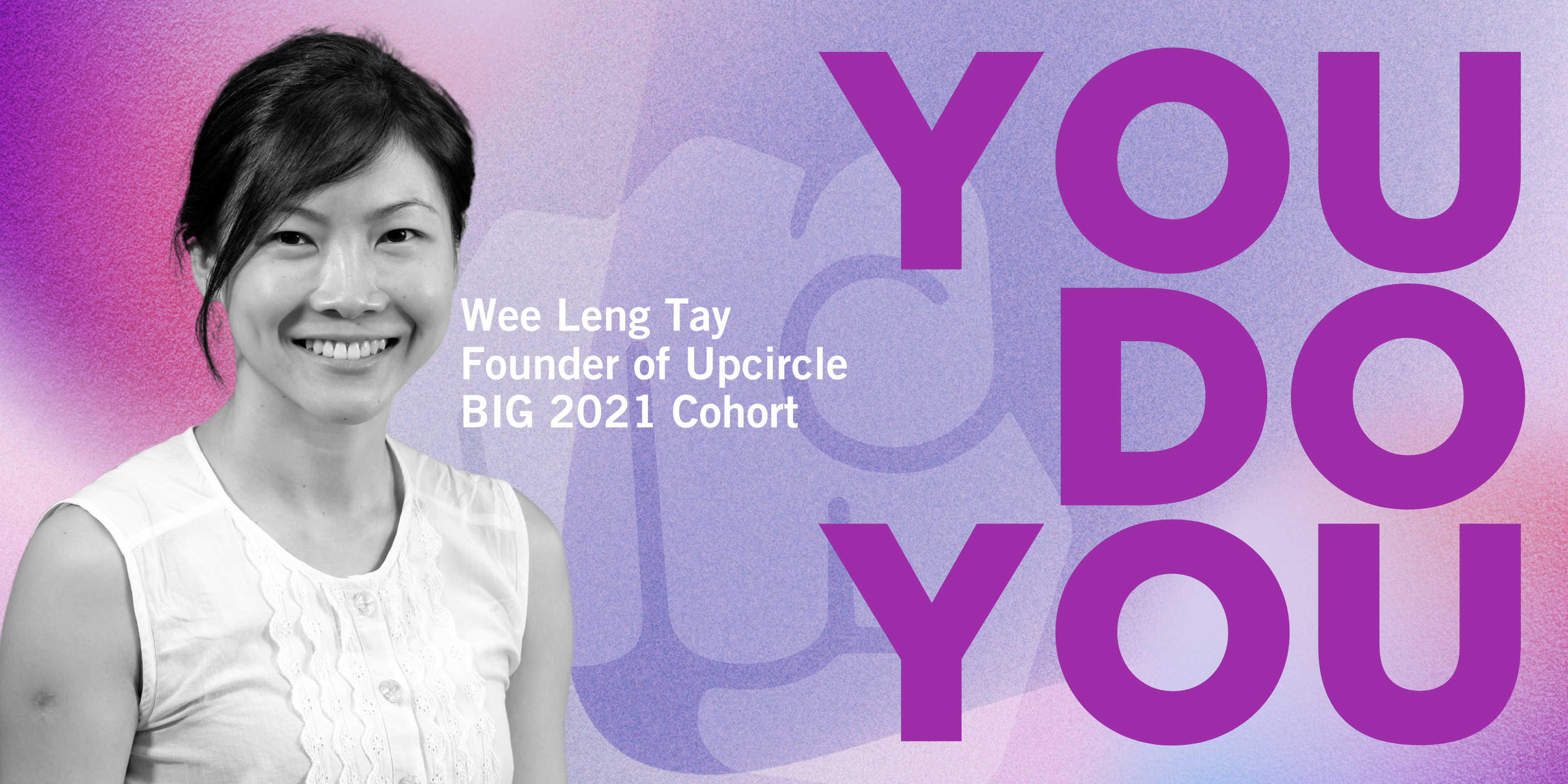 Tay Wee Leng , Founder of UpCircle, BIG 2021 Cohort
Q: Could you share with us how you got started in your entrepreneurial pursuits?
I am ex-Apple, ex-Siemens and I have also worked for a then-Series B SaaS startup based in Berlin. Having worked for amazing companies and a startup, I thought that the time was ripe to start my own, especially in a space that I've always been passionate about - Tech and the Circular Economy.
The concept of Upcircle's mobile app was inspired by the many lifestyle apps that have revolutionised the way people interacted with products and lived their lives. Specifically, we were inspired by Kickstarter and wanted to adapt the concept of crowdfunding meaningful projects to crowdsourcing for meaningful projects. Through the mode of crowdsourcing, we are pooling existing physical resources and reducing the strain on virgin-produced materials for different purposes - art, donations-in-kind, upcycling, etc.
Q: What was the biggest lesson you have learnt to-date in your entrepreneurial journey?
It is so important to believe in what you do. Because that keeps you energised and happy even when the grind gets tough. It is also then that you can be truly authentic about who you are as an entrepreneur and what your brand stands for.
Q: Do you have any advice for aspiring female founders?
Be an entrepreneur as who you already are - do something representative of you. Entrepreneurship and entrepreneurial qualities take different forms. And there is much value in the feminine form, too!
About Upcircle:
Upcircle is an environmental startup focused on bringing the circular economy to consumers. We have launched a mobile application for crowdsourcing of items and materials and are launching various campaigns for brands and organisations to engage consumers on their environmental sustainability initiatives such as recycling.
---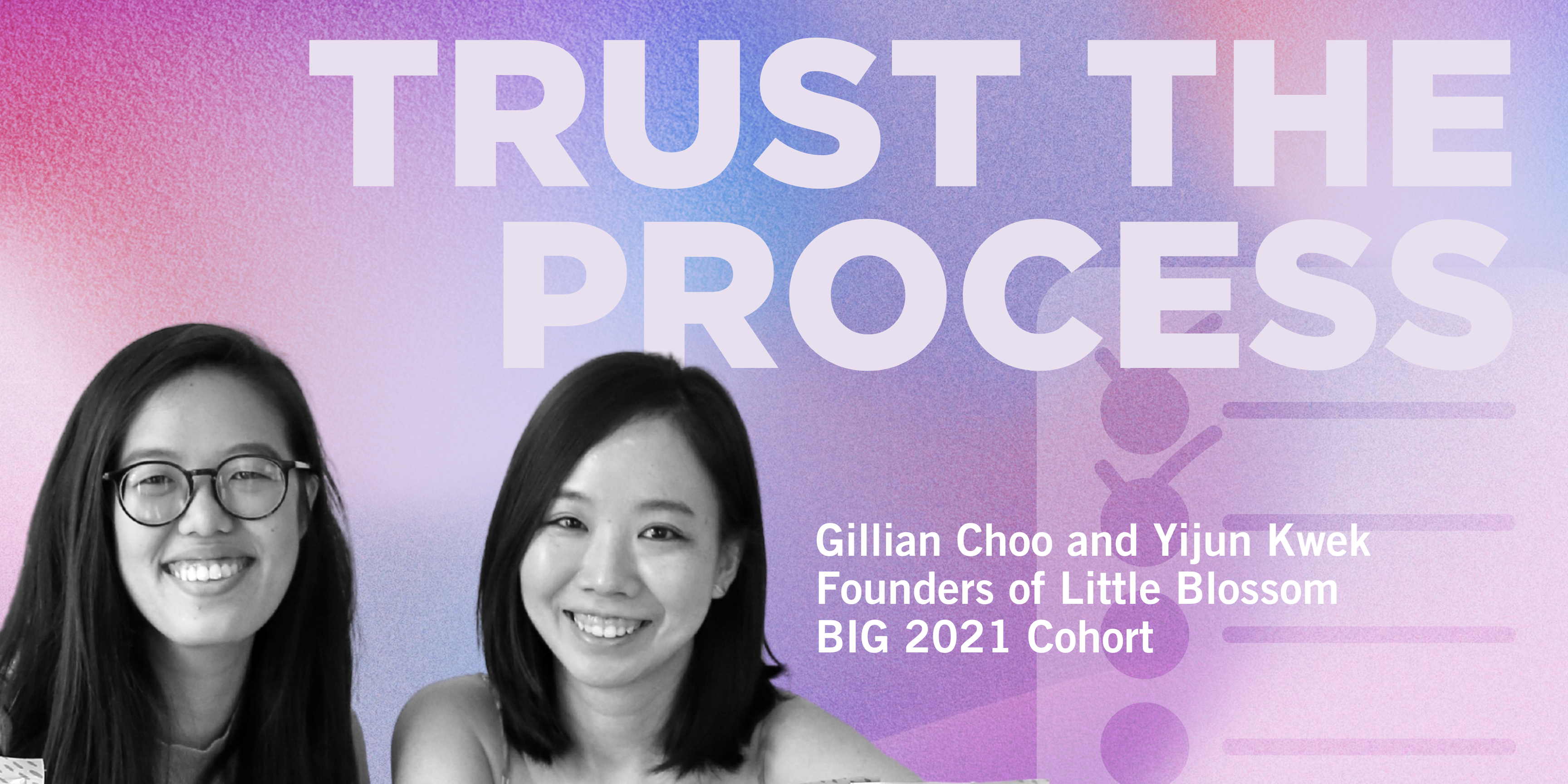 Gillian Choo and Yijun Kwek, Co-Founders of Little Blossom, BIG 2021 Cohort
Q: Could you share with us how you got started in your entrepreneurial pursuits?
We've worked together in the food industry for 5 years and have always dreamt of starting our own brand. The idea came about when we noticed that snacks and even ice creams were getting healthier but were surprised to find that baby food still contained sugar, salt and preservatives, which are not recommended for babies. The organic products were almost twice the price and we felt the pain parents had when trying to find healthy and affordable baby food.
Q: What was the biggest lesson you have learnt to-date in your entrepreneurial journey?
Things don't always go according to plan - we definitely did not plan to launch a business at the height of a pandemic! This initial hurdle became a blessing in disguise. Since people could not visit each other, they started sending Little Blossom as gifts to their friends and families, and that helped spread the word about our new brand and we even collaborated with other local brands to create gift sets.
Q: Do you have any advice for aspiring female founders?
Find an idea that you can see yourself working on for the next 5 to 10 years. You've got to be really passionate and committed about what you are working on – it takes a lot of effort to grow a business and you've got to be patient (even though it's hard sometimes!)
About Little Blossom:
Little Blossom is Singapore's very own organic baby food brand, created to nourish the next generation by providing parents with healthier food for their little ones. Our cereals and snacks are thoughtfully created with only organic ingredients, with no added sugar and salt and preservatives.
Founded in May 2020 during the height of the Covid circuit breaker in Singapore and since then, they have grown to a team of 4 women, an amazing community of parents and their products are available at major retailers like Redmart, Cold Storage and Fairprice. They have also recently launched in Malaysia, with plans to continue expanding throughout Asia.
---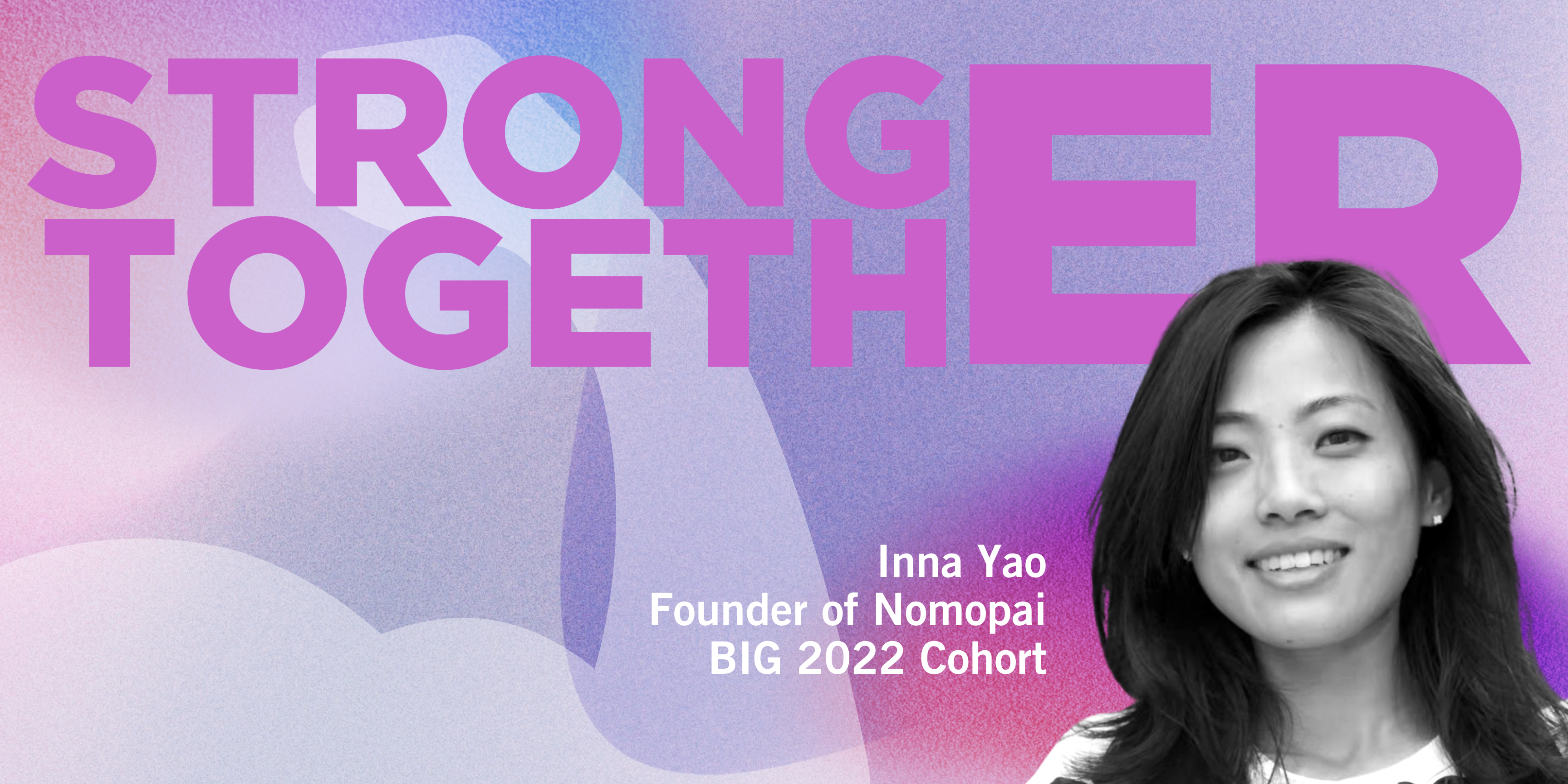 Inna Yao, Founder of Nomopai, BIG 2022 Cohort
Q: Tell us about your startup 
Nomopai helps companies to improve customer-loyalty through A.I. powered training.
Nomopai is an acronym for 'no more paiseh (dialect for feeling embarrassed)'. I engaged more than 100 individuals when validating my idea, I often heard:
'paiseh' to express myself
'paiseh' to ask for feedback
'paiseh' to practice my speech
The name is a constant reminder to us. Nomopai can potentially help a lot of people overcome their challenges and cultivate positive relationships.
Q: Was it more difficult for you to succeed as an entrepreneur because you are a woman?
Many years ago, I spearheaded a sustainability consultancy in China, in male-dominated building industry. I didn't feel different because I am a woman. Back then, 'age' was a discriminator.
A senior person told me I would fail because I was 'too inexperienced' and the Chinese market, 'too complex'. The statement had some truths as it was really challenging.  We were even cheated into doing work for free. Nevertheless, we still launched the consultancy having reputable real estate developers as our clients. Because of this experience, I don't discourage a person. I only share information that can help cover any blind spot.
Q: Do you have any advice for aspiring female founders?
If you are curious about what to expect as a 'female' founder, join a community with other female founders. I have been a committee member of the Career Women Group of Singapore Chinese Chamber of Commerce and Industry (SCCCI).  Seeing and hearing how others embrace challenges has made me wiser and stronger.
About Nomopai:
Nomopai is a communication training companion that provides personalised feedback & lessons based on A.I. powered analysis of training and operation performance.