Ask-Me-Anything (AMA)
Tuesday Jun 09,2020 | IIE News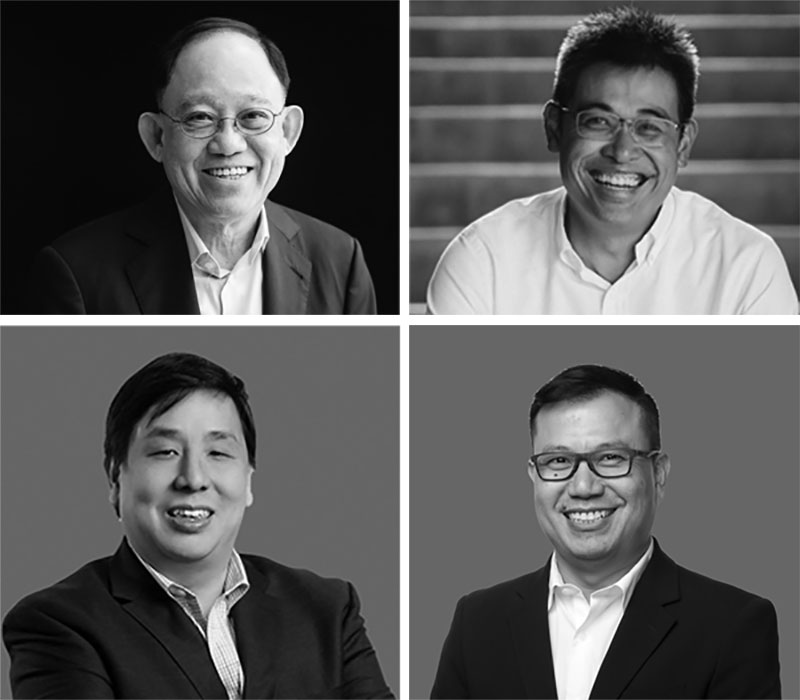 TODAY WE HAVE THE RARE OPPORTUNITY TO SPEAK WITH FOUR DISTINGUISHED VCS WHO HAVE CONTRIBUTED IN ONE WAY OR ANOTHER. A GOOD DAY TO YOU ALL! WE ARE SUPER EXCITED TO HEAR YOUR EXPERIENCE AS A VC AND YOUR TAKE ON THE INDUSTRY. OUR STUDENTS INTERESTED IN VC AS A CAREER WILL SURELY BENEFIT FROM YOUR ADVICE. LET'S START WITH SOME QUESTIONS ABOUT YOUR CAREERS IN VC. HOW DID YOU FIRST STUMBLE UPON VC AS A CAREER?
Kheng Nam: After serving 10 years with MINDEF and MND, I joined Natsteel as a Business Development Manager. Natsteel was interested to explore opportunities in new technology as a strategy of diversification. We started making trips to Silicon Valley in the early 1980s and invested in several high-tech startups. Several years later I joined the Singapore Technologies Group to start a team to make corporate strategic investments in the semiconductor and microelectronics industries. This team evolved to become the fund manager of Vertex Investment in 1988.
Jeremy: After completing my PhD, and doing academic research in Imperial College, I came back to Singapore in 2004 and joined A*STAR. At that time, they were starting to attract Singaporean researchers based overseas to come back and do R&D.
Did you know A*STAR has more patents than Harvard or MIT? Yet not many of those ideas can actually be converted into real businesses. During my stint there, my team was trying to commercialize one of the patents. We started to put together a business plan and went out to raise funds. That whole process made me realize that I did not understand the whole concept of starting a business.

I had a PhD and we did very good research, but at the end of the day, if we cannot commercialize and turn that idea into a business, we were only half successful. So I started looking at how I could get myself acquainted with the business side of things. I could get an MBA or alternatively, go into venture capital as it straddled both the technological and the financial aspects of venture creation. I chanced upon an opportunity to join Bio*One Capital, which was a $1B healthcare fund under EDBI that invested in medical devices, drug discovery development, stem cells etc.
 
---
AS A VC, IF YOU HAD TO CHOOSE BETWEEN PEOPLE OR IDEAS, WHICH WILL IT BE?
 
Paul: People. The best people will come up with the best ideas and be able to execute. Good ideas are a dime a dozen.
Kheng Nam: I would choose people. A startup team who is agile and strong in execution is likely to play a bigger role in the success of a startup than a great idea.
Jeremy: People. As a venture capitalist, I seek motivated individuals who want to risk everything to commercialize an idea. Ideas can be pivoted along the journey, it's much harder to change a person who doesn't start off the right mindset.
Jeff: I would choose people over ideas any time. In graduate school, I had attended many startup events, knowing that I wanted somehow to get involved with startups. One piece of advice that always came up was that always assume there were lots of people working on the same idea as you. I never really believed it until I started as a venture capitalist. (So don't get too fussy about non-disclosures, don't be too secretive about what you do).
 
---
THE ANSWER IS UNANIMOUS! IT HIGHLIGHTS THE IMPORTANCE OF HAVING PROGRAMMES THAT GROOM TALENT WITH THE RIGHT MINDSET AND SKILLS. (HINT: PROTEGE VENTURES DOES THAT!)
MOVING ON WITH YOUR EXPERIENCES AS A VC, WHAT ARE THE TOP 3 LESSONS YOU HAVE LEARNT IN YOUR JOURNEY?
Paul:
VC returns follow the power law
Opportunity = Value - Perception
VC is ultimately a people business
Jeff:
TEAM!
It's not so much about the entry valuation but about the value that is created.
It's always about aligning incentives with the entrepreneurs.
Kheng Nam:
Discipline to invest at a regular pace and not join the rush to invest in the most popular and trendy ideas.
Plan divestment strategies earlier as it takes a relatively long time to nurture and realise returns from promising investments.
Focus on helping to strengthen the management team right after making the investment.
 
---

THERE IS A LOT TO UNPACK IN THESE SHORT NUGGETS OF WISDOM SHARED. WE WILL BE SPENDING SOME TIME MULLING OVER THEM... NOW LET'S MOVE ONTO MATTERS CLOSER TO HEART.
HOW CAN SINGAPORE RETAIN ITS EDGE AS AN INNOVATION HUB IN THE WORLD?


Jeremy: Singapore needs to nurture deep-tech entrepreneurs. While we have the 1st wave of business model entrepreneurs, we need to produce entrepreneurs and companies that can be the legacy of our innovation economy. The likes of Apple, Sun Microsystems, HP in Silicon Valley have entrenched the US and sprouted a generation of entrepreneurs who have gone on to create more innovative companies.
Jeff: It's all about building a great ecosystem. Participants in an ecosystem feed off each other and build off each other's capabilities. Once an ecosystem is built, it becomes difficult to replace. As an innovation hub, good R&D capabilities, good stable of companies championing those innovations, good funding sources. I highly recommend a book, "Competitive Advantage of Nations" by Michael Porter that talks quite deeply about this if you are keen to learn more.
Kheng Nam: Singapore needs to develop and refine a comprehensive plan for the total ecosystem that supports and sustains the development of an innovation hub. It needs to create a more conducive environment for starting new companies. It has to attract a continual flow of foreign talent while simultaneously growing the local pool of entrepreneurs. It should reach out and develop stronger linkages with the regional innovation hubs.

VCs will play the most important role in this ecosystem. They provide the guidance and mentoring that support the growth of their portfolio companies from early stage all the way to IPO. More established VCs can leverage their networks of successful entrepreneurs, venture partners and advisors to accelerate the growth of their portfolio companies.
 
---

AFTER EXPERIENCING THIS UNIQUE SITUATION (COVID-19), WHICH VERTICALS DO YOU THINK WILL THRIVE IN THIS #NEWNORMAL? WHY?


Paul: We believe that change is probably the biggest driver of opportunity. COVID-19 is already driving massive change and will continue to do so. Some opportunities will be driven by new regulations. Think about what new laws could be passed for healthcare, insurance, travel, retail and property management. Some opportunities will be driven simply by the wider adoption of existing habits. Think about online shopping, digital media consumption, and e-learning.
Finally, some opportunities will be driven by more travel restrictions within cities, within countries and internationally. Think about meetings, events and education.
Jeff: That's the billion dollar question and what we as VC's are thinking about, "which type of companies are going to win in the new normal?" and "What exactly is the new normal?" Rather than speak about verticals, let's look at some trends that I believe have been catalysed by COVID-19:
Work (or study) from home - COVID-19 has forced many companies/schools to adapt to this and has proven that "it's not as bad as we thought". Companies that make it easier for this to happen will gain market presence. Online education, online conferencing, etc.
Social Distancing - This will continue on and industries will need to adapt new delivery models, some verticals that will thrive include telemedicine
Automation - More than ever, companies in labour intensive industries will adapt to prevent reliance on having lots of people in one place AI-assisted business models, robotics, etc.
The commonality of the above, most are very technology enabled.
 
---

I LIKE HOW BOTH OF YOU FIRST STARTED TALKING ABOUT THE TRENDS THAT WILL EMERGE BECAUSE OF COVID-19 BEFORE DISCUSSING THE VERTICALS. THANKS FOR SHOWING US THE THOUGHT PROCESSES OF A VC!
FINALLY, HERE'S WHAT STUDENTS INTERESTED IN A VC CAREER WOULD LOVE TO KNOW.
IS THERE ONE SINGULAR OR MOST IMPORTANT TRAIT OR SKILL THAT YOUR FIRM IS LOOKING OUT FOR WHEN INTERVIEWING APPLICANTS? DO YOU HAVE ANY ADVICE ON WHAT UNDERGRADUATES CAN DO TO DEVELOP THIS?
Kheng Nam: The most important skill is the ability to connect the dots and to associate one idea with another to develop new insight and identify emerging trends in technologies. You need to be able to synthesise relevant data from diverse sources to come up with new product ideas. To develop this skill, you should take courses related to "system thinking" where all the various parts of a complex system are connected and interrelated. You should read widely in many subjects, not just sciences and technologies, but other subjects such as arts, history, economics, philosophy and psychology as well.
Jeremy: VCs need to have a keen eye for differentiated business ideas and the financial skills to evaluate a venture. Typically VCs hire MBAs, serial entrepreneurs or corporate finance execs. At Genesis, we look for a curious mind who asks why not. Someone who reads extensively to feed that curiosity and also challenges himself/herself to be in the shoes of the consumer or enterprise who would buy that product. This is the hardest trait compared to getting a certificate in finance or technology.
Jeff: At the end of the day it's a very network driven business. The ability to find great companies, the ability to assist and help companies grow value all comes from a great network. So go out and make more friends!
 
---

IF YOU COULD TURN BACK TIME, WHAT WOULD BE ONE PIECE OF ADVICE YOU WOULD HAVE GIVEN YOUR YOUNGER SELF WHEN YOU WERE IN UNIVERSITY?
Jeremy: I would have started on my entrepreneurship journey much earlier. However looking back, I have accumulated valuable experiences in my academic, technology and venture capital careers that I can now use to mentor young entrepreneurs.
Jeff: Thinking back, I was probably too focused on grades. University is a great time to explore things that interest you, learn new skills, build a diverse network. Make use of those opportunities.
Kheng Nam: As you prepare yourself for a working life, it is important to develop the ability to accept both the good and the bad with equanimity. You need to cultivate the emotional strength to remain calm and composed when confronted with major setbacks and disappointments. You should remain optimistic and believe that something good may come from every bad situation. On the other hand, you should not become too euphoric when things are going very well as events could take a turn for worse suddenly.
 
---
Interviewee Profiles