Fluidlytix: Making Waves in Water and on Ground
Tuesday Jul 21,2020 | IIE News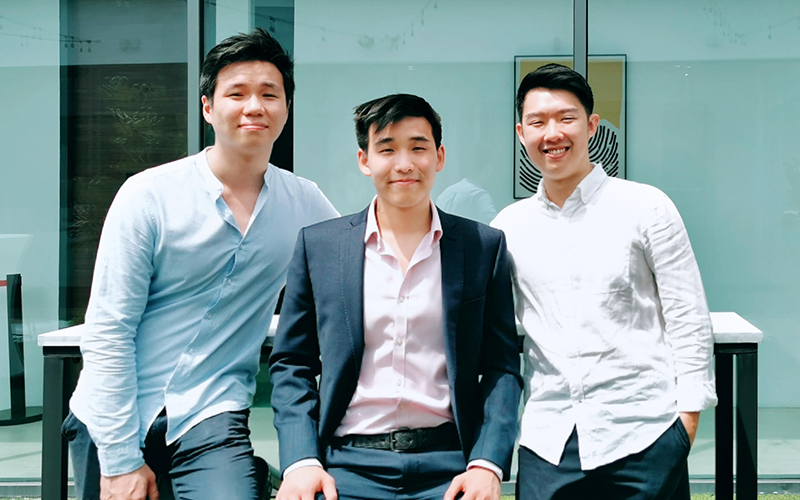 It all began with the respect for water. A decade of friendship rooted in water polo brought the trio of SMU student founders and members of SMU Aquatic Sharks - Adriel Ng, Ang Wan Loong and Darren Cheng in establishing Fluidlytix Asia.
The common water meter in the market measures the volume flow in pipelines, which includes water and air. Based on their research, people pay up to 30% more for their water bills. This 30% could potentially mean savings by the millions for industries such as manufacturing, refining and food processing that are heavyweights in water usage.
Some reasons why air bubbles are present in pipelines may be caused by leakages, and creation of air when water moves along the pipes. The team also explained that current pipeline infrastructure are also creating inefficiencies in water usage and causing water wastage.
---
CLEAN WATER IS A RARE COMMODITY – CUT THE WASTAGE
Having common friends in the piping industry brought this recurring issue to light, which piqued the curious minds of the three friends into finding a water-saving technology that can help solve this problem. They co-founded Fluidlytix Asia in December 2019 with other partners in the United States, and introduced the WAVE Valve into Asia market. The team is also co-developing a cutting-edge IOT technology that enables 'live' data collection from water pipes through a mobile application. This technology aims to reduce water wastage through water leaks and more. It also facilitates scheduling for maintenance of piping systems in Singapore.
Fluidlytix WAVE Valve can be installed in the main water pipelines which results in a compression zone before the meter reading mechanism. As a result of this compression zone, water bubbles are compressed into a size that is unreadable by the meter. The air bubbles then expand again at the end of the compression zone due to the difference in water pressure. When the water flows past the valve, the water is de-pressurised to an optimal pressure for consumption, that give rise to a reduction in water usage.
"Our key markets are industrial water users, hotels & resorts and even hospitals. Our goal for Fluidlytix is to pioneer a new generation of technologies for sustainable urban living in Asia, and at the same time creating societal awareness for sustainable business practices," said Darren.
Being on the path of a student entrepreneur is long and rough. Yet, the rewards are exhilarating and invigorating to the soul, especially when the eventual outcomes also result to greater good. Curious minds alone will not be sufficient and founders need all the support and opportunities they can get.
As the one of the newest startups to join BIG incubation programme, Darren shared his views in being part of this community, "We are looking forward to growing our network and being connected with the right industrial partners and clients. We also love to hear the advice from the mentors that the BIG programme will be matching us to."
Darren also shared that he also hopes to collaborate with other startups in developing their IOT technology further.
---
BEST ADVICE THEY HAVE HEARD AS STUDENT FOUNDERS
"Having resilience through failure is part of the process of building a successful startup."  - Darren Cheng, SMU Lee Kong Chian School of Business (BBA, Undergraduate)
"As long as you enjoy what you're doing, you will naturally find a balance between work and studies." – Ang Wan Loong, SMU School of Social Sciences Undergraduate (BSocSc, Undergraduate)
"Always keep an open mind!" - Adriel Ng, SMU School of Accountancy alumnus