TurtleTree Labs: Milking the Environment for Good
Tuesday Jul 21,2020 | IIE News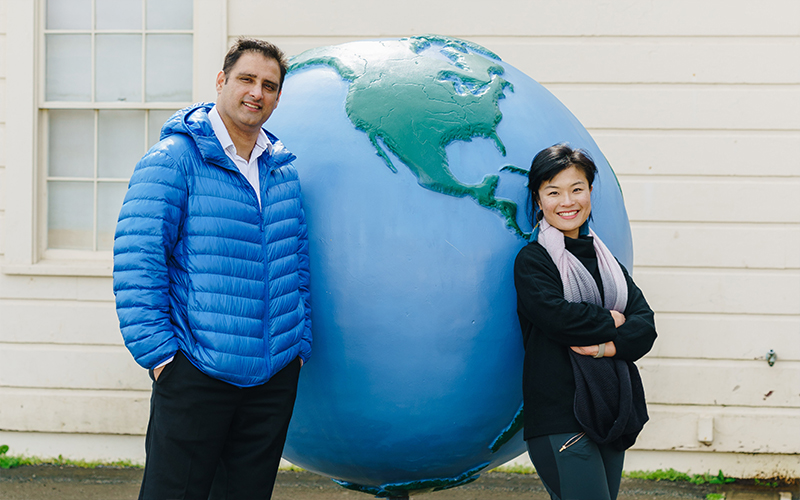 There is nothing bad about dairy. What is bad is the industry's impact on the environment and the systemic cruelty to dairy cows. The perception how milk is integral to social norms and lifestyle is also a contributor to this shady side of the business.
Co-founded by Lin Fengru (Chief Executive Officer) and Max Rye (Chief Strategist), TurtleTree Labs has a huge vision; to create a future where children and families anywhere in the world have access to sustainable, safe, clean and flavourful milk. SMU School of Information Systems alumna, Lin Fengru is an aspiring cheesemaker who stumbled upon challenges like hormones in milk and contract farming in her quest for clean milk in Asia. In her hunt for good quality, clean hormone-free milk, she met Max Rye a food-tech enthusiast who shared her vision, which led to a perfect business and scientific partnership that sets to disrupt the US$716B global dairy industry. Enrolled in SMU Institute of Innovation and Entrepreneurship's incubation programme – Business Innovations Generator (BIG), TurtleTree Labs recently raised US$3.2 million funding in July 2020 from international investors, and support from various agencies including Enterprise Singapore.
---
FIRST IN THE WORLD – MAKING MILK FROM LABS
Being the world's first cellular agriculture milk company, TurtleTree Labs creates milk from laboratory using its proprietary cell-based biotechnology.
First, they obtain stem cells from sources such as milk. Next, these stem cells are then transferred into an environment where they convert into mammary gland cells. The mammary gland cells interact with a special formula which causes the cells to lactate. Lastly, milk is obtained and cleaned through a filtration process. This process bypasses environmental degradation and animal welfare issues associated with industrial dairy industry.
This technology able enables the team to re-create a variety of milk other than cow's. The team have achieved their proof of concept and is working on scaling the production for the coming year.
---
DOING GOOD WHILE CREATING IMPACT
Having worked at tech giants such as Salesforce and Google, one of Fengru's key takeaway in her career was the importance in giving back. Adopting Salesforce's 111 model, she instituted a similar model of allocating 1% of the firm's product, 1% of its equity and 1% of its employees time to philanthropic causes.
The team has started a foundation where funds are raised so scientists can dedicate 1% of their time to creating milk for not-for-profit organizations such as animal sanctuaries and institutions that help animals in captivity. One example is elephant orphanages, where many elephant orphans (a result of poaching) passed away because they do not get the right nutrition.
---
JOURNEY AS A FOUNDER:
Fengru enthused on her entrepreneurial journey with praises for the amazing support she had experienced from the local food industry, government agencies and the investors she met. Through the 4-month incubation programme at BIG, Fengru complimented the network the incubation team had helped build.
"Clement and his team were super connectors. We are linked up regularly potential investors, partners and researchers. One of the most significant was an introduction made to A*Star, and now we are working on some research collaboration," said Fengru.
Sharing her personal thoughts, Fengru said, "Timing is everything! If a young Jeff Bezos tries to set up an online bookstore today, he would fail miserably. His foresight to capture what his customers would want next is what drove Amazon to a global e-commerce store today. It is all about adapting based on future trends and customer needs."
---
BUILDING A COHESIVE TEAM TO TAKE ON THE WORLD:
Having strong core values gave the team a very clear vision of how they want to grow their company.
"We view ourselves as a group of driven friends working on a project – bouncing ideas off, problem solving and tackling challenges we faced together. We encourage autonomy and for each to determine their own KPIs. The end goal is to strike a balance between giving structure yet not restricting creativity," said Fengru.
---