How can we build Singapore and SE Asia's Category Kings?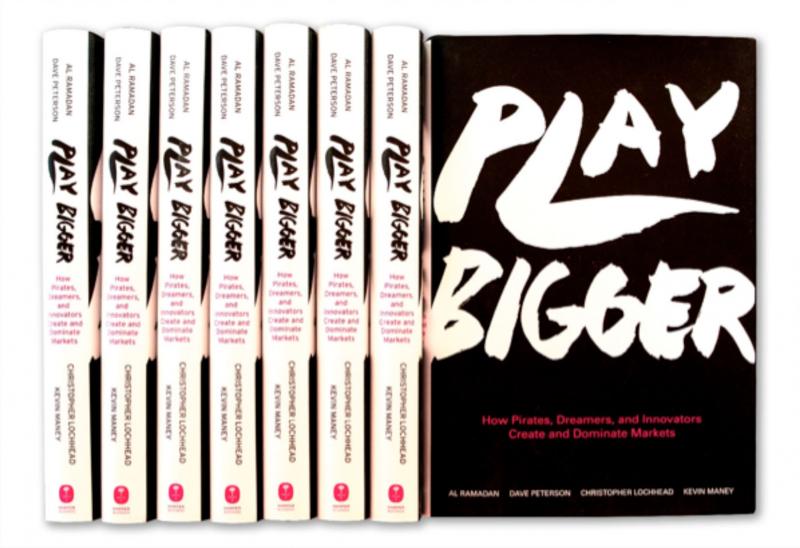 Winning today isn't about beating the competition at the old game. It's about inventing a whole new game—defining a new market category, developing it, and dominating it over time. You can't build a legendary company without building a legendary category. If you think that having the best product is all it takes to win, you're going to lose.
The category is the new strategy.

In Play Bigger, the authors assemble their findings to introduce the new discipline of category design. By applying category design, companies can create new demand where none existed, conditioning customers' brains so they change their expectations and buying habits. While this discipline defines the tech industry, it applies to every kind of industry and even to personal careers.
Co-Founder, and Co-Author of PLAY BIGGER, Al Ramadan will present on how both entrepreneurs and established enterprises need to define, develop and rule a category over time. Unique data for the Singapore market will also be unveiled for the first time.
The event also features a powerful panel of Singapore's leading VC's, start-ups and entrepreneurs.
Check out the media and event coverage of the book:
Harvard Business Review
Forbes Review
Stanford University
Additional Link:
Speaker Info:
Al Ramadan

Co-Founder of Play Bigger Advisors, and Co-Author of "Play Bigger: How Pirates, Dreamers, and Innovators Create and Dominate Markets"

Al is a co-founding partner of Play Bigger Advisors, and co-author of the best-selling book: "Play Bigger: How Pirates, Dreamers, and Innovators Create and Dominate Markets". Al's career includes co-founding Quokka Sports, which revolutionized the way people experience sport online. He then joined Macromedia and Adobe, where he spent almost ten years changing the way people think about great digital experiences. At Adobe, Al led teams that created the Rich Internet Applications category and helped develop the discipline of experience design. In the early '90s he applied data science to Australia's Americas Cup -- an innovation in sports performance analytics. He is currently a well-known mentor and consultant to top start-ups working with Play Bigger Advisors.

Shirley Wong

Managing Partner,

TNF Ventures

Shirley Wong is an entrepreneur with more than 20 years of experience in the IT industry. She co-founded Frontline Technologies Corporation Ltd in 1994 and it was listed on the Singapore Exchange in March 2001. Under her stewardship, the company grew from a team of 8 to 5000 across 11 countries in Asia Pacific. The company was acquired by British Telecom Global Services for SGD 202 million in 2008.

Shirley serves in several infocomm industry board and committees, including being the Chairman of Singapore Infocomm Technology Federation (SiTF), board of Infocomm Development Authority of Singapore, board of Singapore Science Centre, Co-Chair of Cyber Security Awareness Alliance, member of Malaysia Singapore Business Council and Council member of Temasek Polytechnic IT School Advisory Council.

She is also active in the start-up scene. She has worked with a number of start-ups and is helping them to secure funding, access resources, build market connections and go to markets. She is incredibly passionate about entrepreneurship and is excited to help build the start-up community in Singapore

As the Managing Partner of TNF, Shirley will be looking out for high potential start-up that has tenacity and capability to make things happen.

Christopher Mazza

Global Head of Commercial Ops, Clear Metal

Chris has 15 years on the cutting edge of shipping and logistics technology, as well as technology start-ups. He was part of the founding management team of IAS-- raising significant capital from the Pritzker group (eventually bought by Warburg Pincus) - and launching the first cloud-based collaborative shipping platform, including M&R, Dispatch Platform, and Chassis Management system. He also led the joint venture with Trinium, and was most recently the CCO of XVELA, which launched the industry's first port / carrier collaboration platform, securing 5 of the top 20 ocean carriers and 3 of the top 5 port operators, including the Port of Singapore, and acquiring both Interschalt and Müller + Blanck.

Rosaline combines two key traits in an entrepreneur - visionary leadership and relentless execution skills. Rosaline moved to Asia during the first dot com boom and successfully built two start-ups. She then moved on to the insurance industry and ran Mercer Marsh Benefits across 14 countries in Asia. During her tenure, she grew the business by 800% over 8 years.

Frustrated by the slow level of technology adoption in the sector, Rosaline decided to bootstrap and build her own employee benefits platform - the first of its kind in Asia. CXA is shaking up this sector by storm by enabling firms to repurpose their existing insurance spend to improve workforce health, provide employee choice & reduce HR's administrative workload while controlling rising healthcare costs. The company was recently valued at $US 100M after a series B cash injection of $ 25 million, and has clear ambitions to define and dominate an entirely new category around benefits and heath.

Alex Campbell

MD - Asia, Xero

Alex is the founding Managing Director for Asia, leading Xero's growth into Singapore, Hong Kong, Philippines and Malaysia and across the Asia region. Alex brings together a background in technology with a passion for helping small businesses grow and thrive. Prior to joining Xero, Alex was Executive Director, Asia at ASX-listed STW Group, responsible for corporate strategy, M&A and business development for Asia markets. Alex was recently ranked 11th as the most influential FinTech person based in Singapore by FinTech Asia.

Prof Ted

Associate Professor of Strategic Management,

Singapore Management University

Ted is Associate Professor of Strategic Management at SMU. He received his PhD in Public Policy and Management from Carnegie Mellon University. He teaches courses on design thinking and innovation, sustainability, and a new course on play and invention. His research is on design, and he studies game development teams and their creative processes. Prior to SMU, he worked for UN and Asian Development Bank research institutes on sustainable development and industrialization issues respectively.

PROGRAMME
---
| | |
| --- | --- |
| 4.30pm | Arrival, Registration and Networking |
| 5.00pm | Opening and Introduction by Darryl Dickens, Out-Position |
| 5.05pm | Play Bigger and APAC research: Al Ramadan |
| 5.35pm | Panel Discussion |
| 6.10pm | Q&A with Audience and the Panel |
| 6.25pm | Standup Refreshments and Networking |
IMPORTANT NOTICE:
Admission is by registration only. Rights of admission reserved!
DATE:
Start: Thursday, 23 Mar 2017 16:30 PM
End: Thursday, 23 Mar 2017 18:30 PM
VENUE:
Mochar Riady Auditorium, Level 5
SMU Admin Building
81 Victoria Street
Singapore 188065