4-month incubation programme for entrepreneurs and startups.
Submit your applications in the form below!
The Business Innovations Generator (BIG) programme is open to ALL, including SMU students, alumni and staff. Growth-oriented founders with a validated idea/MVP are given preference. This is a highly selective programme with an acceptance rate of around 15%.
Offerings/Supports:
Equity-free programme
Startup grants* (subject to eligibility and approval from respective organisations)
World-class advisors and mentors
Masterclasses led by industry experts
Co-working space in the heart of the city**
9-month access to The Greenhouse (4 months of incubation programme + 5 months of hot-desking @ The Greenhouse)
** Subject to social distancing policies and other COVID-19 measures implemented by SMU.


*Please check your eligibility for the following grants before you apply.
Non-incubated startups can apply but will have to accept incubation by IIE and accept mentoring upon the award of the grant.
One of the startup founders must be a current SMU student/faculty/staff or SMU alumni and hold one-third or more of the equity OR an equal stake vis-à-vis other founders e.g 5 founders of 20% each.
Startups who have received similar funding (e.g. Kickstart fund) support and any other government grant in the past 12 months are not eligible for application.
Startups who have received more than USD 1 million in external funding at the time of application are not eligible for the application.

The award of the acceleration grant is based on SMU IIE's discretion.

Learn More

Apply for Startup SG Founder "Start" through an Accredited Mentor Partner (AMP). Applicants will need to complete the Startup SG Founder Application Form and submit it to their selected AMP for consideration. If the AMP assesses that the applicant has met the eligibility and evaluation criteria, they will provide a letter of recommendation to the applicant, who must then attach this letter in an online application form, to be submitted to Enterprise Singapore. Enterprise Singapore will inform the applicant and AMP on the application status for the grant.

The grant is open to all Singaporeans/Permanent Residents who meet the following conditions at the time of application:

The team has at least 3 SC/PRs, who are the main applicants of the grant; At least 2 of the 3 main applicants are first-time entrepreneurs;

Please note that a key criterion for assessment is on how different or novel the idea/product/service/business model/process is compared to what is available in the market.

The main applicants who are first-time entrepreneurs must hold a minimum of 30% equity in the company collectively;
The company must have a minimum 51% SC/PR shareholdings;
The company must not be more than 6 months of incorporation at the point of application to the AMP;
The main applicant(s) must dedicate a reasonable amount of time on the business, not be employed full time by another employer and must be a key decision maker(s) in the company
The main applicant(s) must not have received any funding for the proposed business idea from another government organization;
The proposed business idea must not be in the following list: cafes, restaurants, night clubs, lounges, bars, foot reflexology, massage parlours, gambling, prostitution, social escort services, employment agencies (including recruiting foreign work permit holders and workers/support staff, relocation services, and manpower services), and geomancy.
---
Meet our expectations when you share your pitch deck with us.
Please spend adequate amount of time to prepare the initial pitch deck that you submit along with the application. In this template, you'll find some best-practices for your reference. Please use it as a guideline when preparing your pitch deck.
---
IMPORTANT DOCUMENTS TO BE KEPT READY BEFORE YOU START APPLYING
Pitch-Deck as per the guidelines given above
ACRA Bizfile, if you have already registered your company in Singapore.
[Very Important] Total size of the files to be uploaded (ALL files together) should not exceed 20 MB.
---
Check out our current cohort of BIG incubatees.
Startup Portfolio
---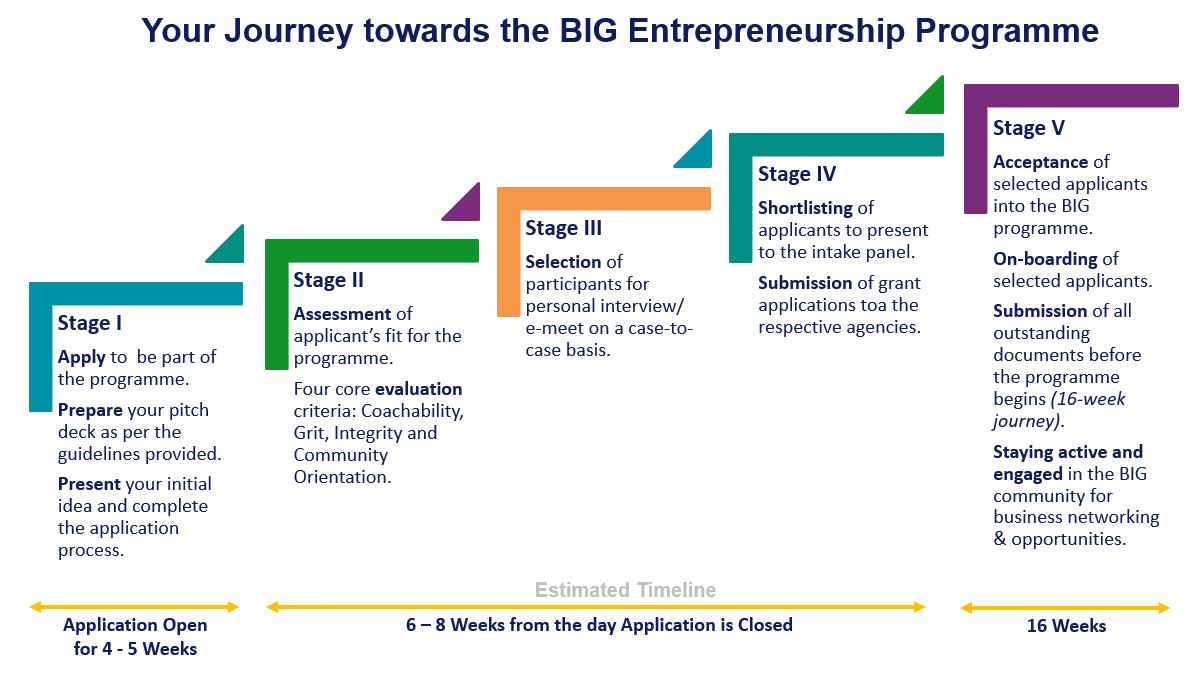 ---
Application for the BIG Aug '22 Cohort has officially closed. Your submission will be considered for the next BIG Jan '23 cohort. Thank you!