blu: Here to Revolutionise Retail Logistics
Monday Mar 26,2018
blu has one of the largest parcel terminal networks in Singapore. These automated parcel terminals, called bluPorts, are strategically placed within consumers' easy reach at prime locations like shopping malls, office buildings, convenience stores, petrol stations, and more. There is even a bluPort in SMU at the Li Ka Shing Library (near SMU Shop)!
But, what makes bluPort so special? For starters, consumers can collect their parcels on-the-go, from any bluPort, at their convenience. Instead of waiting at home for their parcel to arrive, shoppers can skip the wait entirely by opting for bluPort self-collection. In addition to saving time, shoppers can also eliminate the hassle of dealing with failed deliveries and coordinating redeliveries.
Further, bluPort is brand agnostic. Any retailer or logistics service provider can leverage on the expanding bluPort network to improve their operation workflows and reduce cost of redeliveries. Currently, international logistics providers like DHL and FedEx utilise blu's services, offering this convenient self-collection option to customers expecting parcels.
There are also various eCommerce stores offering bluPort as a delivery option upon checkout, giving their customers extra flexibility. For online stores that do not yet offer bluPort at checkout, consumers can still enjoy fuss-free parcel collection via bluGate (https://go.blu.today/blugate/). This service makes the bluPort network accessible anywhere, regardless of the shipping carrier offered by the retailer.
In contrast, competitors' offerings predominantly consist of manned collection points, which do not provide the same level of security, real-time proof of delivery, and 24/7 accessibility. These collection points are also limited to retailers offering that particular carrier.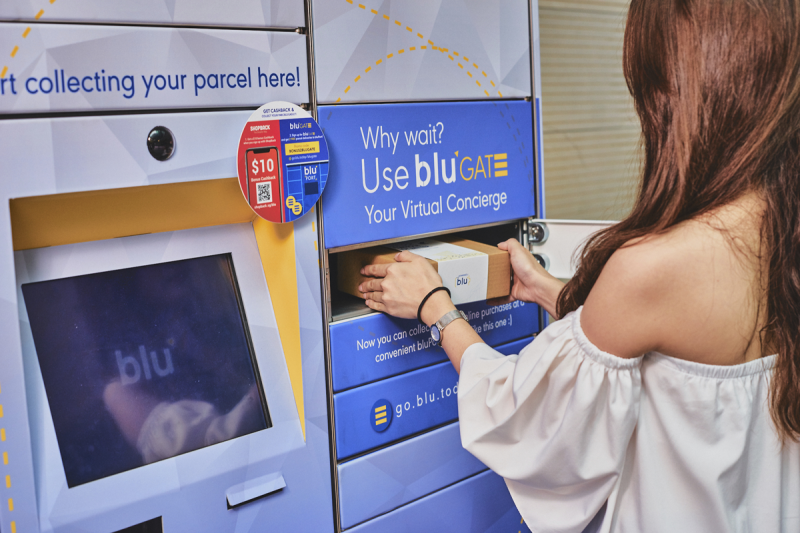 Image credits:blu
blu, the company behind bluPort and bluGate, is the brainchild of Prashant Dadlani, an SMU Alumnus, whose passion is to revolutionise retail logistics in Singapore. He founded blu in 2015 while completing his studies as a Finance major, to address the pressing problems that retailers were facing—inefficient logistics, especially in last-mile delivery.
At only 27 years old, Prashant has faced many challenges. Starting out as a young entrepreneur, he was met with skepticism when building his business concept. In a world where people are quick to write off great ideas, he had to persevere to make blu a reality. Being in SMU gave Prashant access to a variety of perspectives, people, and ideas—allowing the concept behind blu to be built on a strong foundation.
One of the strengths of being a young entrepreneur is "the amount of energy, drive and spirit" Prashant could bring to the business and to push for ideas. However, conversely, he recognises his inexperience in running a business had initially resulted in the inability to pivot fast enough in Singapore's fast-paced and competitive economy.
But Prashant was not deterred.
Through constant engagement in dialogue and interaction with mentors, suppliers, and experienced businessmen, Prashant gained valuable insights and wisdom. Spurred on by their personal experiences, Prashant became better—more agile, adaptive, and ready to transform the industry.
Regarding entrepreneurship in Singapore, Prashant says "it is still evolving". He believes entrepreneurship should be less about starting a business or making money, and more about solving problems and establishing new ways of doing things.
To all budding entrepreneurs out there, Prashant has this to say.
With all the challenges that will come your way, it is important to always keep in mind why you started. "You are the company that you keep" is a phrase that Prashant firmly believes will motivate any entrepreneur towards their goal.
"Entrepreneurship is not, and should not be, a solo journey. It is only through surrounding yourself with the right people, the right ideas, and having an honest, supportive approach that will push you to continue and succeed in the journey."
For more information on blu, please visit their website here.