GII Feature: Brandon Ong
Monday Oct 05,2020 | IIE News
Brandon Ong is a Year 4 Business Student. He joined Workstream in San Francisco, USA as an Data Analyst Intern through a self-sourced internship - a first in GII to go for a year-long, off-cycle. 
He had started his extended internship in Sep 2019 and was scheduled to complete in July 2020. However, due to COVID, the duration was shortened and he returned to Singapore in March 2020. 
---
What was your motivation for a extended internship in the US?
There were two main factors. The first was my interview with the co-founder, Lei. We got along well and I was amazed at how sharp he was even though we had only spent a short amount of time together. I still remember our first meeting — I had shared with him a personal adversary, and he responded by bringing up something similar he went through. Because of this, we immediately connected. It was rare to meet someone as down-to-earth and candid as he is, which is why I could see myself learning a lot under him.
The second deciding factor was the attractive opportunity they had offered me. At the time, the company was expanding rapidly and raising its Series A round of venture funding. Being an avid follower of the startup ecosystem, I recognised how rare this opportunity was and I couldn't turn it down.
How did you source for this internship?
I attended "BIG Startup School" organised by IIE's Business Innovations Generator (BIG) incubation programme where I met someone who works part-time at Workstream. During one of the BIG sessions, she mentioned the company and it piqued my interest. After the class, I approached her to find out more, and that was how I got connected to Lei, who would eventually go on to become my boss.
What was it like being in a new country - USA?
I was based in San Francisco. It took me some time to adjust to the new environment. Some challenges include getting used to working independently, being resourceful (or what startups like to call, "scrappy") and getting used to the predominantly extroverted people around me.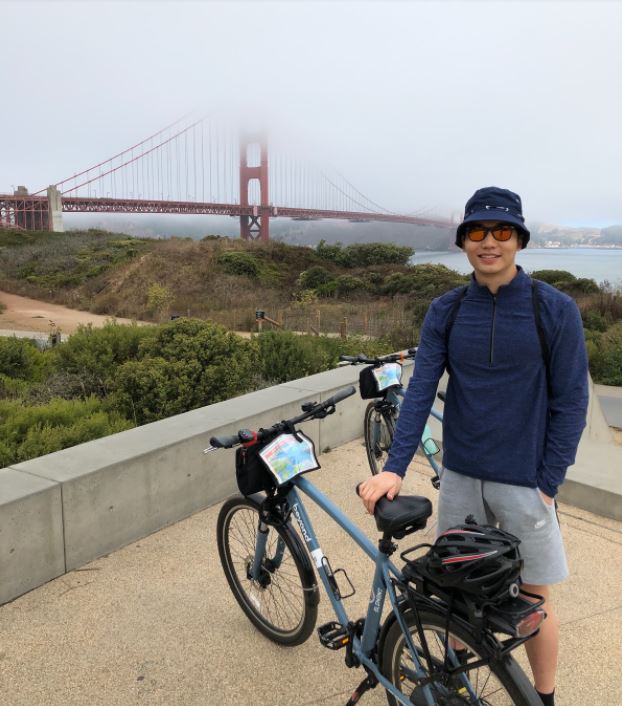 One thing that particularly stood out to me was how passionate people there are about technology. You can talk to anyone about it and everyone knows so much. Because of this common interest, people are extremely open to having coffee chats to talk about work and generously offer their help. People are more than willing to connect you with others they know that could be of help too. This vibrant tech community is why I enjoyed working in San Francisco so much.
I wouldn't call it a tradition/quirk but I was shocked at how most people are genuinely curious to get to know you better, at least for those I've met. Growing up in an Asian culture, it wasn't something I was used to. However, it inspired me to learn to do the same when I returned to Singapore.
Believe it or not, I started reading books about how to connect and engage with people better —and just kept practising! I also talked to some of my local friends about it and they helped me adjust to this new norm.
What was it like working in a culturally diverse company?
Working in a technology startup is challenging but fulfilling.
My job involved building the company's first analytics capabilities. The company had amassed data from various sources and needed someone to make sense of it, so that it could be applied to decision making. Lei was my main source of guidance, and I also reached out to friends and my network to figure things out. Initially, I was the only one on the team addressing all the feature requests, which meant that there was a never-ending list of things to do. This forced me to learn how to prioritise and stay organised.
Some of my key accomplishments include establishing the company's single source of truth of data, building data dashboards that tracked key performance indicators of the company, and helping out with upgrading our customer relationship management system from HubSpot to Salesforce. The whole experience was challenging because the work I did involved navigating through a lot of ambiguity. Nevertheless, it was extremely fulfilling to see my work come to fruition and its direct impact on the company.
What did you learn through this internship?
The mentorship was great. I learnt so much, not just from Lei, but from everyone in the company. At the time, I was in a tough spot as I tried to figure out my career track. Despite their tight schedules, everyone was always willing to have 1-on-1s, even the CEO! I'm grateful to all these people.
Apart from the hard and soft skills I learnt, one of my biggest takeaways is that a successful career is a long game. It involves patience, sacrifice and discipline. Also, if you want something bad enough, you can definitely achieve it!
Living in a foreign country alone made me realise how important and valuable relationships are and how much I used to take them for granted.
I'm also greatly inspired by all the amazing people I met. They taught me to dream big and work hard to achieve my goals.

Can you share a memorable moment where you demonstrated an entrepreneurial mindset?
One experience I'll never forget is the struggle at the very beginning. I was bombarded with things I didn't know how to do, and the answers weren't just a Google search away. To survive, I reached out to friends and people in my network in similar roles so that I could learn from them. I synthesised all their experiences and applied it to my personal predicament in order to overcome all the challenges.
You were in a unique situation given that you were doing an extended GII internship [abroad] while the pandemic was happening, and eventually you were recalled back to Singapore. What was that whole experience like for you?
It was a remarkable experience —when the COVID situation escalated, I only had a week to pack all my things and make arrangements to return home. In fact, I caught the last flight back to Singapore. I was fortunate to have the support of SMU, GII and the Ministry of Education, which helped ensure my safe return.
Even with the resulting inconveniences, I'd say the experience was worthwhile. The whole experience has not only expanded my world view, but also helped me to grow professionally and personally.
How does GII support your ambition?
Working and living overseas has inspired me to dream bigger and harder. It has also instilled confidence in me to accomplish my goals.
Why should students take on an overseas internship with IIE?
If you're someone who wants to push yourself out of your comfort zone, working and living overseas is a great opportunity to do that. Working in a foreign environment teaches you many things you can't learn in school (dealing with colleagues from different backgrounds, time management, thinking from others perspective) and helps you learn more about yourself.

What is a piece of advice or tip for a student on how to make the most of GII? 
Your experience will ultimately be what you make out of it. It won't be all sunshine and rainbows, but one thing you're always in control of is a positive mentality.
Also, as an intern, it is important to manage your expectations. Always try to see things from another's point of view when you're offered something that you don't want to do.
---
Global Innovation Immersion (GII) is a 3-month virtual/overseas internship at innovation hotspots, where you get to immerse yourself in the startup / innovation ecosystem, work alongside entrepreneurial minds and expand your connections in a foreign market.
Applications are open now for summer 2021! Apply before 23 Nov 2020. Feel free to iie-gii [at] smu.edu.sg (email) us for queries.