MEET THE MENTOR: DOUGLAS PERIS
Monday Jun 19,2023 | IIE News
Mentorship matters. Through our Meet the Mentor series, learn more about the mentors in our network and the role mentoring could play in your startup. In today's feature, we will be spotlighting Doug Peris, Partner, Founders Bridge.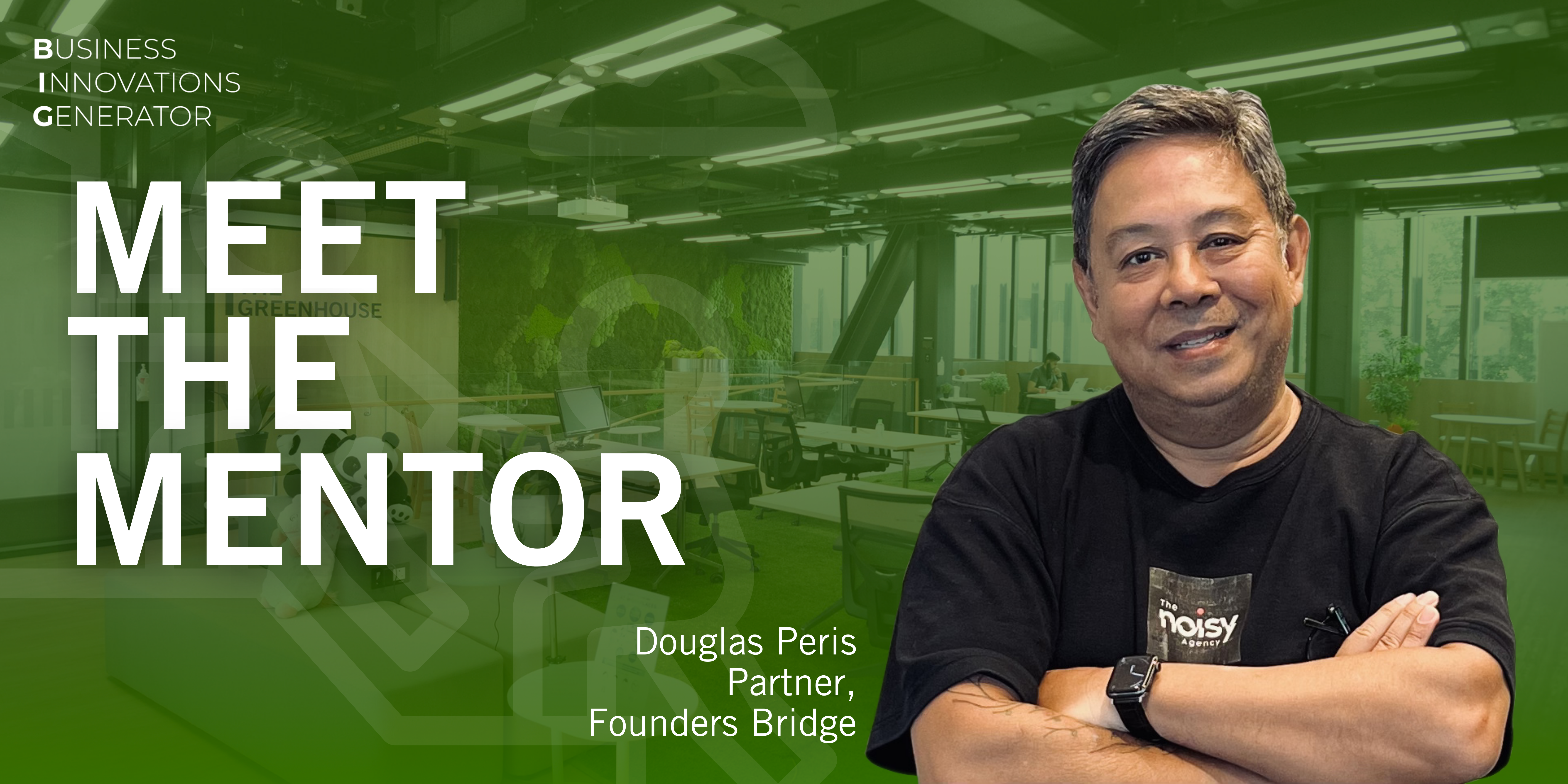 Tell us about your background and your area of expertise
My startup experience started about 13 years ago during the early days of the Singapore start-up ecosystem. I have founded six startups, sold two companies and had a crash-and-burn with one of them. I have raised several million dollars for my own start-up, and I coach for accelerators based in Canada, India, Lebanon and Singapore. I have coached 350 start-ups from around the world and helped about half of them raise external funding from investors. I was recently invited to be an international judge for the Lee Kwan Yew Global Business Plan competition. I work well with early-stage or first-time startup founders.
•Coached over 350 start-up founders hailing from 45 countries. Mentors and coaches new entrepreneurs in their early-stage growth and is an advisory board member of several companies in Singapore, the USA, Canada and India.
•Advisor to the following global start-ups: Tampa DeepSea, ClearSparrow, Entrusol, EcoActor, Apix, New Music Lives, M-Power, HavaNote, NimbusID, FoodSwap, NomoPai, GoSave, Monetha, Weava, Wooda, Laurus, Debyoo, SurmountAI, HopTo, Dynoculus, Recroot, Fidelis Ideas, Smart Food Stuff, Dakko, Dendrite.
•Mentor at the Innovation Park Accelerator program at the American University in Beirut, Lebanon.
•Judge at the Eureka start-up competition for the Entrepreneurship Cell of IIT Bombay 2021 (India)
•Worked at Uniphore in their early startup days before becoming the first Indian unicorn to emerge from IIT Madras.
•Certified Professional Mentor, Asian Institute of Mentoring
•Executive Leadership Positions in Avaya, British Telecom, InterTouch, Lucent, Telstra and Unisys
•Public speaker at technology events in Asia and Middle East
•Active volunteer for Tabitha Foundation in Cambodia since 2009
•Cyclist, Surfer and Food Writer
Where does your interest in mentorship stem from?
In a previous corporate role, I was one of the executives that managed the company's global graduate management program, helping people transition from university life to corporate work life. My own experience helped tremendously to guide and advise those people and that's where my passion for mentoring developed.
What do you look at when assessing a startup?
I look at the founder and the founding team. I try to understand what they are developing their particular startup. They all have a unique story to tell and usually, I get a good feeling about why they have pursued their particular business idea. Of course, I'll look at the business side, the size of the problem they are solving, the potential market size and also whether their customers will be willing to pay for the solution.
What do you think is the most important question a startup founder should ask any mentor on their first meeting?
Why will you be a good mentor for me?
What are some tips you have for startups to nail their pitch?
Capture the investor's interest in the first 10-15 seconds by asking questions like, "did you know blah blah blah".
When you introduce your start-up make sure you explain what your business is all about in simple, non-technical language.
In your opinion, what is the value of an incubator programme for startups?
Learning from experienced people who have built startups.
Networking with other founders.
Showing you how to win and avoid mistakes.
If you could turn back time, what would be one piece of advice you would have given your younger self?
Not sure, but I guess it would be to move faster in my decision-making for my early start-up. My indecision at times did cause problems for my business.
Which verticals do you see thriving due to the pandemic, and how can aspiring entrepreneurs leverage on it?
Anything to do with sustainability, environment, agri-tech, mental heath and wellness tech, and AI deep-tech that will feed populations without destroying the earth and make life easier for people through deep-tech innovations. Aspiring entrepreneurs should find compelling ways for people to change their food habits and embrace tech to make life easier.
Have a BIG startup idea but not sure how to get it off the ground? The Business Innovations Generator (BIG) is a four-month, equity-free, founder-centric incubation programme designed to help student founders and early-stage startups grow faster. Founders get to validate their startup at no cost through mentorship, dedicated resources, funding, and access to an investor network. Now accepting applications for the AUG'23 cohort. Apply by 30 June 2023.