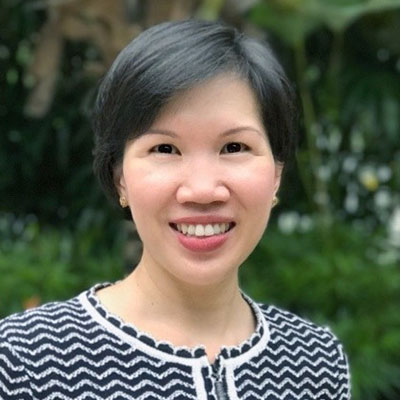 Wenxian Yeo
Head of POSB & Head of Distribution for Consumer Banking Group Singapore
DBS
In Wenxian's role as the Singapore COO at DBS Bank, she brings together various parts of the bank to deliver greater value and synergies across our Singapore franchise.

Her personal motto is a quote by Aristotle: "Courage is the first virtue that makes all other virtues possible". Prior to joining DBS, she was a stay-at-home mom for 4 years. Courage gave her the strength to re-join the workforce and to not give up or feel dejected during the process. Without courage, she states that she would not be back in banking today and making an impact at DBS.
In 2000, after graduating from Brown University with a liberal arts degree, she started her career with JPMorgan in New York. During her 7 years (6 in NY, 1 in Singapore) with JPM, she advised companies on corporate strategy, M&A and capital market transactions.

She took a break from banking between 2007 and 2011 to have 2 kids (I now have 3). In 2008, she co-founded Strangelets, a lifestyle boutique in Singapore featured by Monocle and Wallpaper for its curated selection of artisanal objects by small batch designers. Running Strangelets she shares was an invaluable experience in thinking and operating as a business owner.

In 2011, she joined DBS' Strategic Advisory group to help build up origination and M&A advisory capabilities. In 2016, she moved over to the Singapore Country Office as Singapore COO.