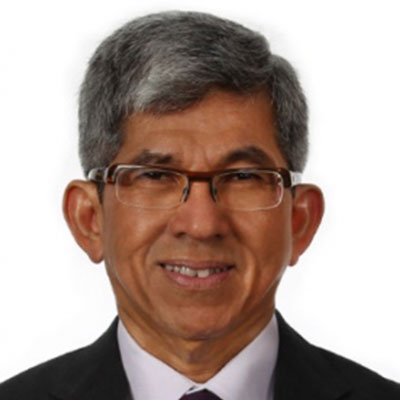 Professor Yaacob Ibrahim
Advisor, Office of the President
Director, Community Leadership and Social Innovation Center Singapore Institute of Technology
Former Minister of Communications and Information
Dr Yaacob Ibrahim has been a Member of Parliament (MP) since 1997. He served as the MP for Jalan Besar Group Representation Constituency (GRC) from 1997 to 2011 and Moulmein-Kallang GRC from 2011 to 2015. He was re-elected in the 2015 General Elections and is currently the MP for Jalan Besar GRC (Kolam Ayer). He was also the first Mayor of Central Singapore District from April to November 2001.
Dr Yaacob served as Parliamentary Secretary and Senior Parliamentary Secretary at the Ministry of Communications and Information Technology, before he was appointed the Minister of State for Community Development and Sports in November 2001. In March 2002, he was appointed as the Ministry's Acting Minister and the Minister-in-charge of Muslim Affairs. In May the following year, he was promoted to Minister for Community Development and Sports, where he saw through the building of the Singapore Sports School and started work on the Singapore Sports Hub.
In August 2004, Dr Yaacob was appointed Minister for the Environment and Water Resources. He was re-appointed as the Minister following the May 2006 General Elections. Following the May 2011 General Elections, he was appointed Minister for Information, Communications and the Arts. In November 2012, with the restructuring of ministries, Dr Yaacob became the Minister for Communications and Information. He was re-appointed as the Minister following the September 2015 General Elections.
Dr Yaacob was appointed Minister-in-charge of Cyber Security in April 2015 and build up the Cyber Security Agency (CSA). In February 2018, he passed the Cybersecurity Bill in Parliament, which gives CSA the mandate to strengthen the protection of the Critical Information Infrastructure (CII) in 11 sectors against cyber-attacks. Under Dr Yaacob's watch, the Singapore International Cyber Week (SICW) was launched and became an important regional platform for global cyber security issues. Ministers from ASEAN Member States attended the ASEAN Ministerial Conference on Cybersecurity to discuss cyber norms and capacity building measures for ASEAN. Notably, under his charge, CSA inked partnerships with local and foreign industry players to improve information sharing on cyber trends. Singapore also signed Memoranda of Understanding with Australia, France, Germany, India, Japan, the Netherland, the United Kingdom and the United States of America to strengthen cooperation on cybersecurity.