Kwanpen Postgraduate Summer Venture Awardee: Wei Qiluo
Thursday Aug 26,2021 | IIE News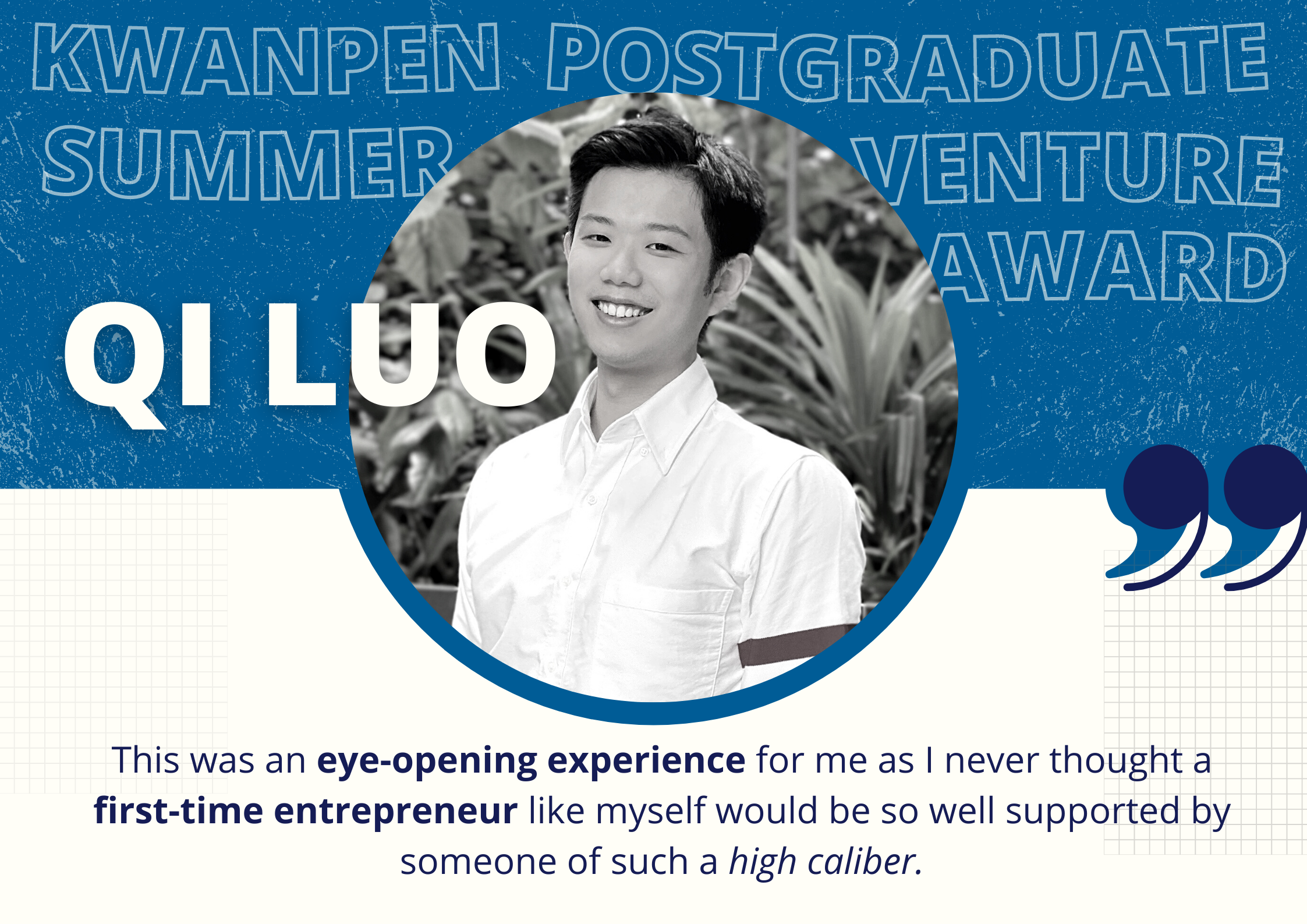 ​
Name: Wei Qiluo
Major / Course of Study: Masters of Science in Innovation (MI) at SMU
---
Tell us a little bit more about your startup & what you were working on this summer.   
My start-up Lokotopia is dedicated to help local brands get ready for overseas expansion. From product-market fit all the way to fundraising, we provide customers a one-stop service with a very low initial cost, efficient work and flexibility to achieve their goals.
---
How has the Kwanpen Postgraduate Summer Venture Award benefitted you so far?
The Kwanpen Postgraduate Summer Venture Award scholarship has benefitted me a lot! Beyond financial support, the resources and mentorship provided are extremely valuable. As I reflect on these past 10 weeks, I cannot imagine where I would be without my mentor's guidance.
---
I would recommend the Summer Venture Award to other student entrepreneurs because...
I'd strongly recommend this summer venture program because as a newbie entrepreneur, it's akin to being dropped in the middle of the Pacific Ocean. I started out pretty lost, but this program provided all kinds of experts and mentors when I encountered difficulties. The mentors are really the best part of this program! They are true experts and successful business leaders with a wide network and rich knowledge. They are more than willing to help and guide you wholeheartedly and even take time out of their busy schedule. This was an eye-opening experience for me as I never thought a first-time entrepreneur like myself would be so well supported by someone of such a high caliber. My mentors also gave me courage, confidence, and motivation to keep working hard. I highly recommend this program! I would also like to express my deepest thanks to JinZhou and Raymond for their help. If you ever have a chance to join in this program, go look for JinZhou. She is the warmest person on earth 😊 .
---
Want to learn more about the scholarships & grants available? Click here to find out more!