Press Release: Identifying Transformative Innovations and Technopreneurs of Tomorrow: SMU Unveils Winners of 11th Lee Kuan Yew Global Business Plan Competition, one of Asia's largest university-led start-up challenges
Thursday Sep 14,2023
The Grand Final Winners are MEDEA Biopharma (Beta Prize) from Technical University of Munich, and PlasticFri (Infinity Prize) from Karlsruhe Institute of Technology 

Total of S$2.5 million worth of prizes were awarded to the winners across various categories 
Photo: The eight grand finalists of the 11th Lee Kuan Yew Global Business Plan Competition by SMU Institute of Innovation and Entrepreneurship (IIE) 
SINGAPORE, 14 September 2023 – MEDEA Biopharma from Technical University of Munich (Germany) and PlasticFri from Karlsruhe Institute of Technology (Germany) were today, on 14 September, declared Grand Final winners of the 11th Lee Kuan Yew Global Business Plan Competition (LKYGBPC). Organised by the Singapore Management University Institute of Innovation and Entrepreneurship (SMU IIE) from 11 to 15 September 2023, the LKYGBPC is one of Asia's largest university-led start-up challenges. 
MEDEA Biopharma won the Lee Kuan Yew BETA Prize while PlasticFri clinched the Lee Kuan Yew INFINITY Prize. The BETA category covers pre-revenue start-ups while the INFINITY covers revenue-generating start-ups in the early- to Series A-stages.  
Both winners receive S$100,000 in cash and S$75,000 in-kind prizes each, and the opportunity to be mentored by some of the more notable venture capitalists (VCs) in the innovation and entrepreneurship space for expansion in the region.  
 The Grand Finals Winners
MEDEA Biopharma from Technical University of Munich University, Germany - Lee Kuan Yew BETA Prize (0 to 1 Category-pre revenue start-ups)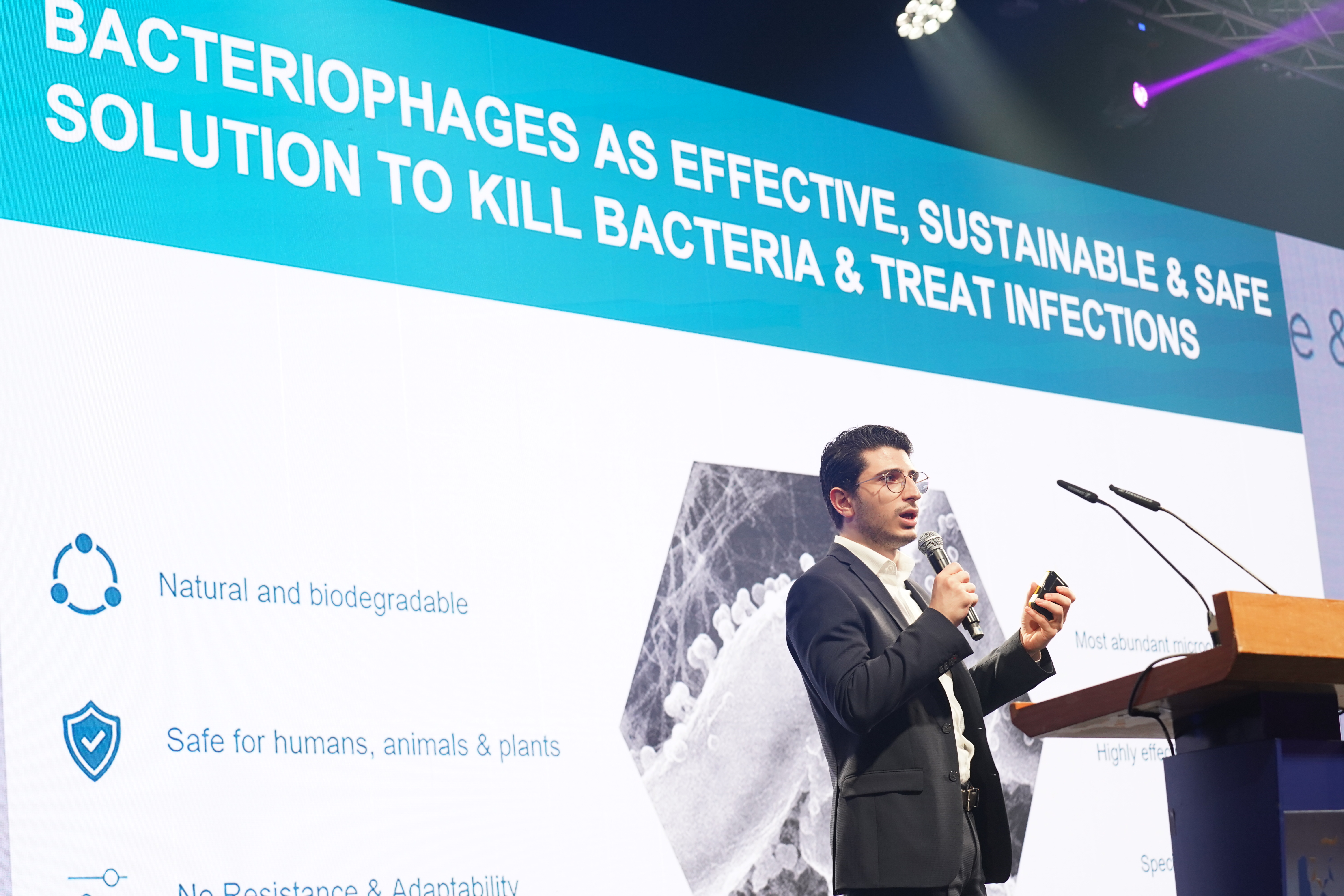 MEDEA Biopharma is a start-up developing a new generation of sustainable and eco-friendly antibacterial solutions as alternatives to chemical and harmful antibiotics, copper and pesticides, to effectively combat harmful bacteria in humans, animals and plants. Founded by Rüdiger Trojok, Dr. Elene Kakabadze, and Giorgi Khubua, the firm entered the competition in the 'Urban Solutions and Sustainability' Category.   
PlasticFri from Karlsruhe Institute of Technology, Germany - Lee Kuan Yew INFINITY Prize (1 to Infinity Category that focused on early to Series A-stage revenue-generating start-ups)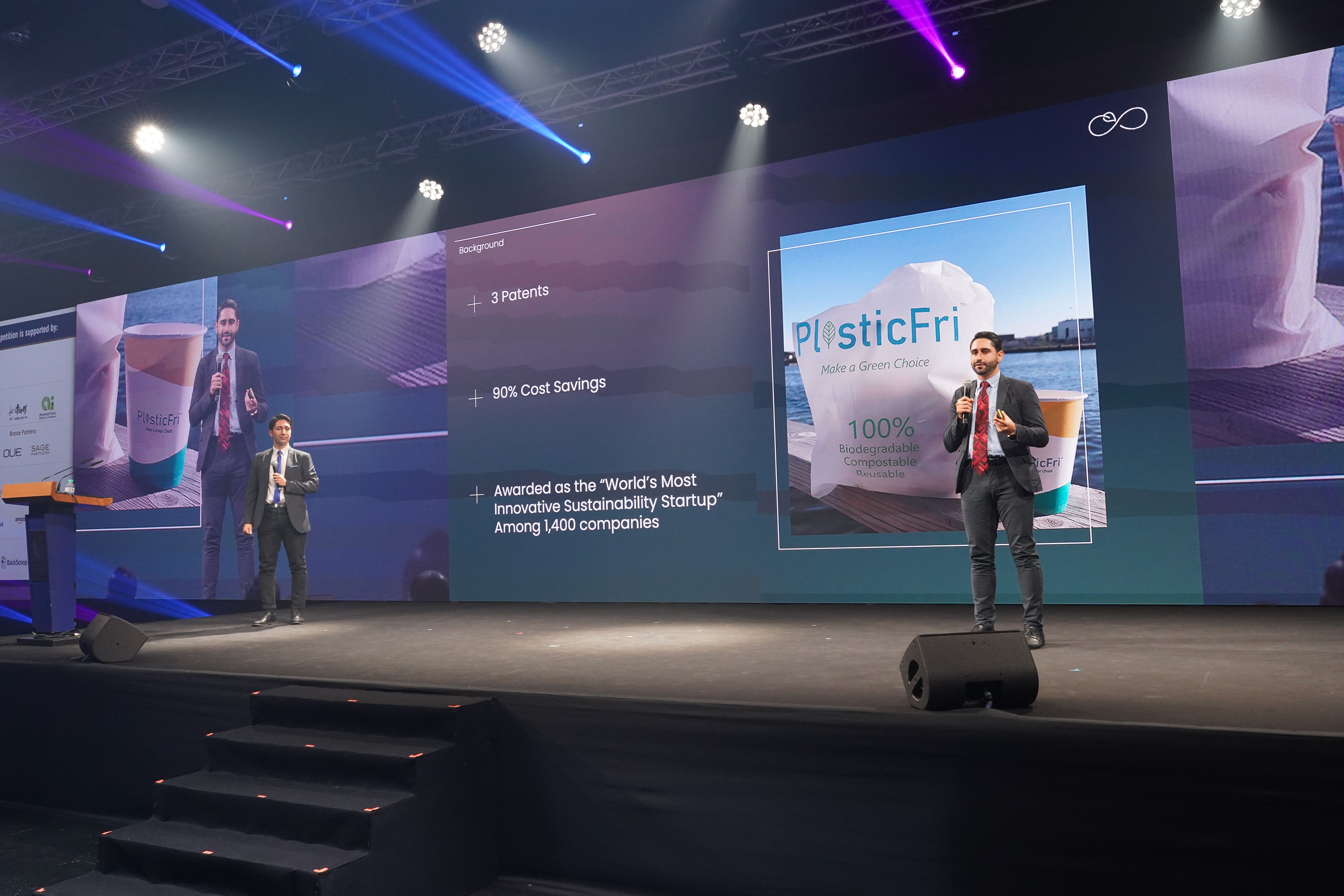 PlasticFri is a greentech company with a breakthrough technology that turns agricultural waste into eco-friendly products, such as cups, straws, packaging to replace plastics. To date, the company has sold more than 10 million products, saved more than 52,000 litres of water and eliminated 5,000 kg of plastic waste. The start-up was named "Impact company of the year in Nordics and Baltics" and awarded as the "World's Most Innovative Sustainability Startup" among 1,400 companies worldwide. Founded by Dr. Allen Mohammadi & Max Mohammadi, the firm entered the competition in the 'Urban Solutions and Sustainability' Category.   
31 other student start-ups were also declared winners across various categories, including NEU Battery Materials which won the Maybank Young Entrepreneurship Shield and SMU Chancellor Cup, given to the most promising student start-up in Singapore. (Please refer to more information on prize-winners in the Annexes below) 
 
The 11th Edition of LKYGBPC 
A total of 53 university start-ups, including 10 from Singapore, gathered at SMU to compete for S$2.5 million worth of prizes over the week. With the theme 'Innovations Beyond Boundaries - Reimagining a Smart, Sustainable & Resilient Future' and focusing on five key areas: Urban Solutions and Sustainability; Manufacturing, Trade & Connectivity; Human Health & Potential; Smart Nation & Digital Economy; and Media & Entertainment, the biennial LKYGBPC saw over 1,000 entries, from 1,100 universities from 77 countries, including Argentina, China, Germany, the United States, Ukraine, Japan and Indonesia.  
In its 11th edition this year, LKYGBPC has evolved into a platform that attracts disruptive and transformative youth-driven innovations with the potential to shape industries, address complex urban challenges, and generate positive societal impact on a significant scale. Over the past five years, finalists from previous editions of the LKYGBPC have collectively raised more than US$845 million (over S$1.151 billion), a strong testament to the real-world impact and investment potential of their ventures.  
This year holds a special significance for the LKYGBPC as Singapore celebrates the 100th birth anniversary of our founding Prime Minister Mr. Lee Kuan Yew. It was his visionary leadership that propelled Singapore onto the global stage. SMU is honoured to be hosting the 11th LKYGBPC in celebration of the entrepreneurial spirit of our founding Prime Minister. Mr Lee's legacy continues to inspire us as we cultivate and empower generations of changemakers," said Professor Lily Kong, President of SMU (新加坡管理大学校长江莉莉教授). 
"Finally, in the spirit of our Competition theme, 'Innovation beyond Boundaries", may the LKYGBPC continue to be a launchpad for new collaborations, strengthening our innovation and entrepreneurship communities. May we boldly pioneer new pathways to redefine possibilities that lie beyond our knowledge today," Professor Lily Kong added.  
What the judges say 
Ms Shirley Wong (王秀萍), Chairperson of the LKYGBPC Steering Committee and Chief Judge of the competition said, "We are extremely heartened to see the enormous response we got for the 11th Edition of LKYGBPC globally. This is a clear testament to an entire ecosystem in Singapore that has been working for years to build us as a global hub for innovation and digitalisation. What we witnessed earlier this week during the week-long immersion at BLAZE, was not just a competition but a celebration of the transformative potential that is ignited when industry players and young entrepreneurs unite to co-create and push the boundaries of their respective fields."  
Mr Keisuke Koshijima (越島啓介), Executive Vice President at Kajima Corporation (鹿島建設株式会社副总裁), LKYGBPC Grand Finals Judge shared that the competition has offered him great insights into the potential of youth innovation and entrepreneurship. "Our partnership with the LKYGBPC has been a rewarding experience, especially within the domain of urban solutions and sustainability, which are integral to Kajima's mission," he said. "As judges and sponsors, we've had the privilege of engaging with some very promising start-ups in these fields. This competition serves as a valuable platform for discovering ideas that can change the way we approach urban development and environmental sustainability. Our involvement has not only enriched our perspective but also opened doors to potential collaborations with these start-ups, with the shared goal of creating more sustainable and resilient cities for the future," he added. 
Mr Paul Santos, Managing Partner at Wavemaker Partners, LKYGBPC Grand Finals Judge said, "Since our sponsorship of the LKYGBPC began, I've had the opportunity to witness the remarkable talent and innovation that this competition attracts. Our involvement has allowed us to meet promising startups in the B2B, deep tech, and sustainability sectors – the very areas we focus on."  
"The participants' passion and dedication serve as a true inspiration, reinforcing our strong belief in programmes like the LKYGBPC and their potential to nurture the growth of Southeast Asia's startup ecosystem," he concluded. 
A Roundup of events at BLAZE week at LKYGBPC – Empowering youths through live pitches, networking, and mentorship  
The award ceremony was the climax of BLAZE, which started on 11 September with an opening ceremony graced by Deputy Prime Minister (DPM) and Coordinating Minister for Economic Policies, Mr Heng Swee Keat where he had a lively fireside chat with student founders and VCs on how Singapore can foster research, youth innovation and entrepreneurship with the best talent around the globe. He also witnessed the launch of the Marina and David Su Protege Ventures Fund II by Protégé Ventures, Southeast Asia's first and Singapore's only student-led venture fund and training programme. This fund is made possible by the generosity of Mr David Su, founding managing partner of Matrix Partners China and a member of the SMU Enterprise Board.   
This S$500,000 sector-agnostic fund marks a milestone in fostering innovation and entrepreneurship in tertiary institutions in Singapore and will permit more investment in early-stage technology start-ups founded by students or recent graduates of Singapore's polytechnics and universities which are seeking their pre-seed to seed funding. 
A book, entitled "Pioneering A Smart, Sustainable, and Resilient Future: Founder Stories and Business Models" was also launched on the same day. It was written by three faculty members from SMU's Lee Kong Chian School of Business — Chiraphol N Chiyachantana, David K. Ding and Tamas Makany — to tell the inspiring founder stories of nine finalists in the 10th edition of the LKYGBPC and their business models. 
BLAZE also provided a vital platform for nearly 50 Singapore-based start-ups to leverage VC Office Hours, Southeast Asia's largest gathering of senior VCs, to accelerate their professional development and grow their ventures. More than 30 senior VCs participated in discussions with founders. 
Two Changemakers Conversations were held on Day 3 and Day 4 of BLAZE. These were thought leadership panel discussions that featured industry experts, tech start-ups and academia who addressed the potential of artificial intelligence and the impact of youth entrepreneurship.  
On Day 3 of BLAZE, the finalist start-ups participated in The GEAR Future City Festival (held in conjunction with the 11th LKYGBPC) at The GEAR, Kajima Corporation's regional headquarters and innovation centre. At this event, the Changemakers Conversations session focused on 'Constructing Climate-Resilient Cities of Tomorrow: The Essential Role of Innovation, Financial Sustainability, and Cross-Sector Collaborations in Built Environment'. On Day 4 of BLAZE, they attended 'Young Founders Panel Discussion on 'Unleashing the Potential: Empowering Youth to Overcome Barriers and Drive Economic Growth through Entrepreneurship'. 
Cumulatively, over 120 student founders from the 53 finalists, 100 students from Singapore and about 350 global industry leaders invested close to one years' work on the 11th LKYGBPC. The sessions inspired, educated, and equipped attendees — particularly aspiring student founders — with the knowledge and insights to be more innovative and enterprising in the dynamic and fast-evolving business landscape. 
Additional Information: 
END 
About LKYGBPC (李光耀全球商业计划大赛): 
Organised by Singapore Management University's Institute of Innovation and Entrepreneurship, the Lee Kuan Yew Global Business Plan Competition (LKYGBPC) is a biennial university-led start-up challenge. One of the largest of such competitions in Asia, it derives its name from Singapore's founding Prime Minister Lee Kuan Yew, who developed the country's defining business plan that propelled Singapore onto the global stage. It is this spirit of entrepreneurship, innovation and ambition that the competition enshrines. LKYGBPC invites the brightest minds from the world's most entrepreneurial universities to come together to address the challenges of the 21st century and reimagine the future.  
The 11th edition of LKYGBPC had over 3,600 participants from over 1,000 universities across 77 countries. The rigorous judging process involving 200 international industry experts and thought leaders allowed the team to select only the most exceptional ventures to come to Singapore. The 53 finalist teams were selected based on their innovativeness, commercial feasibility, the impact of their ideas, and the capability to execute.  
For more information: smu.sg/lkygbpc 
About SMU IIE (新加坡管理大学创新与创业研究院):  
The Singapore Management University's Institute of Innovation and Entrepreneurship (IIE) is a practice-oriented institute that nurtures changemakers and founders who aspire to make the world a better place. To achieve this mission, IIE focuses on its three areas of competencies which include customising training programmes, offering an equity-free incubation programme, and fostering a cohesive innovation and entrepreneurship community through activities such as its marquee event – the Lee Kuan Yew Global Business Plan Competition (LKYGBPC). For more information: https://iie.smu.edu.sg  
About SMU (新加坡管理大学): 
Singapore Management University (SMU) is internationally recognised for its world-class research and distinguished teaching. Established in 2000, SMU's mission is to generate leading-edge research with global impact and to produce broad-based, creative, and entrepreneurial leaders for the knowledge-based economy. SMU faculty members collaborate with leading international researchers and universities around the world, as well as with partners in the business community and public sector. For more information: www.smu.edu.sg 
For media inquiries, please contact: 
SMU 

June Seah/ Koh Joh Ting 

juneseah [at] smu.edu.sg / jtkoh [at] smu.edu.sg 

APRW 

Stephanie Gan 

stephanie [at] aprw.asia  

Annexes: 
List of Grand Finalist Teams, List of 11th LKYGBPC Prizes and Winners, List of Judges, List of Supporters & Partners, Quotes from Supporters & Partners