MEET CALM3D BIG STARTUP: on a mission to provide professionals with wellbeing discovery tools
Tuesday Jun 27,2023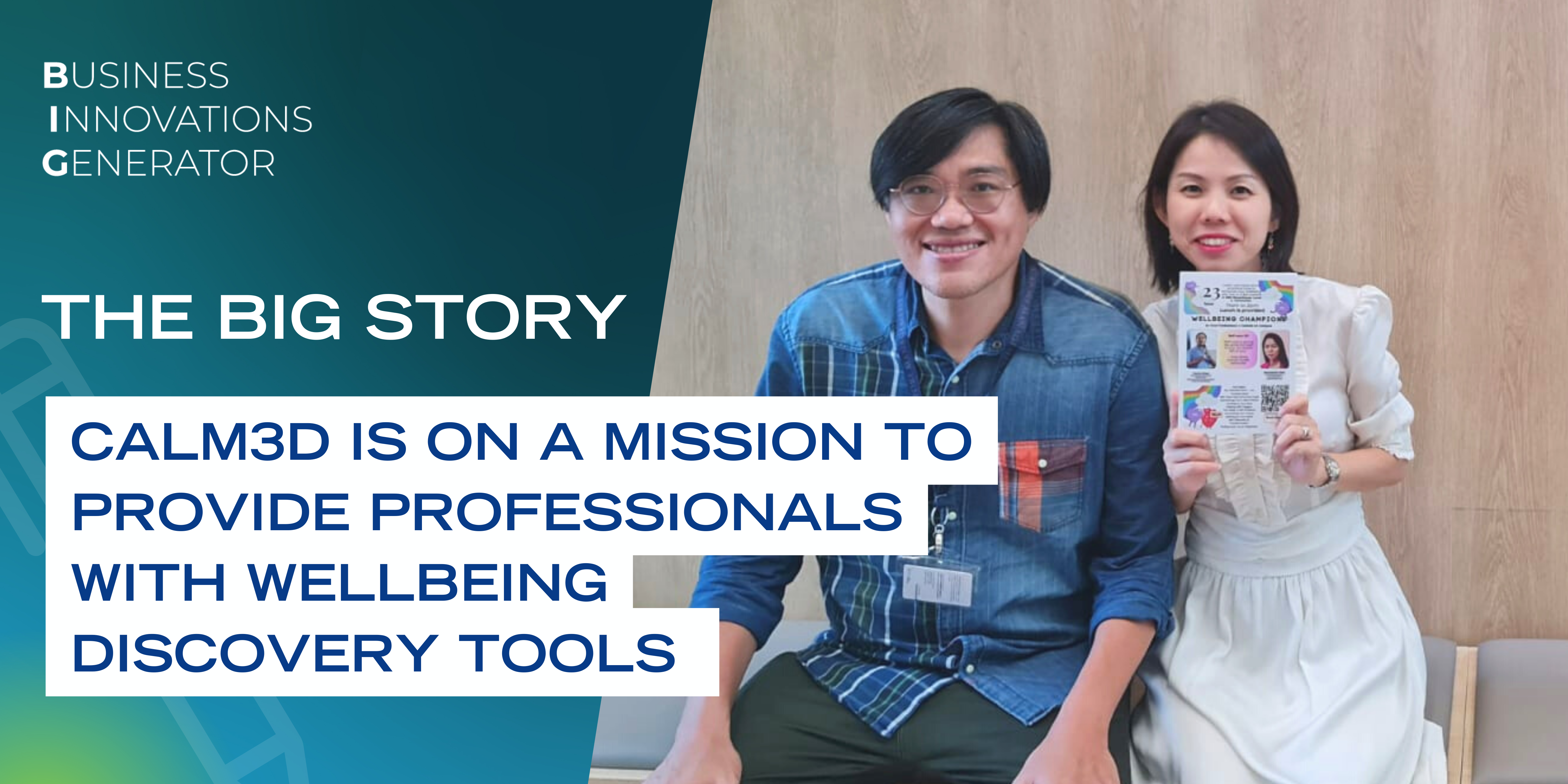 Inspiration may strike us at any moment in life. But what sets entrepreneurs apart is the ability to execute an idea and make it happen.
You are not alone in your wellbeing journey...
Covid-19 affected my work tremendously. I was then working for an investment company and one of our portfolio companies was going through a testing period of uncertainty.
This was also when I worked from home and had to manage the work and care for my 3 year old son at the height of Covid-19 lockdowns. The stress was unbearable and I suffered meltdowns which affected my son as well.
The darkness brought about a reset. I was finally open to my wife's advice, and saw a therapist. Being a psychotherapist, my wife Bernadette had often tried to tell me to seek help but I flatly dismissed her words and judged that the stress was normal and I should figure it out on my own.
The decision to work on my emotional triggers led to the genesis of Calm3D.
Dealing with emotional triggers as they arise is daunting because the environment is often unconducive for mood regulation. Hence we brainstormed on how we can build immersive sensory experiences to calm down using devices we already have.
This is the genesis of Calm3D. 
Calm3D provides wellbeing professionals with mood regulation and wellbeing discovery tools for their clients. We do this by partnering therapists and coaches to deliver sensorial experiences to regulate, reflect and reframe when emotional triggers arise.
Our mission is to give individuals the power to choose how they respond when an emotional trigger arises.
Our Journey with BIG
BIG has been supportive in providing access to their mentor network, business coaching, funding and provision of a convenient office location to work and have meetings. 
The programme managers are responsive and passionate about helping startups succeed.
Our first product demo with Over The Rainbow, a youth mental wellbeing non-profit, was made possible through BIG's network of mentors.
The challenges we are facing as an early-stage startup.
Our struggle is to have enough funds to develop a full product and to deal with the delays and product redesign when we pivot. Our team is committed and creative. We need the creativity to develop immersive environments that are amazing to look at. Hence the team is always constrained by doing great works of art versus the time and resources required to do so.
We are also challenged by the therapeutic intent of the applications we build versus keeping it fun and enjoyable for users. I try to minimize the risk of product failure by developing prototypes and have them tested for user feedback and client demo before committing to the product development.
The other major challenge is in partnership acquisition. We try to onboard partners who can see our vision and direction while the application is being built. The plan is to have ready channel partners looking to promote our tool to their user base when we are ready.
Calm3D moving forward…
The highlight is to see our prototype being used live and making a difference to youths in need. I see Calm3d's milestones evolving from product development to partnerships and sales over the next 2 years. We aim to reach out to the world's English speaking wellbeing professionals in the next 12 months and localising the tools for a secondary market. 
*Business Innovations Generator (BIG) is now accepting applications for its AUG'23 cohort. It is a founder-centric incubation programme that is designed to prepare early-stage startups for success through mentorship, dedicated resources, funding, and access to an investor network! Applications close on 30 June. More information can be found here.