Unplugged with: Donna Daritan
Monday Aug 16,2021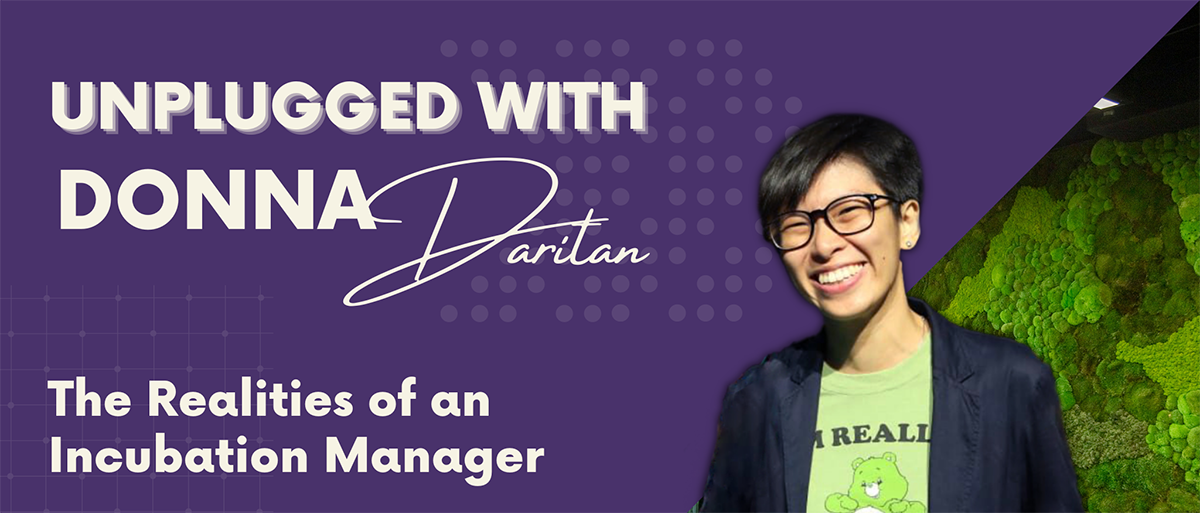 ​
Unplugged with Donna Daritan 
The Realities of an Incubation Manager 
When Donna joined the Institute of Innovation and Entrepreneurship (IIE) at Singapore Management University in January 2020, she did not expect that as an Incubation Manager she would create such meaningful impact for others and for herself. 
"The people whom I am working with are all contributing to a larger purpose – to make the world a better place", enthused Donna. 
"As part of the Incubation team, my job is to guide and support each founder who comes through our doors to achieve their dreams. Founders are like seeds of potential. We 'water', 'fertilize' and nurture them so that they can blossom into a garden of endless possibilities! The results have been rewarding", said Donna proudly. 
Having walked the same path as a start-up founder and deeply inspired by the innovation scene, Donna has since supported 21 student founders and early-stage start-ups enrolled with IIE's Business Innovations Generator (BIG) incubation programme. Donna is part of the Incubation Team who manages BIG's portfolio of start-ups and builds this tight community of innovators and changemakers.
"It is extremely inspiring to see the progress of our founders, especially when you are sitting in the front seat with them, helping them steer, and make those turns." 
Donna's passion to mentor others to achieve their life goals and help develop their entrepreneurial qualities mirrors her own journey. 
"I was mentored by a few serial entrepreneurs who taught me to see and do things differently and systematically. Their perspectives and vision have helped me to open my mind and question boundaries. Sometimes, your own insecurities can limit you", said Donna. "And I want to share this knowledge and some of the pitfalls I've learned with founders so that they can avoid them."
Inspired and energized by her experience, Donna also volunteers as a mentor at Asia Institute of Mentoring during her free time, to help youths while polishing her mentoring approach.
"Time is life, and it is not to be wasted. Every second can be used to make a difference, or to take you one step closer to your goals. One of my favourite authors, Annie Dillard said this beautifully – how we spend our days is, of course, how we spend our lives."
As part of this feature story, we sat with Donna to ask her some questions off-the-cuff.
Are you on call 24/7?
I wish I could be, but my body has its limits without using any renewable energy to power up yet. My Telegram and email are up 24/7 but I will reply soonest and to my best efforts. 😀
Do you also have to deal with founders' personal problems?
Sometimes. There were two separate occasions when the founders shed their tears in front of me after sharing their personal stories. Though I may not be able to solve their problems, a pair of listening ears and presence without judgement can be enough for that moment.
DrinkAid is one of the start-ups under your care and we heard that you have been really supportive both as a mentor and as a paying customer. Are you a Platinum Member of DrinkAid now?
Good question! I believe I am in their Lifetime Membership plan due to my consumption, promotion, and pure love for the founders and products. ✌🏼 DrinkAid was one of the first start-ups I was assigned to, and may I say it was a perfect match. 🥂
PS. Donna's Lifetime Membership has been confirmed by Team DrinkAid. So, hoorah!
In your opinion, who would suit the role of an Incubation Manager?
 Someone with:
• Passion! Who loves to be of service and to make a difference to the founders' journey and the startup ecosystem
• Ability and adaptability to manage multiple stakeholders and evolving situations 
• Empathy and wisdom to provide sound advice
What is that one thing that no one knows about your role as an incubation manager?
My colleagues at IIE are the awesomest people on earth. Incubation is not a one-(wo)man or one-team effort. It takes a village and this vIIElage can make dreams come true. 😍

​Donna was recognised by her colleagues as IIE's Most Valuable Player (MVP) 2021! MVP is presented to SMU IIE employees for their outstanding job performance, innovative contributions, entrepreneurial spirit at work & going above and beyond.
Interested to be an Incubation Manager like Donna?