Global Innovation Immersion (GII) - China
Wednesday Sep 25,2019 | IIE News
China. What comes to mind when one thinks of China are Great Walls, tradition, culture and history. While that is certainly in abundance in China, what many seem to not realise is the tech ecosystem in China is a thriving and booming economy.
Similar yet so different in crucial ways to its Western counterparts, the Chinese tech ecosystem lives on the famed Chinese culture of efficiency.
The Global Innovation Immersion (GII) programme developed by Singapore Management University Institute of Innovation and Entrepreneurship to give students at SMU exactly this, a chance to have a radically different internship experience than what is usually available.  
Aiming to equip students with all the skills and knowledge to reach heights they never thought of, SMU IIE provides internship experiences in a variety of countries, China being one of the biggest claims to fame. The cities available in China are the tech hotspots of Beijing, Shanghai, and Hangzhou.
We speak to 3 Singapore Management University students who have undergone 3-month internships in China under the Global Innovation Immersion program with the SMU Institute of Innovation and Entrepreneurship.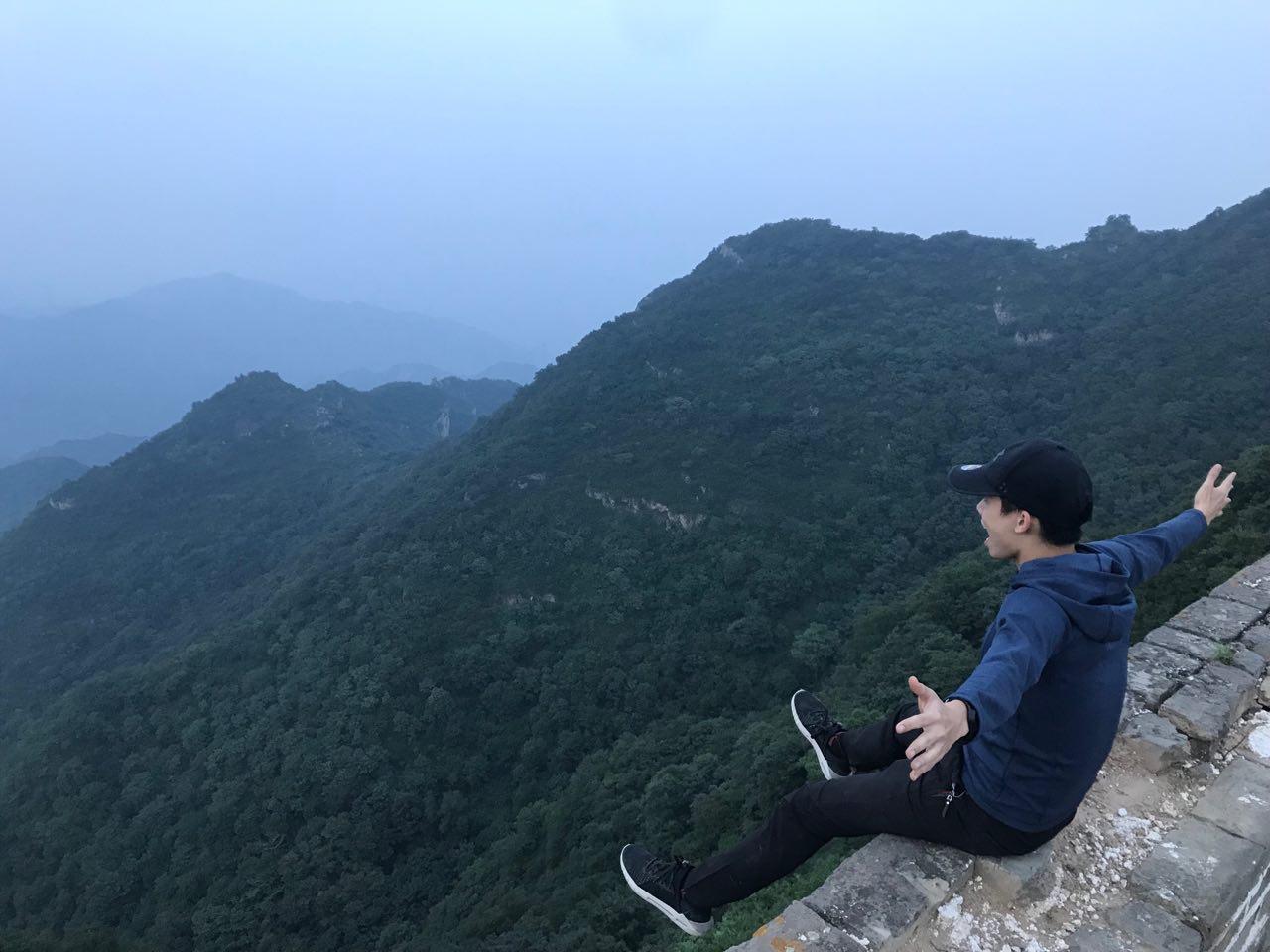 Resourcefulness
Foo Yong Long is a 3rd year Information Systems student at SMU recently returned from his sojourn into China for his internship experience at Global View Technology Incubator.  A start-up based in Taiwan, Global View Technology Incubator brings Taiwanese start-ups to China to assist their development and exploration of the market.
"I had a multitude of roles in this internship. Some of my duties included helping them grow their website, build and maintain their websites in Taiwan as well as in China, and help conduct data visualisation lessons for the start-ups", said Yong Long.
Being able to wear different hats within a shifting landscape such as a start-up provides for a ripe learning ground for interns. The experience you gain within 3 months where you're encouraged to learn the various different aspects and roles of a business will give students a great background for when they graduate and start out into the world.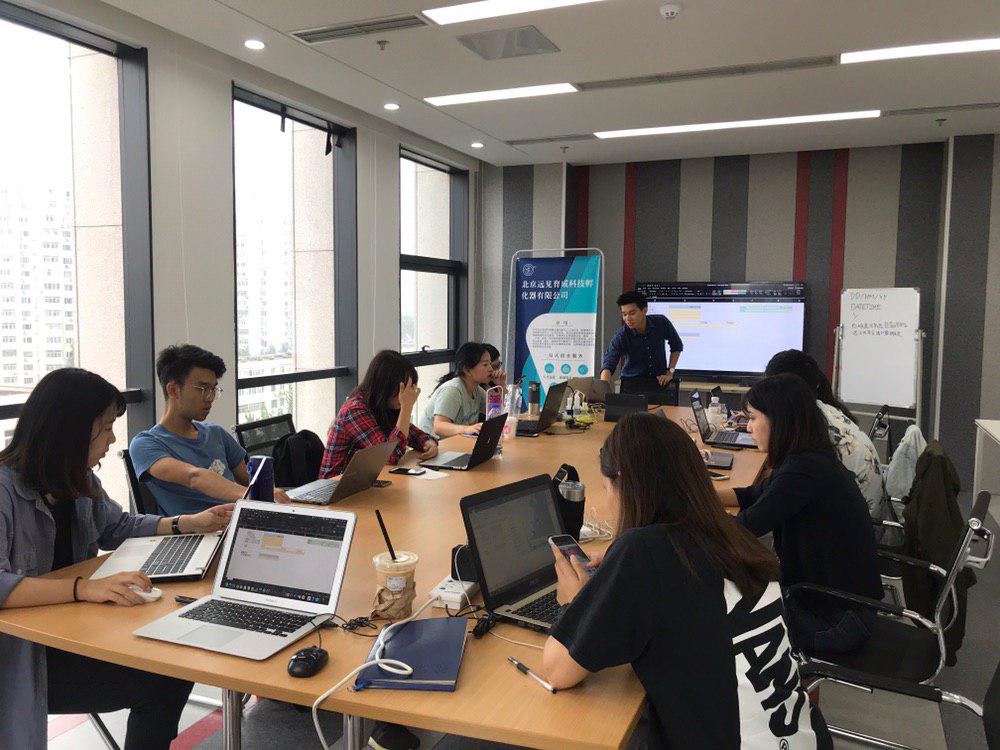 Yong Long during his internship at Global View Technology Incubator
Yong elaborated his experience in a start-up, "Being in a start-up, I have something new to do every day. It just makes for an interesting experience because one day I might be a photographer, the next I'm helping shift things around, acting as an usher for new start-ups or hosting competitions."
As with many students who can attest to the same, living and working overseas forces you to be independent as it is often a sink or swim scenario.
This certainly rings true for Yong Long who describes the differences in China as challenging, "For example, when designing a website, you can usually create a domain name, build the website and connect the two. But in China, even after connecting the website to the domain, you still have to seek approval from the government before it can go live. There are a lot of requirements from companies and seeking approval from the government features strongly in your day to day".
Language
Jason Lin is another student recently home from his internship in China. Working for People Squared, as a Marketing and Events Intern, Jason was based in Shanghai for the duration of his internship.
People Squared is the pioneer co-working space in China, with over 40 locations across the country.  P2 not only provides a flexible and professional work environment to the innovation community, but also builds an open platform with integrated resources, where individuals and groups can interact and share resources with top talents around the world. Their long-term goal is to help local communities grow and connect.
Within this start-up Jason echoes the experience Yong Long had where an intern has to wear many hats in a start-up environment.
During his internship, he acted as an overseas correspondent, was involved in planning of the opening event for a brand new co-working space in a district, received both local and high-level guests and even served as translator for senior management within the organisation. We don't know of many internship positions out there where you are able to interact and collaborate with high level executives!
Jason's pride and joy was managing the SheLovesTech2019 Start-up Competition where was involved in everything from planning, quoting, to managing the event. Having different job functions and roles as Jason has is such a positive experience and makes for the perfect training for anyone planning to work for or become a founder for a start-up.
He added through his experience that it is important to have a competent level of the Chinese language, "Being in China these last few months have allowed me to learn a lot of nuances and slangs in the Chinese language, which I will not be exposed to if I were in Singapore".
"Having the opportunity to interact with high level guests and senior management in the course of my work further allowed me to know China more intimately. All these will help when I further my career in future," he said.
This is echoed by Nicole Chai, another SMU student who recently completed her internship in China. Working at the same start-up as Yong Long, Nicole spent her 3 months at Global View Technology Incubator as a Marketing and Communications Intern.
She said of her the language differences between Singapore and China, "While there are certain differences in the language that took some getting used to, as time went by, I picked up more vocabulary and my skill set deepened. This was imperative as my job scope required me to write in Chinese!".
"I feel that knowing how to speak, read and write Chinese is important and after this experience, I can say I feel a lot more confident in my grasp of the Chinese language, so that was a great educational experience!", said Nicole.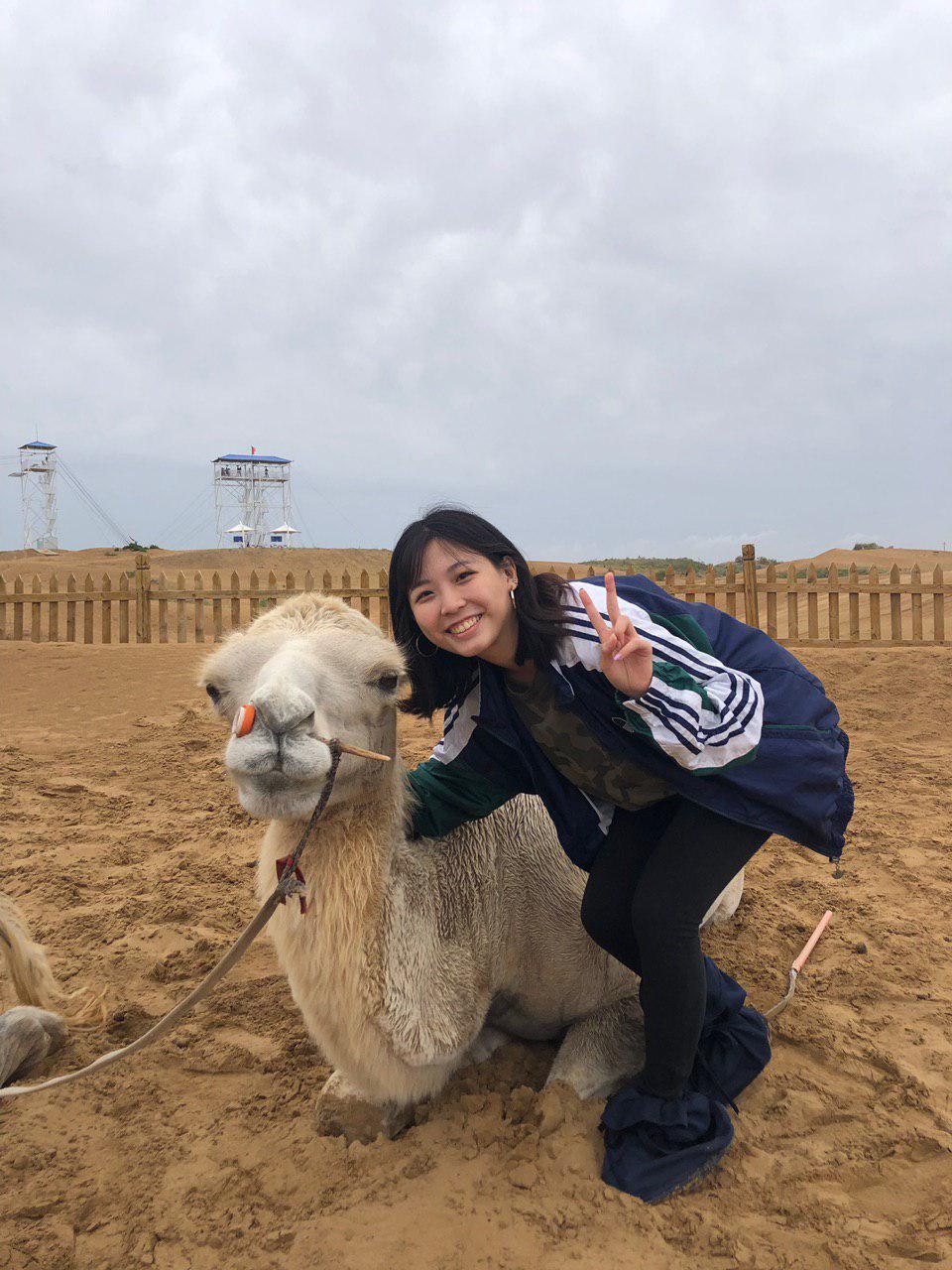 Nicole Chai, during her trip to China
Cultural Differences
As Nicole said, "The culture in China is to get things done fast. Therefore, they are very direct in comparison to Singaporeans. They will criticise your work to your face but it's not personal, they just want to get their work done".
Yong Long reiterates what Nicole said, "People in China want results, as such, they are  more receptive to change than Singaporeans. For example, WeChat payment is massive in China, I can go out without my wallet as everything I need to pay for can be done via WeChat. In Singapore however, the government needed to incentivise us to pay with our phone."
"Singaporeans are a lot more hesitant than people in China. In China, if something is going to make your life faster, better or easier, they just do it. This explains why technology is so quick to spread there as the adoption rate for technology by the locals is exponential", he said.  
This is certainly a way of explaining the rate technology is expanding so exponentially in China. In this 2018 article by The Diplomat, it says, "statistical data shows that, starting from the second half of the 2000s, China has been second only to the United States in research and development (R&D) by many measures".
These cultural differences are a prime example of why the Global Innovation Immersion (GII) programme was developed. By being exposed to a variety of experiences, it allows GII interns a chance to be better rounded by learning from people outside of the norm.
How about socially?
"Socialising is different in China", said Jason.
"This is especially in reference to your senior colleagues. There is the social understanding that you  need to socialise, take them places, buy them drinks. This is something that you have to do, if not there is a high chance you will become an outcast within the company", he laughed.
Nicole added, "I quite enjoyed the environment there, I found everyone was motivated and knew what they were doing. I think the importance is they like what they were doing so no one tries to slack off as they really want to get their work done".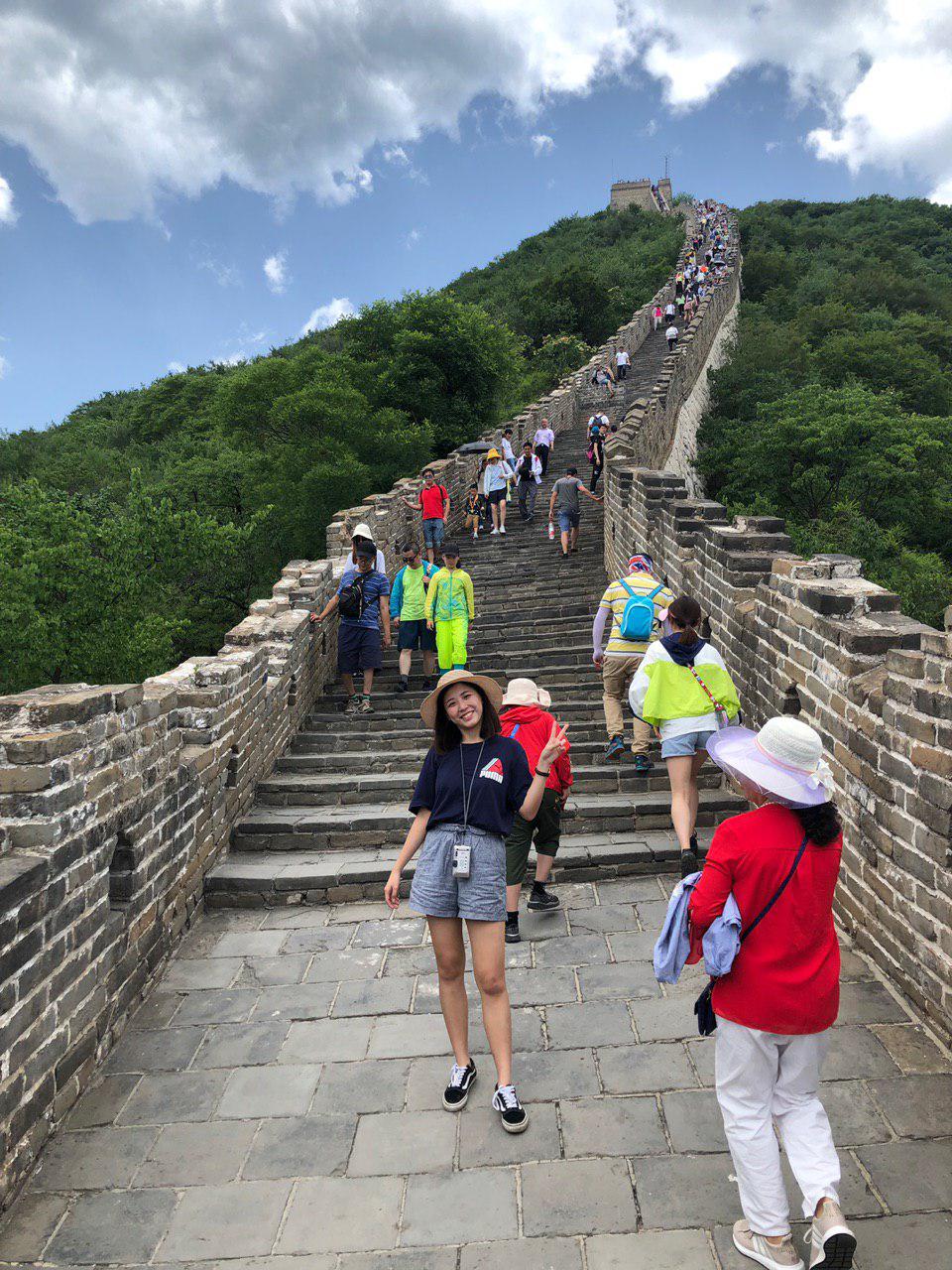 Nicole Chai, during her trip to China
Any Advice for Future GII China Interns?
The overwhelming advice we receive from these 3 students is to stay humble and be open minded.
"Stay humble and practise how to learn! There will be new workflows and concepts to learn, learn how to learn quickly and how to apply them", said Yong Long.
He also advised any student thinking of making China their internship destination to be clear on what they want to achieve. The amount of history, culture, and skills one can learn in China is so diverse.
"When I chose China, I wanted to learn about their history and culture, understand how tech works there, and improve my Chinese skills. Upon arriving in China, I signed up for tuition lessons and looked out for tours and trips to Mongolia and the Great Wall. 3 months is not a lot of time", he said.
So we assume your Chinese is really good now then, we said.
He laughed, "Haha, it's definitely better now!".
Nicole chimed in with her two cents, "Living overseas is a learning curve. I had some visa issues and even though it was a little complicated, finding accommodation was an exciting experience. I'm definitely a lot more independent now!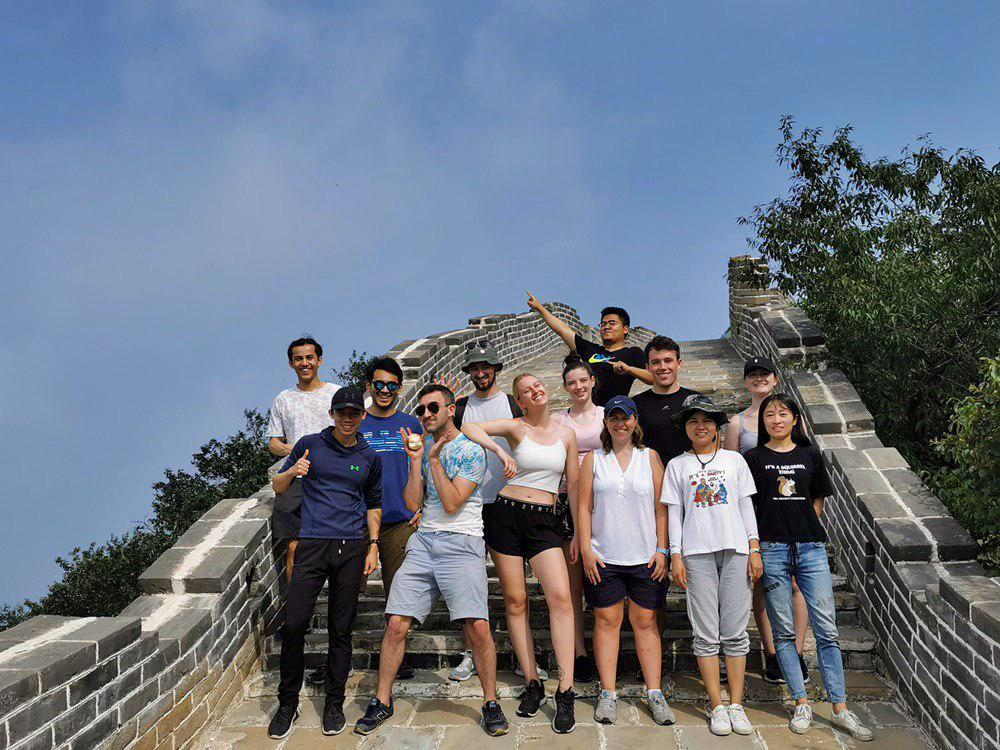 Yong Long (bottom left) on a trip with his workmates
What's Next?
Jason said in his interview, "This experience has confirmed my belief that we should expand over overseas market. I'm now more inclined to work in China now."
"GII China was such a great experience. If I never took this internship, I would never have experienced living alone, learning how to work and operate in a different environment. This trip has really opened my eyes to what's out there", he said.
Yong Long is eager to pursue a career outside of Singapore or at least a job that allows him to travel, "I learnt a lot when I was travelling. I experienced new perspectives, different cultures and organisation systems that I can now apply  in the workforce".
"I might also check out the US as it is the next giant powerhouse compared to China, it would be interesting to see what the differences are", he said.  
By stepping outside what you are used to also allows you to grow as a person. Nicole emphasised her biggest takeaway from her GII China experience, "I learnt a lot even from my life outside of work".
"This was my first time being away for so long, and I definitely gained a lot more independence. I am more confident now and less scared of the things around me. I'm no longer so sheltered".
"This experience meant I had to face my problems myself and come up with my own solutions. I am glad I am now able to handle myself in difficult situations", she finished.
It is hard to imagine the many ways going through such a different experience would change you. For these students who were given the opportunity through the GII programme to experience something so out of their comfort zone, they now know what else is out there and have the option to explore a different path.
The Global Innovation Immersion programme is currently accepting applications! Find out more about the programme here.