Inaugural Case Competition hones the skills of budding Venture Capitalists
Friday Jan 18,2019 | IIE News
Southeast Asia's first case competition focused on venture capital held its final at SMU Campus on 22 December 2018.
Organised by the Asia Private Equity Club @ SMU (APECS), an interest club for students to learn about the private equity and venture capital (VC) industries, the competition was supported by SMU Institute of Innovation and Entrepreneurship (IIE) and Protégé Ventures, Southeast Asia's first student venture fund established by Kairos ASEAN and IIE.
The competition was opened to undergraduates and postgraduates from universities in Singapore. It aimed to bring together like-minded students who have a passion for the venture capital industry and allow them to experience what it is like to be a VC analyst.
A total of fifty-five teams - from Singapore Management University (SMU), National University of Singapore (NUS), Nanyang Technology University (NTU), and Singapore Institute of Management (SIM) - signed up for the competition. The case challenge for the first round was released to the teams on 21 October 2018, it required them to evaluate and submit a pitch for the best of three existing companies to invest in by 4 November.
After screening by the APECS team and Director of IIE Mr Hau Koh Foo, the top six teams were selected as finalists. Of the six teams, two were from SMU, three from NTU and one from NUS.
For the final, the teams were to select one of three fictitious companies and pitch it to the judging panel on why the company deserves to receive venture capital funding – all within forty-eight hours. On the day of the final, the six teams were given 18 minutes to pitch to the judges and 10 minutes for Q&A session. The judging panel comprised of Ms Shirley Wong, Managing Director at TNF Ventures, Mr Chen Lujie, Managing Partner at Protégé Ventures, and Mr Harold Au, Investment Manager at Wavemaker Partners. The teams were graded based on the questions they asked the fictitious start-ups and their investment rationale.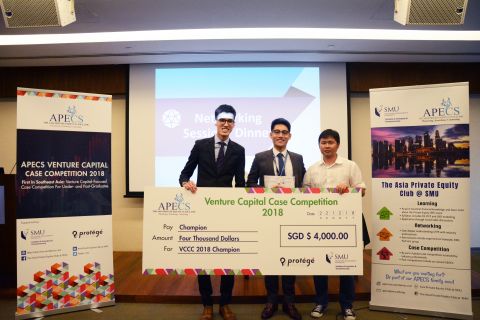 Team CANZON CAPITAL from NTU, seen here with IIE Director Mr Hau Koh Foo (extreme right), emerged as champion and walked away with $4,000 and a trophy.
Mr Ang Teng Han from Team YDB CAPITAL, a year-3 student from SMU's Lee Kong Chian School of Business, said "This competition provided the participants with a unique opportunity to take on the role of a venture capitalist for a day. Through our participation, we learned how to select and evaluate profitable business start-ups using fundamental and financial analysis. The interview sessions with the "founders" of the fictitious companies sharpened our business acumen and taught us how to conduct ourselves in this industry. The feedback that we received from the judges were invaluable to anyone who wish to follow in their footsteps."
Mr Gareth Loh from Team CANZON CAPITAL, a year-3 student from NTU enthused, "The competition was an enriching and challenging experience for us. We had to have a deep understanding of the firms and their growth narrative in the near future. In all, I would say this competition allowed us to better understand the venture capitalist scene within the Asian context."
APECS would like to extend its appreciation to all the finalists and the audience who attended the final.
APECS will be organising the Leveraged Buyout Case Competition (LBOCC) in May 2019. Please check out APECS' LinkedIn page for information on LBOCC and of future events.
Press release first released on SMU News on 14 Jan 2019.