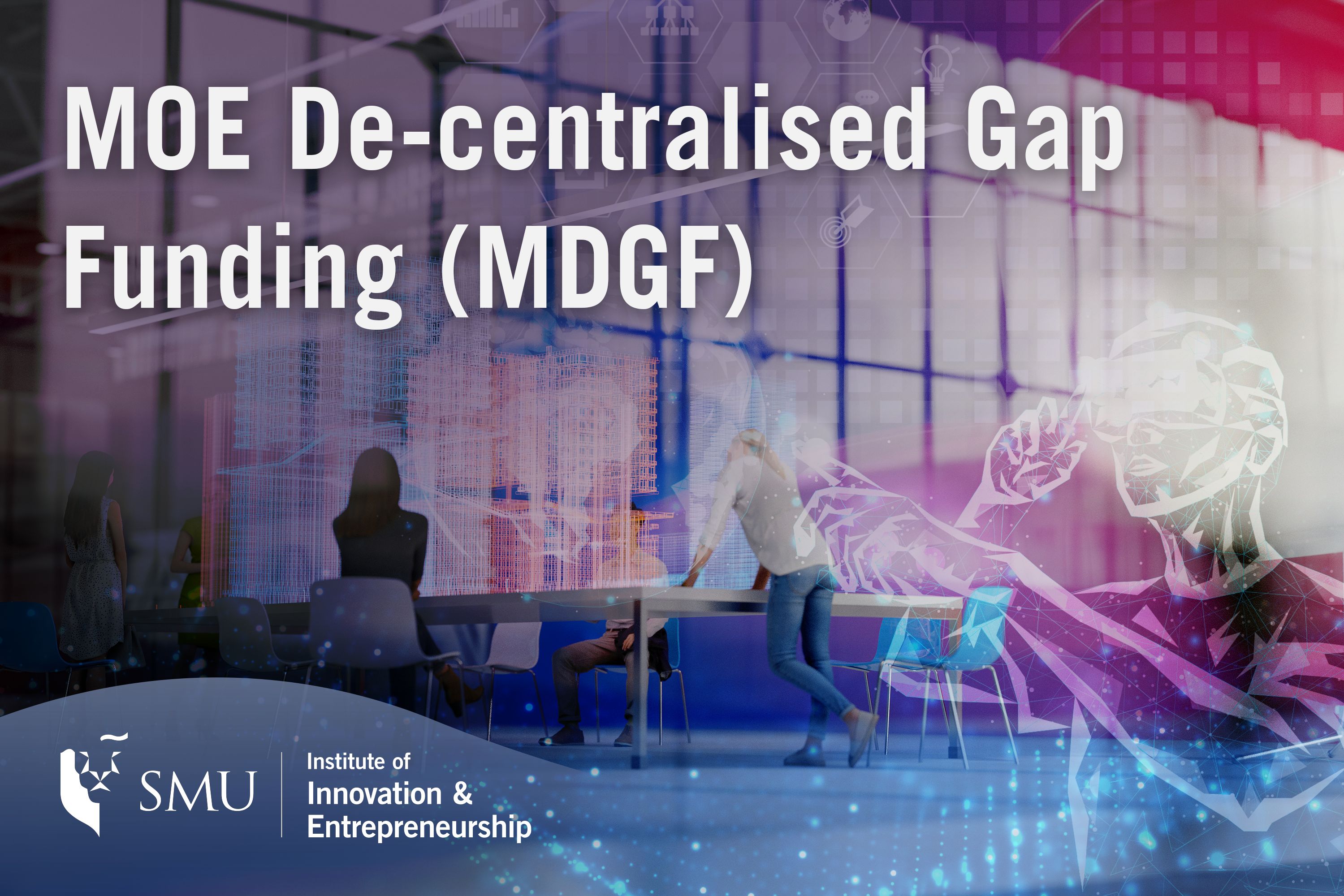 ​
MOE De-Centralised Gap Funding (MDGF) supported Commercialisation Programme's Mission
Helping our researchers make meaningful impact through research Commercialisation
---
 Creating opportunities for SMU Faculty/Researchers to take their invention to market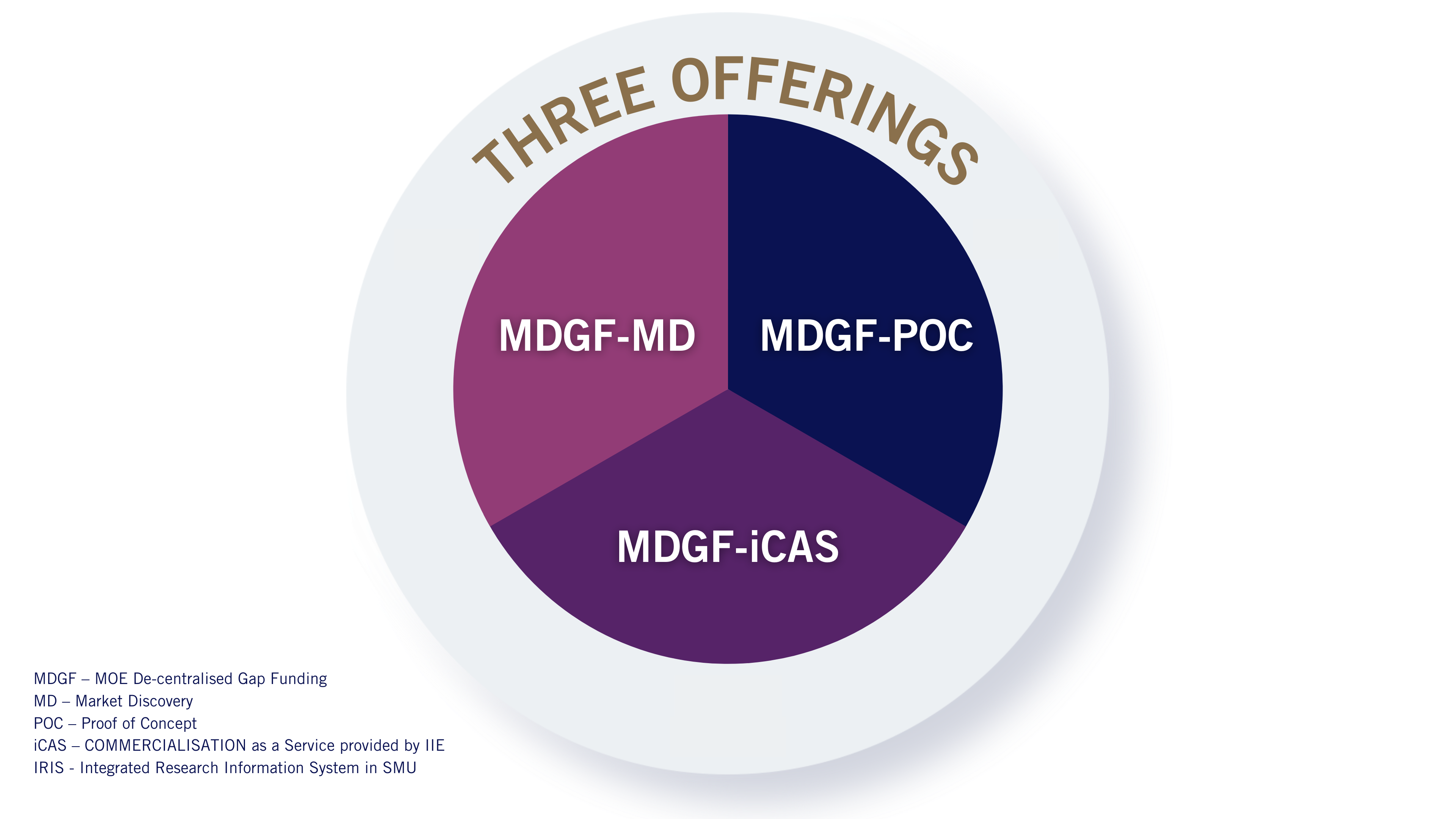 Selected projects get funded by MOE De-centralised Gap Funding (MDGF – MD/POC/iCAS)
Embark on a commercial mission to solve a business problem
Validate the business problem and a solution
Foster ability to deliver multiple use cases as part of POC validation
Perform market and customer validation through Lean Launchpad (LLP) and/or consulting services available through IIE Ecosystem
Potential to create new Invention Disclosures and Intellectual Property with SMU
Receive nurturing, guidance, support and access to advisors and industry experts from IIE
Receive recognition from Provost / IIE updates IRIS CV system / get featured in the newsletter
Spin-off a company, licence technology, attract private investment, apply for more grants, continue research in SMU
  List of main activities that could take place during the MDGF funding period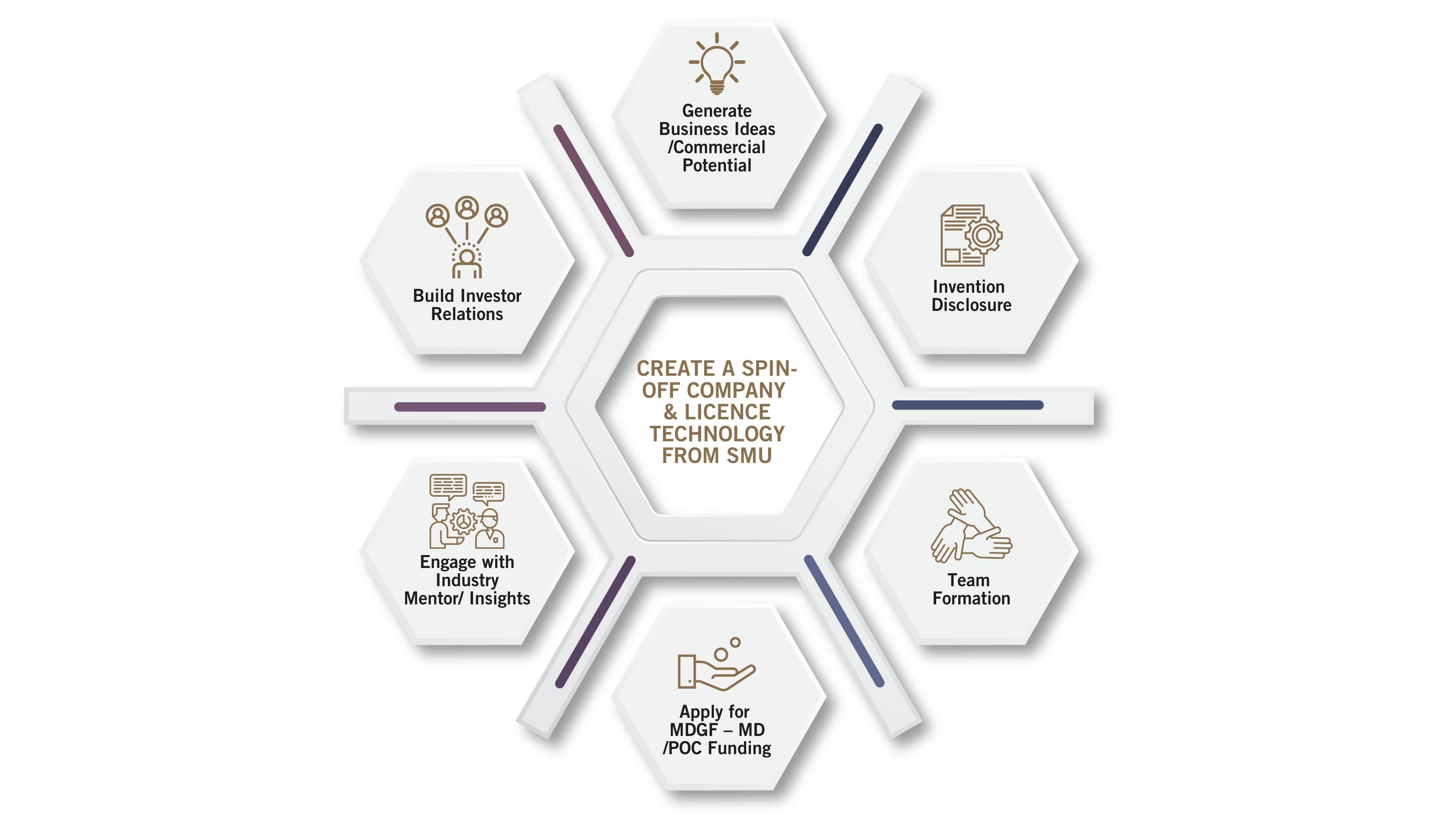 Two tracks supported by MOE De-centralised Gap Funding (MDGF)

Track I: MDGF – MD / MDGF - POC 

Track II: MDGF - iCAS 

All commercialisation activities will be carried out by Principal Investigator(PI) & team with IIE's support, guidance and necessary approvals.

IIE to drive such commercialisation projects end-to-end where the PI will be required to perform the Invention Disclosure and provide technology/consultancy. 
Separate Terms & Conditions may apply.
Please contact IIE to apply for this service
Choose the most suitable grant based on the maturity level of your project/idea
MDGF – MD (Market Discovery)

Max up to : 50K & period 6 months

MDGF – POC (Proof of Concept) 

Max up to : 250K & period 12 months

Objective: Establish commercial value proposition

Objective: Establish minimally viable product

Scope:

Complete market opportunity discovery for the technology
Partially completed minimally viable product/prototype
Identification of the customer segment(s) to service
Identification of unique problems to solve

Scope:

Detailed business plan must match commercial value proposition
LLP Alumni viewed favorably
Must have customer segment clarity
Project team with Entrepreneur Lead and Engineers/Programmers

Deliverables: 

Business Plan must include but not limited to: 

Market Opportunity
POC roadmap
Minimally Viable Product Scope(MVP)

Deliverables: 

MVP/POC projects for customer(s) from the target segments

POC Scope:

Develop minimally viable product/prototype for each POC project
Clarity on compelling pain points.
How many customers you talked to before deciding the POC?
Why no solution exists?
Why your solution is unique?
How likely the POC customer will become a paid customer or purchase a trial licence?
Product specifications & brochure for further marketing effort.
Potential for filing an IP on the technology developed for this stage?

Other requirements on a need basis, part of the funds could  be utilized (if necessary): 

Attend Lean Launchpad (LLP) and other programs recommended by IIE

Engage consulting services available under IIE Ecosystem

 
Way Forward
Creates ample opportunities for SMU Faculty/Researchers to go-to-market with a game changing company

​
---
Application Timeline
Call for Application (CFA) is open all through the year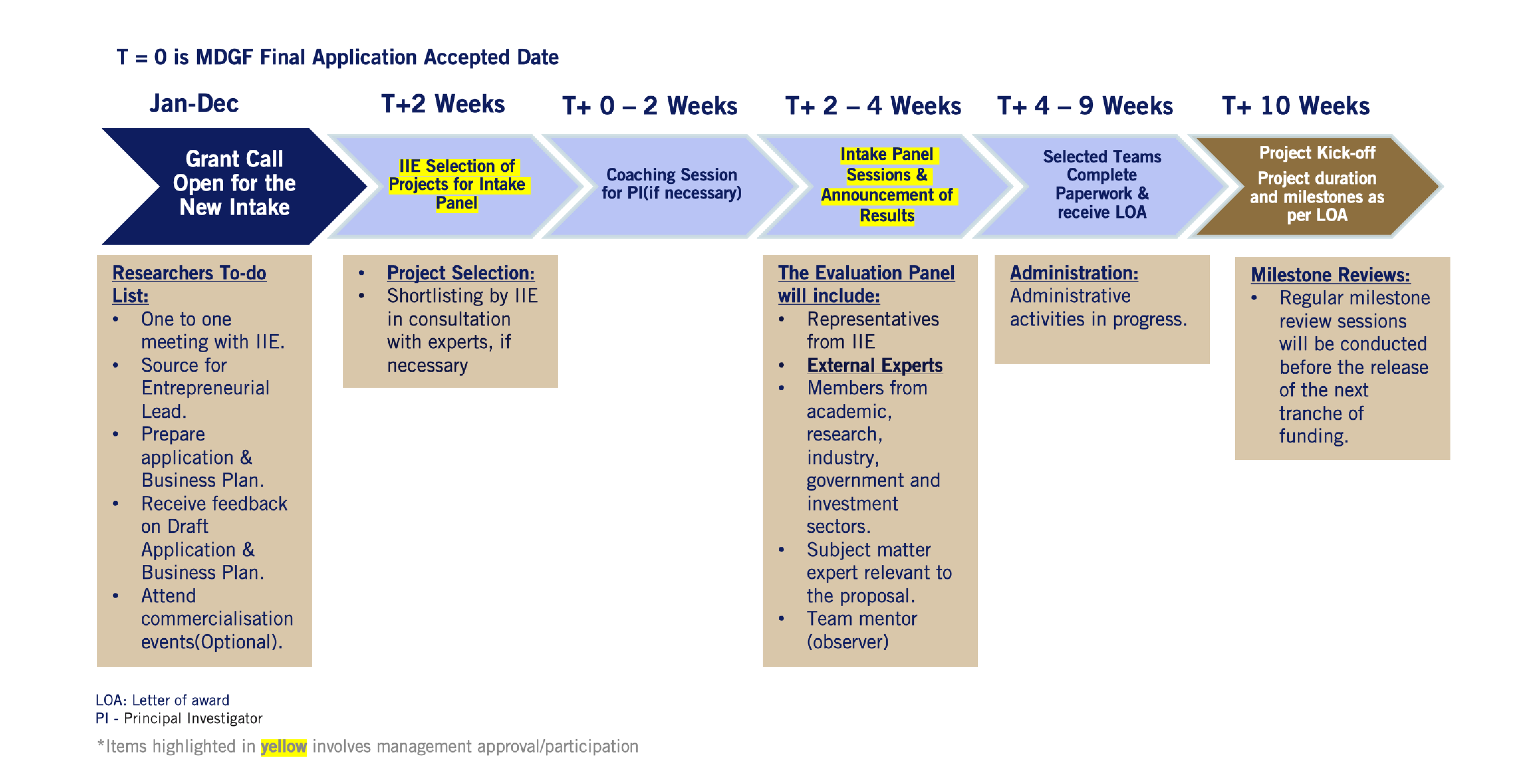 Application Process
Track I: MDGF – MD / MDGF - POC
Invention Disclosure with ORTT (If not submitted before, please download the form here and submit it to ORTT) 
Business Presentation (a template provided for reference and convenience.)
Accolades / Feedback received for the research
Latest Research Report submitted to Dean/Funding Agency
Please contact IIE (

jayc

[at]

smu.edu.sg

(subject: Commercialisation%20Grant)

(Jay)

 -

jayc

[at]

smu.edu.sg

) 
Track II: MDGF - iCAS 
Please contact IIE to apply for this service (jayc [at] smu.edu.sg (subject: Commercialisation%20Grant) (Jay) - jayc [at] smu.edu.sg) 
---
Eligibility
Project Eligibility Criteria
Research Projects (PI must be SMU faculty)
PhD Students Research projects (PI or CO-PI must be SMU faculty)
PhD Students doing industry collaboration (Must be SMU-owned Intellectual Property, PI or CO-PI must be SMU faculty)
SMU Industry Collaboration Research Projects (Must be SMU-owned Intellectual Property)
Team Eligibility Criteria
Team must comprise of the first 3 entities
Lead Principal Investigator (PI) (Must be SMU Faculty, PhD students may be considered on a case-to-case basis)
Entrepreneur Lead (A sample job description available in resource centre) 
Engineers/Programmers (A sample job description available in resource centre) 
Access to Industry Volunteer Mentor (optional)
---
Selection Criteria 
Commercialisation Potential 
Does the project address an important unmet need?  
Does the project engage in market validation to identify the beachhead market? 
What is the addressable market size? Market size, needs and competition
Does the proposed technology have a sustainable competitive advantage against competing patents/ research labs/products/companies? The technology's novelty and need.  
Does the project propose a clear business model? Does the project have a clear market & product development roadmap? What are the possible barriers to entry? Technology readiness for the market.   
Is there any potential trial user?
Business Presentation (a template provided for reference and convenience)
Team
Does the team have the necessary technical, business management and development expertise and resources?
Does the team have key/potential partnerships (collaborators from industry etc) that will enable faster development of the technology and shorten the time to market?
Team must comprise of Project Lead, Entrepreneurial Lead & Engineers/Programmers.
Technical Innovation
Is the proposed approach unique, innovative and disruptive? 
Does it have a clear product development roadmap?
What is the IP position/strategy of the technology?