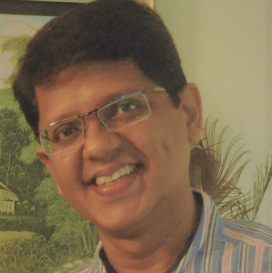 Jay Chandran
Jay comes to IIE from the management consulting world with a strong background in developing business and go-to-market strategies, technology evaluation and innovation. His diverse industry experience is across  Healthcare/Medtech, Fintech and Digital Transformation. While at Frost and Sullivan, he managed the Growth Partnership Services, Best Practices studies and Growth Consulting engagements. His report for the Singapore Manufacturing Federation garnered attention from the Finance Minister's office in Singapore. 
He was a founding team member of the first USDA (United States Department of Agriculture) approved agro-food sterilization facility in Singapore. He strongly believes that future economic transformation will be driven by innovation and entrepreneurship. He is active in the start-up arena, having set up a boutique consulting and venture advisory services firm to collaborate with start-ups on marketing and fund-raising efforts. He mentored med-tech start-ups at the National University of Singapore as a Commercial Champion under the Graduate Research Innovation Program to help them commercialize their technology.  
He holds an MBA in Marketing and Finance, from the XLRI School of Business.  His personal mantra is continuous improvement which he strongly advocates and practices. Using every opportunity to learn, he obtained additional credits in Google Analytics,  Data Analytics for Marketing and attended the multi-disciplinary Chemistry of Life conducted by the iCeMs, Kyoto University.  
He indulges his passion for food and chocolates – by cooking family recipes in the kitchen and savouring well-prepared meals at his favorite eating haunts. His dream is to write and produce a big-budget movie about Singapore one day.