The Worthy Adventure of a Lifetime
Friday Feb 26,2021 | Incubator News
In this article, Valerie Chua speaks about her entrepreneurship journey thus far by connecting the dots in her non-linear path.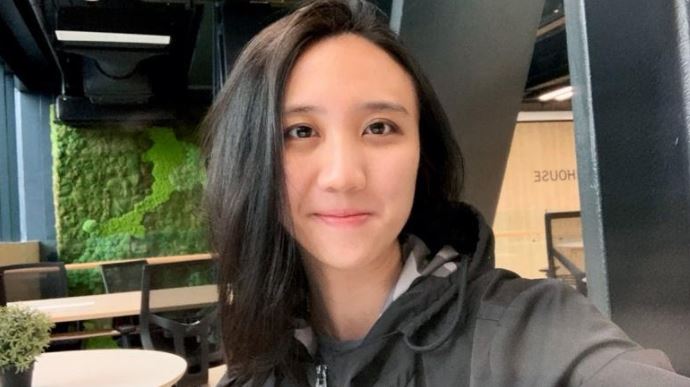 FTxBocconi Challenge 2021
Valerie's team comprising 6 other diverse talents from Greece, Italy, United Kingdom, Mexico and India, bagged 1st (Entrepreneurship) and 3rd (Overall global placing) in the inaugural Financial Times x Bocconi Challenge. With an 8.3% acceptance rate, the week-long event brings together the most innovative young professionals to envision a post-COVID-19 future.
I have been an avid reader of various news magazines since high school, Financial Times being one of my favourites. During my routine reading, I chanced upon the competition on the day of the given deadline and decided to apply.
Later I discovered it was too cool a competition to miss! Through this event, I learned about diversity, leadership, and innovation first-hand from esteemed guests such as Mario Monti (President of Bocconi University and ex-Italian Prime Minister), Cristina Scocchia (CEO of KIKO Milano), and Jon Slade (Chief Commercial Officer of Financial Times), amongst other amazing global leaders. What more we had a group yoga session and made pasta with the Jamie Oliver Cookery all of which add flavour to the already invigorating challenge.
Our team's final solution was a gamified mobile application to improve household sustainability by combining bill analytics and community challenges. From working together, I reinforced my skill in dissecting complex problems with speed and precision while shaping idea solutions.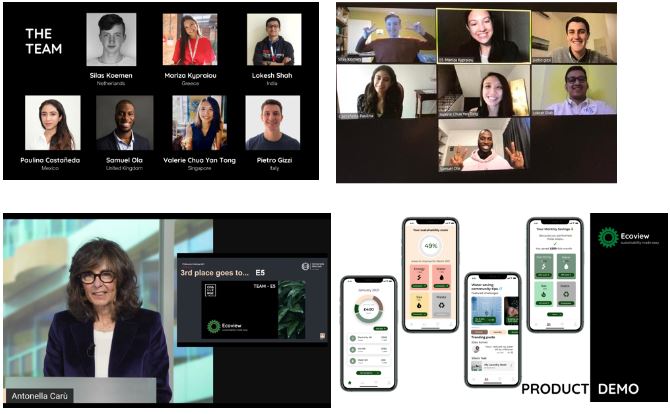 BIG Incubation 2021
Valerie led her team to clinch an incubation spot at The BIG Incubator as part of the September 2020 Cohort and was awarded Acceleration Grant.
Simultaneously, I am running my startup at our university incubator and can be often seen around in The Greenhouse.
My experience as Founder and CEO has been fulfilling in every sense, because of the need to balance seemingly paradoxical energies, between being strategic and nimble, revenue-focused and product-focused, idealistic and realistic, defending and scoring.
In difficult times, I find it comforting to look around and be inspired by fellow founders. There is a whole community here that mutually supports each other, I have made friends with the incubation managers and cohort members alike and enjoy the camaraderie.
I was also invited to CraftTeaFox's matcha tasting sessions as a matcha drinker myself. Such a fascinating experience as I got to learn about the resulting taste difference between hot fill and aseptic manufacturing methods.
Another highlight was meeting our respectable philanthropist Dato' Kho Hui Meng who maintains a deep interest in campus entrepreneurship: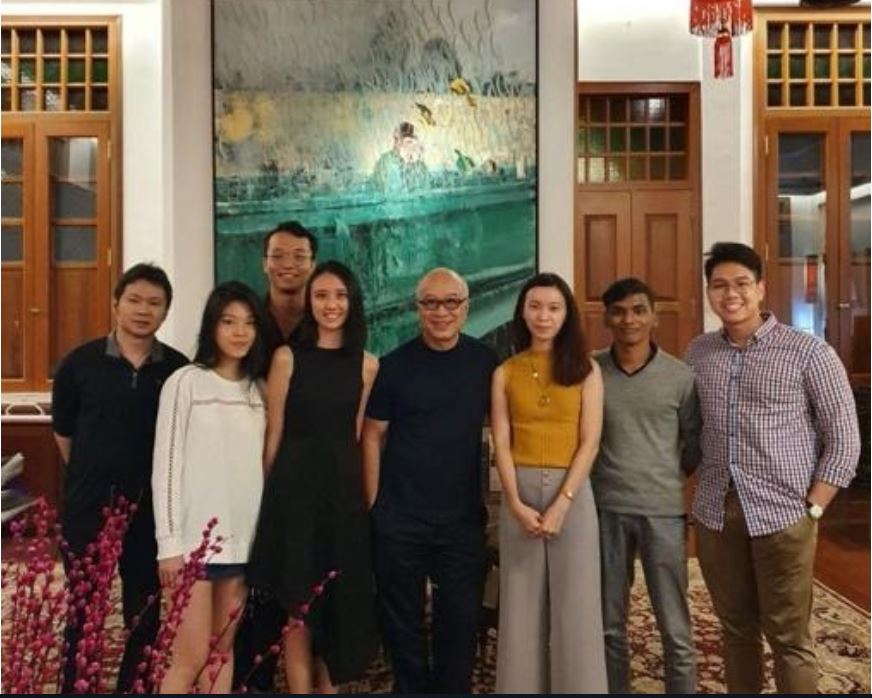 Relevance of a Business Education
Valerie is a sophomore studying Business Management, with Majors in Finance and Arts & Cultural Management.
In the current semester, I am mostly either seen in The Greenhouse or in class venues.
It's really the golden age of startups given the wealth of state and private support in new venture investments. It has never been easier to 创业 (start your business) but I find that the challenge of 守业 (sustain your business) definitely persists.
This is where receiving a business education helps. Shared theoretical foundations can serve as a source of inspiration and wisdom; of course the extent of its usefulness depends on the complexity of the business and the founder's critical judgement.
Global Innovation Immersion 2020
In the Summer of 2020, Valerie was due to be based in Silicon Valley, under the flagship GII Program. Due to the pandemic situation, her internship at Going Merry, an edtech startup, turned remote.
When I first came to Business School, the bright and the ambitious aim at careers in Management Consulting and Investment Banking. I was intrigued, so I competed in Case Competitions and engaged with recruitment programs offered by GIC and Morgan Stanley.
Yet there is something in the very experimental nature of startups that always excited me! During my 3 months remote internship, I learned from empathetic and tenacious alumni of the Stanford Graduate School of Business. The initial buy-in for me was being able to help solve the college debt problem in the US while accelerating my learning in startup operations strategy. Our team jointly managed scholarship and sponsorship databases across all 50 states by using query matching algorithms for relational data semantic caching, resulting in significant increase of weekly additional users and improved email digest engagement.
Beyond the expansive job scopes in startups (bringing more learning!), we were working at the height of COVID-19 and the Black Lives Matter Movement. My supervisor Jacob shared personal stories of his involvement in the street protest and our team displayed the following scholarship on our site to directly support the movement: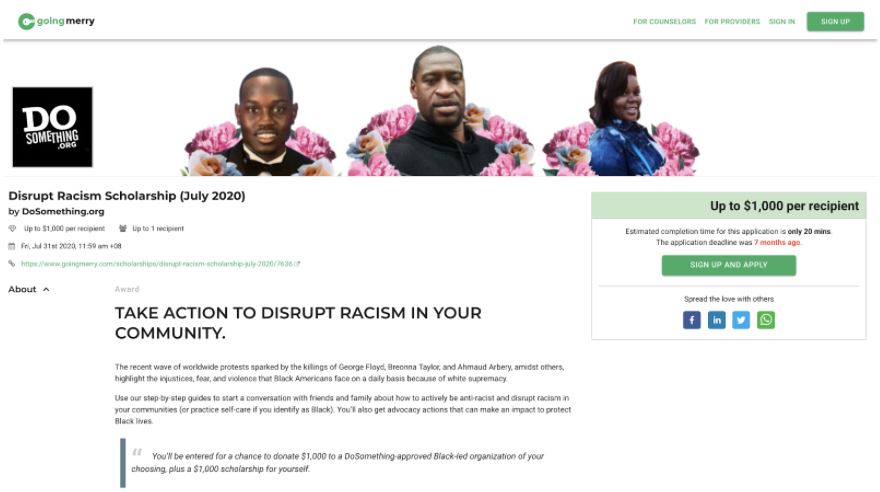 Source
I had a really positive experience with the GII program and paid it forward in the GII 2021 sharing by inspiring the next round of applicants.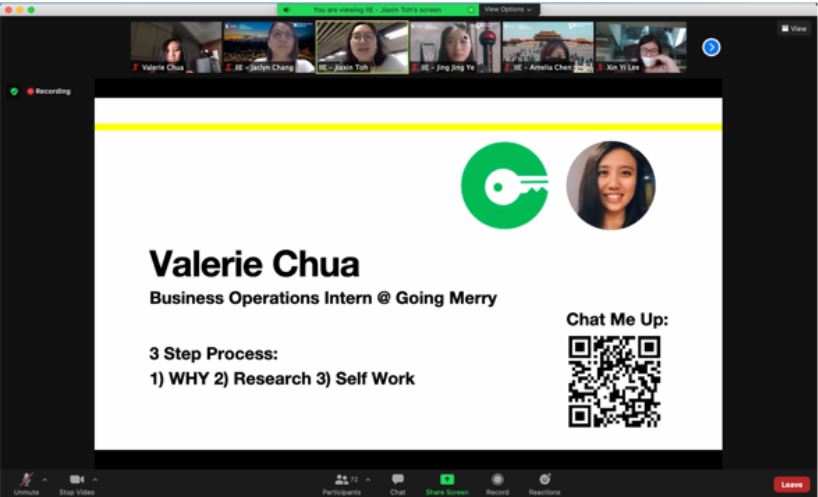 My Advice to Budding Entrepreneurs
If you are convinced to go on this journey (still), first get your anchor figured out.
My aunt herself is a seasoned entrepreneur in the F&B industry. It's such back-breaking work I wonder what she is working for. Overtime, I realised it is the intrinsic motivation more than anything else that keeps us going. To push against the grain, to do the right thing for the company, to be the one man left standing, to be rooted in radical self-belief…
For me, it is the keen sense of sustained curiosity and appetite for adventure that keeps me going. Here's a snapshot of my exploratory trip to Bagan, the ancient city of Myanmar, during my solo work trip back in 2019 (pre-university). It's a bumpy road full of cactus on the sides:
Some key questions you can ask yourself:
What kind of vehicle are you riding? (your knowledge and expertise)
Who are you riding with? (your partners)
Why did you choose to embark on this road? (your motivation)
What lies at the end of the journey? (your foresight and reward)
Can you choose another road or turn? (your next best alternatives and timing
Is there a rescue facility nearby? (your safety net)
And perhaps you don't yet have all the answers, and that's okay too.
I believe that we will have attained some level of answer satisfaction as long as we take the leap of faith to try.
If anyone would like to connect with Valerie, connect with her on LinkedIn.