Press Release: Local Universities Collaborate with SMU Institute of Innovation and Entrepreneurship from Asia's Premier University, Singapore Management University - to boost Indonesia's startup economy
Tuesday Dec 13,2022 | Press Release
For Immediate Release 
 
Local Universities Collaborate with SMU Institute of Innovation and Entrepreneurship from Asia's Premier University, Singapore Management University - to boost Indonesia's startup economy
Roadshows conducted across two leading local universities in Indonesia: Institute for Innovation and Entrepreneurship Development Institut Teknologi Bandung (LPiK ITB) and Universitas Prasetiya Mulya

A panel discussion featuring Indonesia-based startup Cuanz and venture capital firm East Ventures, as well as startup Kinobi with key offices in Jakarta and Singapore was held at Kloud to kickstart the roadshow campaign

Indonesian startups from universities across the country can now apply to participate in the Lee Kuan Yew Global Business Plan Competition 2023, Asia's largest student-led global competition for startups, organised by SMU IIE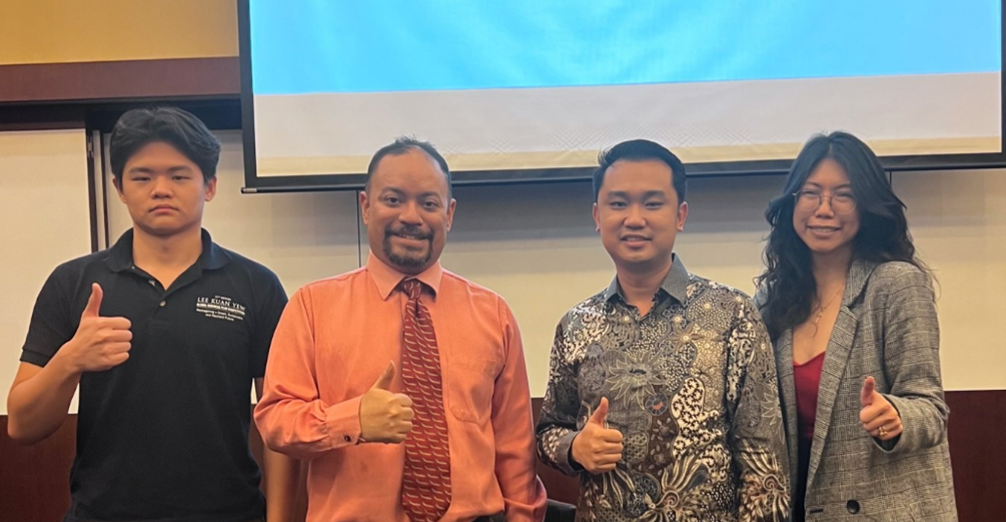 Speakers at Fireside Chat, from left: Tang Wei Long, Analyst at Protégé Ventures and Krishnamurti Murniadi, Head of The Master of Management Program at Universitas Prasetiya Mulya (Moderator), David Gunawan, CEO at Eden Farm, Tan Lay Khim, Assistant Director at SMU IIE
Jakarta, 13 December 2022 - Singapore Management University's (SMU) Institute of Innovation and Entrepreneurship (IIE) today announced its collaboration with leading local universities' Institute for Innovation and Entrepreneurship Development Institut Teknologi Bandung (LPiK ITB) and Universitas Prasetiya Mulya. As part of this collaboration, the universities will work cohesively to pave the way to boost entrepreneurship and innovation for student-led founders and young entrepreneurs across Indonesia.
SMU IIE recently opened applications for the 11th edition of the Lee Kuan Yew Global Business Plan Competition (LKYGBPC), Asia's largest student-led global competition for startups. This competition is aimed at spurring student innovators from around the world to reimagine a deep-tech enabled future. Themed Innovations Without Boundaries - Reimagining a Smart, Sustainable & Resilient Future, this edition of LKYGBPC aims to bring together the brightest talents and entrepreneurial minds from universities around the world, where they challenge themselves to come up with ideas and solutions that will address modern day challenges to achieve a smart, sustainable, and resilient future.
Through this collaboration with the local universities, student founders and young entrepreneurs in Indonesia are invited to apply and participate in this upcoming global competition. Indonesian student founders and young entrepreneurs who are recent graduates of less than five years are invited to pitch tech solutions from across a variety of industries which include Human Health & Potential, Manufacturing, Trade & Connectivity, Media & Entertainment, Smart Nation & Digital Economy, as well as Urban Solutions and Sustainability, among others.
To create awareness for this global competition in Indonesia, various events were held across locations in Jakarta. One of them was a panel discussion held at the Kloud Jakarta International Financial Centre. The event featured Co-Founders of Kinobi and Cuanz, an edtech and invest-tech startup respectively, and Devina Halim, Principal, East Ventures, Indonesia's leading Venture Capital firm as panellists. Together the panellists shared discourse on Indonesia's startup ecosystem, and the growth opportunities that lie ahead for Indonesian start-ups in the country and across Southeast Asia.
Commenting on Indonesia's growing importance in the digital economy in Southeast Asia and the role played by the youth, Tan Lay Khim, Assistant Director, SMU IIE, said, "With the recently concluded G-20 Summit hosted by Indonesia, we are all geared to face the upcoming economic uncertainty and global trade tensions. Our mission, via this global competition, is to empower youths from across the world to take on entrepreneurship as a conduit for change and provide them with the platform where different key players provide advice, funding, connections, and resources to support this mission. These roadshows in Indonesia organised with the universities underline this mission – different audiences in the ecosystem shared their advice and expertise to help and spur youths to leap forward to reimagine the future. Through LKYGBPC, we aim to play a role in accelerating change and impact to Indonesia, directly to youths and indirectly to the country. This is an opportune platform for young Indonesians to take their ideas to a global stage."
Participants keen to compete in the competition can apply individually or as a team and can choose to participate in two categories - 0 to 1, which focuses on pre-revenue teams with disruptive technology or innovations, or 1 to Infinity, which focuses on revenue-generating early-stage start-ups, up to Series A funding stages.
50 revolutionary finalists (RVLT50) teams will be shortlisted in June 2023 where two members from each team will be eligible for a sponsored trip (airfare and accommodation) to Singapore to attend BLAZE, LKYGBPC Finals Week from September 11-15, 2023, a week-long immersion programme with activities focused on innovation, knowledge, mentoring and networking.
The previous edition of LKYGBPC in 2021 had seen over 850 entries from 650 universities across 60 countries and regions. The RVLT50 included teams from various leading universities in Asia, Europe, and the United States of America.
"We are pleased to be part of the collaboration and hope that the partnership will bring together opportunities for Indonesian student-led startups who are passionate about solving problems and scaling it beyond Indonesia. We believe this programme will foster young talents and bring about a virtuous circle of innovation, constantly generating fresh perspectives and capabilities for startups in Indonesia," added Aprillia Annisa Hasibuan (MBA), Business Incubator Manager, Institute for Innovation and Entrepreneurship Development, LPiK ITB.
Reflecting on the collaboration, Dr. Krishnamurti Murniadi, Head of the Master of Management Program at the School of Business and Economics, Universitas Prasetiya Mulya, mentioned, "This collaboration is a step towards creating a supportive ecosystem for local startups. We are grateful to host notable speakers in this field, such as Gabrielle Tan, Assistant Director from SMU IIE and David Gunawan, CEO from Eden Farm. We hope this competition will open more opportunities for students to think beyond Indonesia."
To submit an application for the 11th LKYGBPC, please log on to: bit.ly/LKYGBPC-PR     
To enquire about partnering with LKYGBPC, please email: iie [at] smu.edu.sg
For more information about LKYGBPC, please visit: smu.sg/lkygbpc
END
About the Lee Kuan Yew Global Business Plan Competition (LKYGBPC)
Organised by Singapore Management University's Institute of Innovation and Entrepreneurship, the Lee Kuan Yew Global Business Plan Competition (LKYGBPC) derives its name from Singapore's founding Prime Minister, who developed the country's defining business plan that propelled Singapore onto the global stage. It is this spirit of entrepreneurship, innovation and ambition that the competition enshrines. LKYGBPC invites the brightest minds from the world's most entrepreneurial universities to come together to address the challenges of the 21st century and reimagine the future. For more information: smu.sg/lkygbpc 
 
About SMU IIE
The Singapore Management University's Institute of Innovation and Entrepreneurship (IIE) is a practice-oriented institute that nurtures changemakers and founders who aspire to make the world a better place. To achieve this mission, IIE focuses on its three areas of competencies which include customised training programmes, an equity-free incubation programme, and fostering a cohesive innovation and entrepreneurship community through activities such as its marquee event – the Lee Kuan Yew Global Business Plan Competition (LKYGBPC). For more information: https://iie.smu.edu.sg/  

For media enquiries, please contact:  
Marsha Novianty

APRW

marsha [at] aprw.asia

 

Nafila Maulina

APRW

nafila [at] aprw.asia