I Quit My Day Job to Start a New Business Amidst COVID-19
Thursday Sep 03,2020 | Startup News
J.R.R. Tolkien was right when he once said that "Courage is found in unlikely places". For SMU Business alumna Crystal Cheng (BBM 2019), she finds that there is no room for courage in safe places, where the odds were not stacked against her. 
During this period of uncertainty with the coronavirus pandemic, many would cling on to their jobs. Not to say the fear is unwarranted – the global economy has taken a hit and the F&B industry was one of the heavily impacted businesses. 
And that was the kind of business Crystal decided to pursue. 
In her days as an undergraduate, she co-founded an F&B company which she has since sold her shares from. After graduation, her parents urged her to get "proper job" as they deemed entrepreneurship as an "unstable career choice". Giving in to family pressure, she joined GrabFood Singapore as an Operations Strategist, where she welcomed the face-paced environment and opportunity to work with many talented individuals.  
Listening to her heart to follow her passion 
Even though her job was enjoyable, she felt something was amiss, that she was not accomplishing what she really wanted to do. 
She recalls an event that changed it all: 
"I knew that my interest has always been entrepreneurship. During one of the sermons that spoke about creating life and that everything we do has to create life. It occurred to me that my interest in entrepreneurship is not about the type of business but the process of starting a product/service/team and giving life to the brand, the product and supporting the life of the team. Not wanting to disappoint my family, I told myself that perhaps after the next bonus payout then I would resign. The following day, my company CEO called for a townhall to announce the postponement of bonus payout. Instead of feeling upset about it, I understood that the company needs to do whatever it needs to stay afloat during a crisis.  
At that moment, it felt clear what I was supposed to do. " 
The decision to quit her job during economic uncertainty was not an easy one. To her, missing opportunities is worse than falling into the risk of complacency.  
It was also a chance to relive her passion in F&B. 
Inadvertently, she was following one of the best business advice that resonated with her - "年轻就是本钱", which roughly translates into "Youth is Wealth".  
Value of SMU's Entrepreneurial Network 
When asked on her time as an undergraduate, she was thankful to be part of the SMU entrepreneurship community which has helped her greatly in her business endeavours today. Through programmes such as Entrepreneurship Practicum Module, events organised by IIE, student club SMU Eagles Inc, and incubation at Business Innovations Generator (BIG), she was well-equipped with resources and expanded her network of like-minded individuals.  
"I made a lot of good friends that I am still in contact with. The common interest in entrepreneurship brings people together. BIG creates a community of young entrepreneurs that allow one another to bounce ideas and learn from each other's mistakes. The access to the entrepreneur pool and knowledge-sharing were what I felt the most valuable." 
Through working out of BIG co-working space, she made new friends such as Joshua Chan, an SIS alumnus and co-founder of ErgoEdge, who was also in the same Entrepreneur Practicum module by Professor Reddi Kotha. She describes Joshua as a chatty person who shared the same vision of breaking out on their own in the business world in the spirit of entrepreneurship and innovation. Appreciating the fact that he was knowledgeable in both business and tech, their friendship deepened through endless discussions about business building, sharing.  
Naturally, Crystal asked Joshua to join her as the co-founder of her next venture as she explored the idea of Shiitake mushroom chips as tasty snacks, which she found was missing in the market. Wasting no time, they got to work, drafting out business plans and conducting research.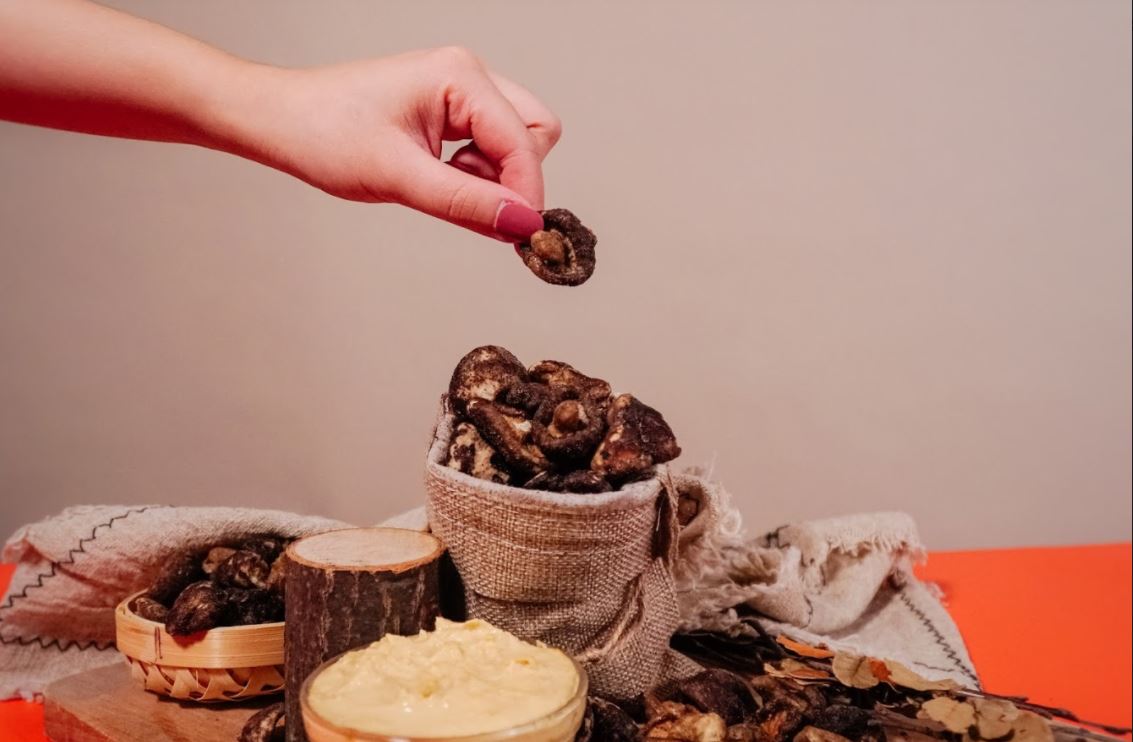 From concept to launch: EDENS Chips  
As avid lovers of Shiitake mushrooms, they found that Shiitake mushrooms were only typically available in traditional mediums like Asian cuisine and herbal soup. It was cumbersome to prepare and not conveniently available as a snack.  
The duo decided to change that. Using vacuum frying techniques, which uses low temperatures to cook, the freshness and nutritional value of Shiitake mushrooms could be preserved and made into chips.  
Within 6 months of conception, Crystal is happy to introduce EDENS Chips. They sold their first 100 packets of Shiitake mushroom chips during the first hour of launch in July this year. 
The chips are infused with popular flavours such as Black Summer Truffle and Himalayan Sea Salt. Moving forward, they hope to bring more Asian flavours to diversify their product lines. The chips can currently only be purchased online but will be made available in retail soon.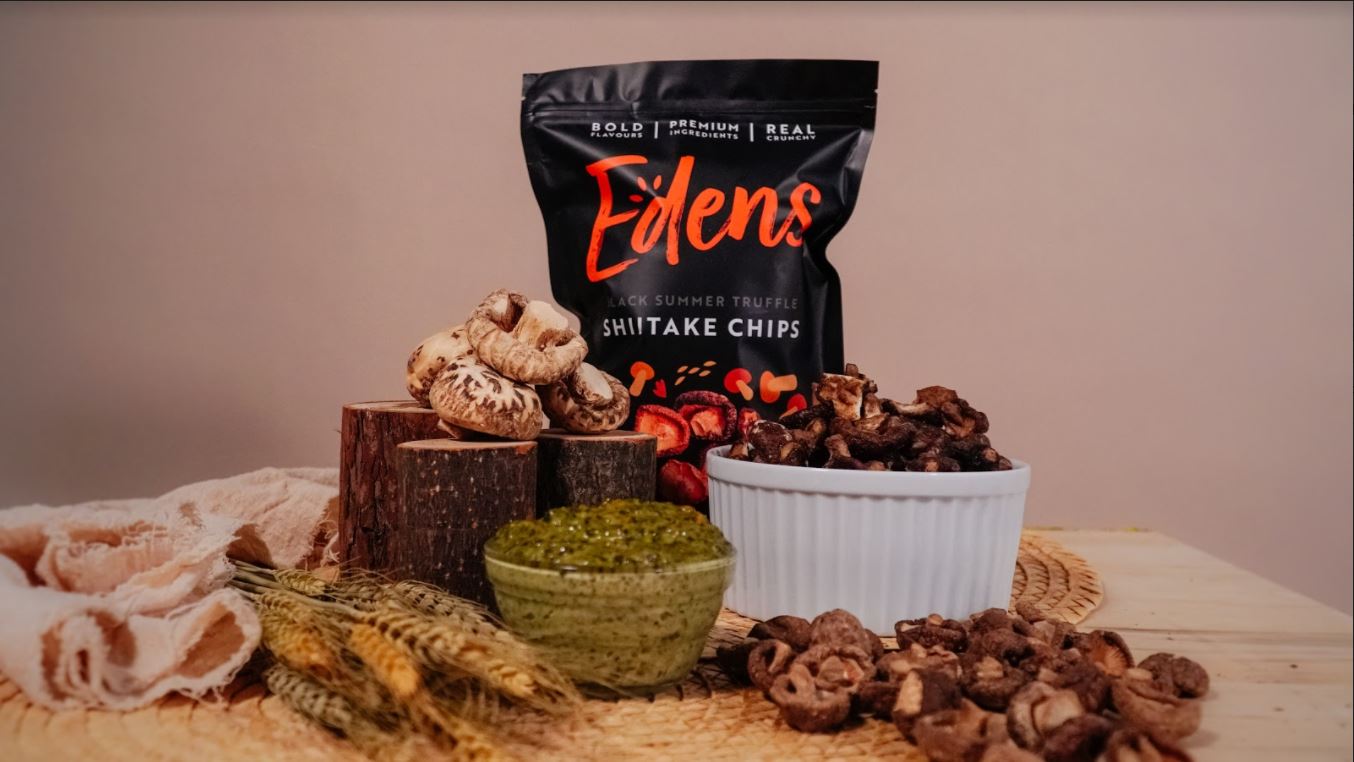 A (Calculated) Leap of Faith into the Unknown 
"While the economy became extremely uncertain during these stressful and dismal times due to COVID-19, it also created a climate of awareness. How uncertain the future is and the fragility of invisible systems that we tend to take for granted was truly highlighted during this unfortunate event," she reflects. 
After identifying the government grants available that reduce risks and learning how many failed businesses were life lessons on how to start a COVID-proof business, she felt it was an opportunity to start a business. 
With the aid of the resilience budget offered by the government, the SGUNITED Traineeship programme was extremely useful in helping them hire talents at a highly subsidised rate. Loans are cheap and easy to apply for. Enterprise SG and Workforce Singapore also provided a lot of complementary initiatives to support entrepreneurs in this journey.  
With the #SupportLocal campaign, businesses were more receptive to work with local Singaporean brands to give each other a helping hand, which warmed the cockles of everyone's hearts.  
This motivates Crystal to aspire to build a company that can support her team's growth and other communities in Singapore. Currently, EDENS Chips is working closely with MINDS - Movement of Intellectually Disabled School to engage their students (of legal working age) to do online fulfilment orders. This helps to provide a sustainable income for these beneficiaries.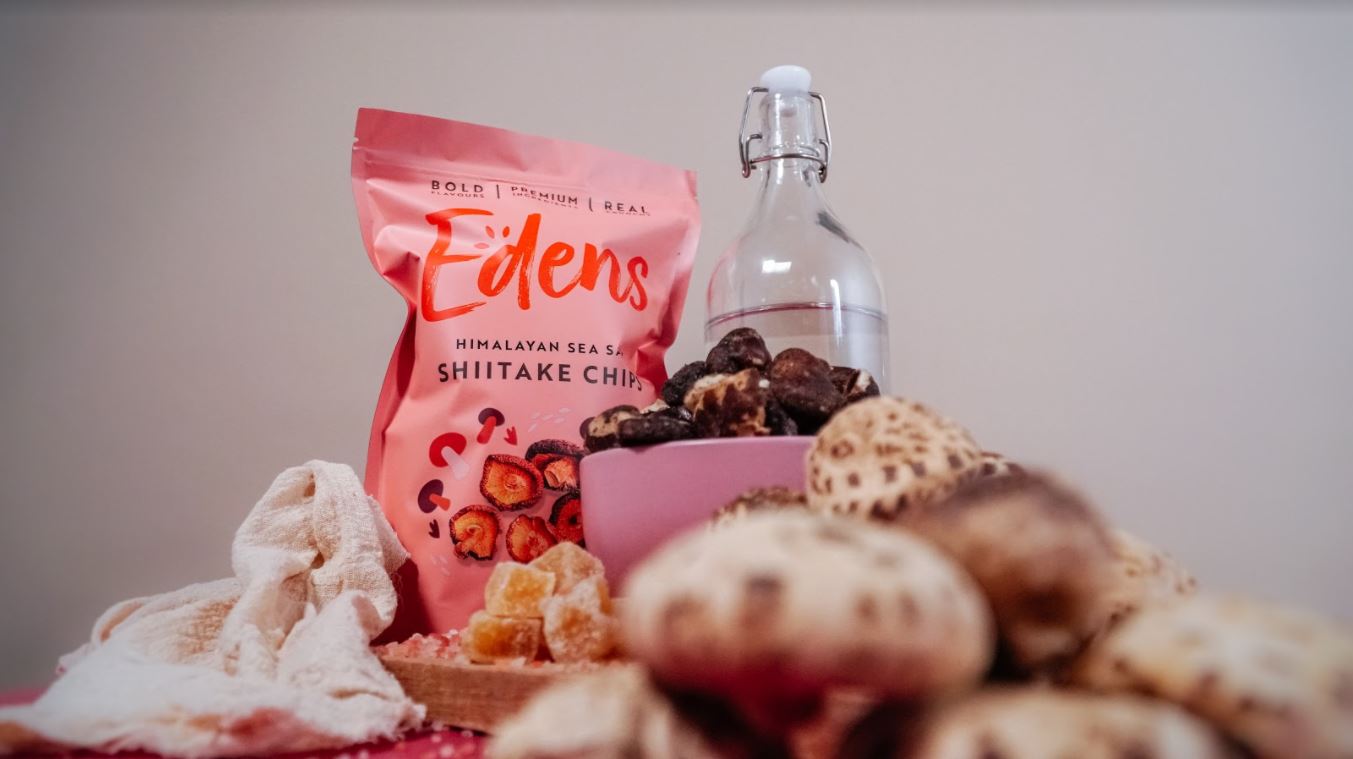 A good time for entrepreneurship? 
"Don't give up the opportunity of being an entrepreneur. It's not about being your own boss (because it's not as fancy as it sounds), it is about taking the step to really start doing what you want to do, meeting like-minded individuals and most importantly growing the team.."  
"The learning curve in entrepreneurship is amazingly rewarding. Whether it is a successful one or failed one, nobody really regrets it because it is one lesson that you don't want to miss. " 
However, there are many factors that one needs to deeply consider for themselves whether to take the plunge or not.  
"I would not recommend anybody to start a business just because they cannot be hired because an entrepreneurship journey is a marathon with a finishing line that you cannot see. It is a commitment -- you have to be in it for the long run." 
Nugget of Advice for Aspiring Entrepreneurs  
"Make as many friends as possible. Maintaining a healthy network is the key because I am once again grateful for the people I have encountered in my life. You never know who can support you in what way but it plays a part. Someone telling you they love your product, someone liking your Instagram page so on and so forth. These are the little things that contribute to the empires we see today."
If anyone would like to connect with Crystal, find her on LinkedIn, or email: hello [at] edenschips.com (hello[@]edenschips.com).
To get your hands on a packet of EdensChips. visit: https://edenschips.com.