Founder Feature: Nirali Zaveri, CEO and Co-Founder, Friz
Thursday Jul 08,2021 | Startup News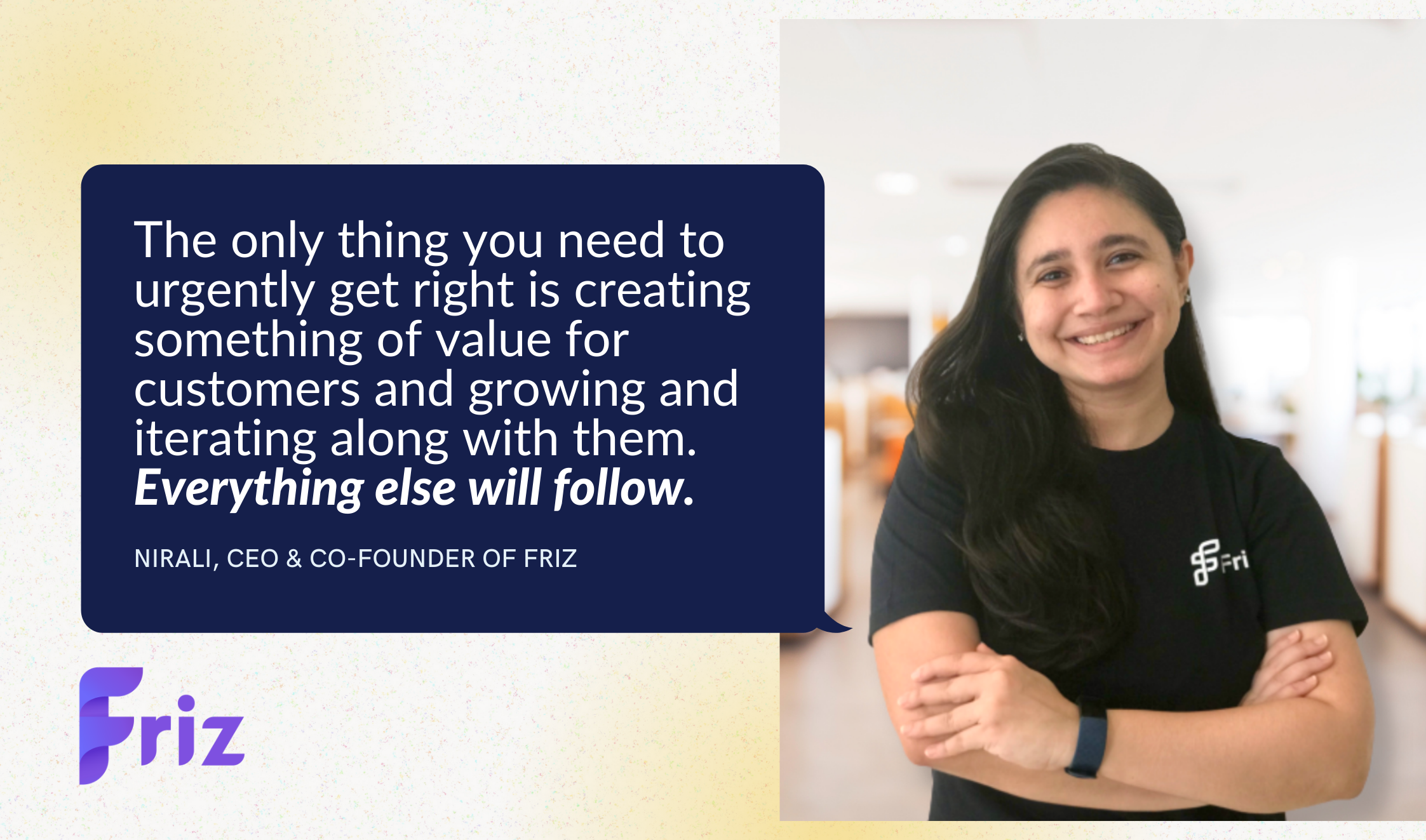 Nirali Zaveri is the CEO and Co-Founder of Friz, a fintech start-up that aims to provide Southeast Asian freelancers with tailored financial services. Friz, previously known as Feige, was incubated at SMU IIE's Business Innovations Generator in 2020.
The Singapore-based finance platform recently announced that it received pre-seed funding from Y Combinator, Iterative VC, 500 Durians, 500 TukTuks and other prominent angel investors. Friz was also one of just a handful of Singaporean start-ups that were accepted into Y Combinator's prestigious accelerator program.
In this interview, we speak with Nirali to understand a little bit more about the motivation behind Friz, and how it empowers freelancers with financial freedom.
What was the trigger for you to start Friz?
We personally know freelancers who are friends and family that get rejected from all kinds of banking and borrowing products and we felt very deeply about this pain point. In fact, freelancing is quickly becoming a career option for many people around the world and we see project-based and flexible work as the future of work. Starting Friz, our dream was to create a financial ecosystem to support this future of work.
Why did you identify freelancers as your core market?
Freelancing is on the rise with remote work. There is a 20% month-on-month increase in people turning to freelance as their career choice. We saw project-based and flexible work as a huge shaper of the future of work. Additionally, we know that full-time and part-time freelancers have been ignored for years by traditional banking. We had to build a new ecosystem for this trend towards flexible work.
How can Friz help a freelancer?
We help freelancers:
Issue invoices

Apply for prompt financing on these invoices

Get access to a tailored credit line to grow their freelancing business in the absence of monthly payslips

Spend using a debit card with tailored benefits for freelance workers
At the moment, our customers might get 1 or 2 disjointed solutions from other fintech services or their existing banks, but our platform creates a holistic and tailored financial experience for customers.
What is one thing people don't know about Friz?
People don't know that we have been a fully remote company since Day 1 and will continue to be! This is a result of being born during COVID and learning from amazing companies like Gitlab who have adopted and scaled this philosophy even before the pandemic.
We strongly believe that the human capital of the future is going to function like a global cloud. By building our own company in this manner, we can better understand our customers who typically work remotely on projects around the world as well.
What was your first reaction when you were accepted into Y Combinator (YC)?
We were thrilled, excited and extremely proud of our team and how far we had come when we got our acceptance call into Y Combinator. As soon as we got a call from them, the first thing Ash and I did was to google acceptance rates only to find out that roughly 2 to 3% of applicants get accepted. It was a real privilege for Friz to be one of a handful of companies from Southeast Asia in the YC Winter 21 cohort.
We read your takeaways from your experience at Y Combinator. What advice do you have for local startups who aspire to take the same path as you in getting their company into Y Combinator or a similar accelerator?
YC is always extremely focused on customers and customer insights. Contrary to popular belief, you do not need a live product or revenue to join YC - you can apply at any phase of your company. My advice would be to understand your customers better than anyone else in the industry - this will help your businesses whether you get into YC or not. 
What is the best advice you've received?
The best piece of advice is the YC tagline "Make something people want". There are constantly things competing for the attention of founders - product development, fundraising, legal, hiring, marketing, admin - so on and so forth. There is always a lot of noise in the startup space and the industry attracts attention from investors, large corporations, media, celebrities and even government bodies. 
This is intimidating from the perspective of a new founder because it is easy to get lost in all the flurry of activity without prioritising. In reality though, the only thing you need to urgently get right is creating something of value for customers, and growing and iterating along with them. Everything else will follow.
Were there any sacrifices you had to make to pursue your dreams?
All founders make sacrifices - our story is no different. Quitting our stable jobs during the COVID-19 pandemic to start the business was daunting and stressful, even though we are both fortunate enough to have savings and support from our families. Long periods of struggle, hard work and difficult learnings have brought us where we are - but building something that people find useful makes everything worth it. 
Friz was incubated at SMU's Business Innovations Generator (BIG) incubation programme in 2020. Can you tell us what was your biggest takeaway from being part of a university-based incubator?
We met and secured our first angel investors through SMU's BIG Incubator. Being a part of the incubator allowed our investors to discover us and give us the pre-seed funding to get started. I would say that joining the BIG incubator was one of the first few crucial steps of many that has got us where we are. I am thankful for SMU's BIG Incubator for seeing potential in us, even when we just had a concept and a team.
What does success mean to you?
Success for us means creating a new paradigm for financial services where project-based workers have access to all kinds of financial products with ease and fair pricing.
Any advice for aspiring female entrepreneurs or fellow female founders?
Being self-assured is sometimes the missing ingredient for females to take the leap into becoming founders. I find that a lot of my male colleagues are far more comfortable with backing themselves up and having enough conviction in themselves to become founders.
In many ways there is a sense of privilege that this self-confidence stems from and women do not have many avenues or role models that help them explore this side of their character. I hope that female founders find the ability to trust their instincts and be comfortable with taking risks, because if I can do it any woman can.